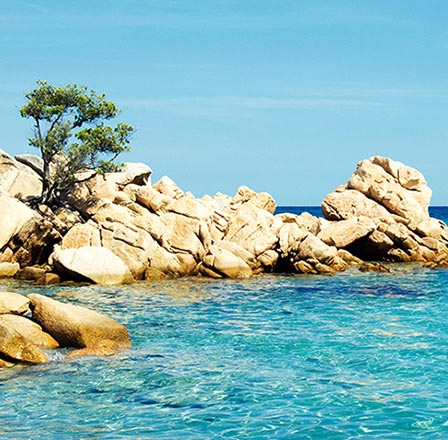 Shirley S.
6

Reviews

57

Helpful Votes

1

Thank You
Experience: Hobbies & Interests, Finance, Shopping
Member since March 2015
Reviews

6

First to Review

0

Votes

57

Very Helpful

57

Funny

0

Fraud Buster

0

Great Find

0

Well Said

0

Thank Yous

1

Fans

0

Profile Views

533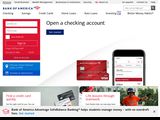 Bank of America
I've been waiting nearly an hour to talk to a Bank of America rep, and am writing a review with my other hand to help pass the time. This wait time is usual - they make you wait longer than the IRS. I ignore the recordings until the voice says "We know your time is valuable." At that point I yell "Shut up!"

Ah, I finally got a rep, and for once I got a good one. B of A just went from one star to two. Found out what I needed to know: whether or not my card was still on Autopay - and he also let me know that my newer Bank of America card is on Autopay as well. I hadn't heard back since I sent the needed forms, voided checks, etc. by postal mail (that's right) to set up Autopay for that card two months ago.

It's nearly impossible to set up Autopay or talk to a representative, and this was the first time I've ever reached a good rep at the end of the wait. So why do I put up with it? Two reasons. One: 3 percent cashback on gas, all the time. It is my default gas card. Two: they give a small percentage of their fees to causes I support. I'm sure the shares are small, but repeated over years, they add up to a donation.
Zazzle
My experience with this website has been good, except that I received an offer, by email, of $5 off my next order for writing a review. When I tried to write a review after clicking that link, I was asked to sign in over and over and over, and the "submit review" link still did not work. I was only able to write the review by going directly to it from my account. Surprise? - the reward was now 10 percent, not $5, and I don't order $50 bumper stickers. UPDATE ONE: I called Zazzle support, and they sent me the $5 off code by email, so I have changed the rating from 2 to 3 stars (more would have meant it hadn't happened at all) and edited this review. UPDATE TWO: The link they sent was better than the original one - $5 off *any* order, not $5 off a *$25* order. They wound up giving me more than promised, and I've upgraded them from 3 stars to 4. (5 stars would mean I'd never had a problem at all.) My advice to anyone using Zazzle: If you have a problem. call them! The number is 1 (888) 892-9953.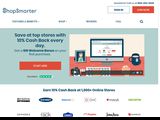 ShopSmarter
This is the second time I've changed a negative review to a positive one because the website later came through. When the check actually arrives, I will change the number of stars to five. I have changed it from one to three because the rebate for my second purchase showed up in my account as "pending" - possibly because I called Walmart support and asked them to report my purchase to shopsmarter.com, but show up it did, in less than a week.

They still say a purchase can take ten days to show up - and if it does, you won't get a rebate for it during a 7-day trial membership. That hasn't changed: you should make a second purchase only on the assumption that you might or might not get a rebate for it without paying $12.95 - that's ten percent of $129.50 in purchases per month just to break even! But they don't always take ten days; mine didn't, and I hope to receive a rebate around July 15 and come back to tell you so.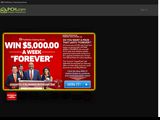 Publishers Clearing House (PCH)
Or in Dante's immortal words, "Abandon hope, all ye who enter here." :-)

If you enter online, you will receive an INFINITE number of emails, each of which requires you to scroll to the bottom of an INFINITE number of pages, each containing an INFINITE number of ads. Better buy a lottery ticket; you will only be wasting some money, not your life.

I don't think they could be targeting the poor and elderly, though. Victims can only jump through their hoops with the fastest connection and the very latest browser. They are targeting people who can afford those, who might make better customers for the junk they offer. However, this is something to avoid utterly; once you have invested a few hours you will invest a few hundred more hours to avoid losing your time investment, and so on ad infinitum.
Tip for consumers: AVOID!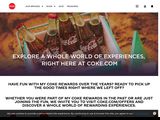 MyCokeRewards
My computer and connection aren't perfect, but will open any site on the web - almost. I can find and contact a lawyer, read the news, get the weather forecast, use eBay and Amazon to buy and sell, and do all my emailng through Gmail webmail. The exception is that no matter how long I wait, it cannot, it WILL not, open My Coke Rewards.

This website is strictly for fun, and tailored mostly to the under-12 crowd. Who else would take the time to enter an almost unreadable 14-digit code to get points worth a couple of cents? But it is NOT fun when the website will not open except to the very newest, latest, best and fastest technology - and how many kids have that? How many children are being frustrated because they no longer can use something they enjoyed, and how many parents are being inundated with demands for the latest, newest, fastest technology so their kids can enter a code worth a couple of cents? And how many of those parents are responding by saying "We drink NO more Coke in this household!"? (Just the sensible ones, I'd say.)

My Coke Rewards used to have a user-friendly website. It opened a little slowly but OK, and even had a link to click if a kid had any trouble entering his codes. That link went to a page that opened and worked with lighting speed. Now the entire site can be used only by people with the fastest 5% of connections on the planet. It's a shame. Used to be fun - sort of.
Tip for consumers: Don't bother unless you have the latest, newest, fastest technology *and* are willing to enter a long, almost unreadable code to get points worth a couple of cents. This is just for kids.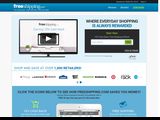 FreeShipping
I wrote one of the most cutting reviews of freeshipping.com on this website, but promised to come back and correct it if I received a check and my credit card was not charged. I cancelled 5 days after joining, and my Discover card was NOT charged!! (I checked.) But the great thing is, today in my mailbox was a check from freeshipping.com for $30.00 - the original $20.00 to sign up (for buying a $17 hair dryer at Walmart) and a $10.00 shipping rebate from Amazon.com. (Now I wish I'd submitted the eBay shipping, too! :-))

I have to say, THEY ARE HONEST. My explanation of how they *could* scam us (because of the delay between canceling the membership and getting a check) was not the way they actually *do* it. My rebates were obviously processed and checks mailed after I had cancelled the membership and they had not charged me anything.

For anyone who averages more than $12.95 on online shipping normally (when you do not belong to a free-shipping club), this is a good deal and you will save. For anyone at all, you can get a trial membership, really get the $20 for signing up, and get your shipping back for a week - eventually You just have to remember to cancel your membership before the week is over to avoid being charged. You will not get your checks quickly, but you will get them.

I don't know how they manage to do it, but the fact is that they do. I have a $30 check in my purse to prove it.

Blessings!

Shirley
Tip for consumers: If you take a 7-day trial membership and don't want to pay, do not forget to cancel before the week is over! Keep the membership more than a week only if you already average more than $12.95 a month on online shipping. Be patient for your checks to arrive.
Shirley Has Earned
57

Votes
Shirley Has Received
1

Thank You
Shirley doesn't have any fans yet.
Shirley isn't following anybody yet.
Similar Reviewers on Sitejabber
Bank of America should close their doors. My 94 year old mom has banked with BOA for over 50...
I wish I did research before... Horrible customer support and they are so money hungry. Evade...