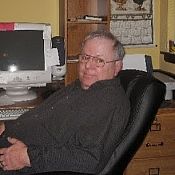 James B.
11

Reviews

7

Helpful Votes

0

Thank Yous
Experience: Computers & Technology, Clothing & Fashion, Hobbies & Interests
Member since July 2017
Reviews

11

First to Review

4

Votes

7

Very Helpful

7

Funny

0

Fraud Buster

0

Great Find

0

Well Said

0

Thank Yous

0

Fans

0

Profile Views

332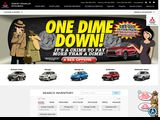 Jeremyfranklin
It's me again...I went shopping for cars a few days ago at the car dealer mentioned. Before I went in I sent my credit application and a lot more information to them and asked that they be sure of financing me before I come in. I haven't had a car in years but have come to the point in my life that I don't see how I can make it without one. Anyway....I told them that I must be sure because I don't have the money to hire somebody to take me in if there is really no need to come in. Please, be positive that I will get financed...then I will be happy to come into your dealership. Finally, after a couple of days talking through the internet I get the email that they are sure to get me financed. I then collect my things and my wife and we go in. When we get there they hurriedly got us to a desk where we sit and then a salesman came over and talked with us. Not the one we had been talking with for days but a different one. We have to go through the spill of why we are there and told him about our talks over the internet. He looks it up on his computer system and after a long hunt, he finds the application. Then he asks us some questions and we answer those questions. All this time we are feeling shamed....put down...disrespected. Then even more questions and our answers. He takes it to his manager and finally returns with "we can't help you". So we don't show our anger and disgust and begin to walk out. His manger comes over very quickly and asked where we were going so we simply replied "Home". He tries to get us to stay but we just keep on walking saying "what's the need in us staying?" and of course he doesn't answer so we continue to call for a ride. Just before the manager got over to the desk the salesman said to us...."You should go to a buy here pay here lot". Now, I ask you people reading this review....Is that a way to treat a potential buyer? It doesn't matter how a customer looks, talks responds or sounds you don't treat them that way. Never !!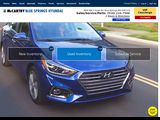 Mccarthyhyundai
I just had the worst experience at a dealer's car lot of my entire life. I'm now 68 so that's a long time. This dealership has no gall. I wrote them a message after getting home that I will put here to explain how I was treated there. They sent me a survey and asked me how I felt about my experience. Was it everything you expected? So I sent them this....
Oh..yes it was everything I thought it would be !! Before going in, I counted my last few dollars and hired a ride. When I got there I'm shown where to sit. "What can I do for you?" I was asked. I replied that you had my credit app and I was told you could finance me. The salesman (not Omar) got it up on screen...ask a question or two and goes to the "boss". I sit and I sit until he finally returns. He ask more questions and goes back to the boss. Finally after all that wait he and the boss return and want more down. I cannot afford more. Then more or less...after making me feel like dirt swept under the rug and stomped on...said no. They wouldn't finance me. So yes....it was actually more than I expected out of coming in. I was lied to from the start. Now let me say a little something here. I was in sales for years !! AND in auto sales too. I know there is something they could have done to help me. Oh...and most of my sales experience was Top salesman for most of my career. You know something else? After sitting and waiting all that time...I wasn't offered as much as a drink of water until I go to leave !! THAT is one thing I would never do to my customers !!
Yes...exactly as expected !!
Of course you.....nor the "boss" will not read all I wrote but you can't say I didn't say so in response to your question.
I then get a response to that letter asking me more details....like who I talked to and such. I returned the information then desided to send in a review to SiteJabber.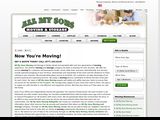 Allmysonsmoving
YES !! Watch your bank account with this company. They will charge you much more than other movers and they are sneaky in their charges.
I only needed an Organ moved from a friend's house to my apartment. Less than 10 miles total. They give me this big story as to why I should use them instead of other movers. He goes on and on, finally coming up with a price of $800.00. I tell him I cannot afford that much money for just a small move. He continues with why I should use them. Finally, I told him a flat NO !! "Oh..you shouldn't cancel...I stop him and told him I was not going to use All My Son's Moving. NO, No way, No how !! After another spill he tells me ok....it is canceled. Of course I never "Hired" them in the first place. They just assumed I was going to use them. Then I get an email from them with a total price of over $ 1300.00! I call them again and talked with a man (I think Mike) and of course, he starts that spill....and Yes I stopped him in his tracks and tell him I do not want to use them for my small move. After a long while, He says it is canceled. Ok? All is good right? NO !! The next morning I check my bank account like I do every morning and there is a $100.00 deposit charge. So I'm upset. Then I talked with the bank and they filed a dispute with All My Son's Moving !! So far I haven't heard back from the bank on this matter but I can warn all you people to NOT use All My Son's Moving company. Not for anything. They will charge you for whatever they want and you won't even know till it goes through the bank. They are evil !! Stay away from this company. Do Not Use All My Son's Moving !!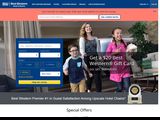 BestWestern
We moved from Florida because of loss from Hurricane Michael. He took all we had so we are starting over In Missouri. While we were waiting on an apartment we liked we stayed at the BEST WESTERN PLUS in Lee's Summit Missouri. We were there for a couple of weeks and we received the best of the best service, help with our loss, just talk...whatever we needed they got it for us. They are the friendliest people you will ever meet. There just wasn't anything else they could have done to make it more pleset. They surely went out of the way to be there for us. We enjoyed BEST WESTERN PLUS in the best way possible. If we even hinted we needed anything, they would get it for us. When it go a bit slow in the front one or two would come over and chat for a while. Not just a word or two to make you feel good but conversations. None of the staff was idle for a minute. They saw to it that it was clean and presentable at all times. Anytime at all that you looked their way they had a smile on their face. always a smile. If you have some plans coming up soon plan to have it with BEST WESTERN PLUS IN LEES SUMMIT MISSOURI. We cherish every minute we were there. Because there was always a smile

Everybody needs a day off sometimes so why not take that time and make the best of it right here in the pleasent and sweet atmosphere at BestWestern in Lee's Summit Missouri.

And don't forget the rewards you get.....points for nights stayed will win you free nights. That could really come in handy for those Dog House Days you guys !!
FreedomPop
I don't know where to begin....I have heard nothing but lies out of FreedomPop. It started on day one, September 1, 2018. I made the big mistake of ordering from them a device for internet service. Afterwards I did some more digging for information then decided to cancel that order. The same day. That's where the trouble began. You can not find anybody to talk to !! It "sagest" you go to here....after you go there it tells you to go someplace else...you go there and it tells you to go to the first place you went to. A circle and you never get to anybody or site to cancel. After finally finding a phone number and calling you get the lies. they started there. I call my bank they tell me what to do. I waited a day or two call FreedomPop back because the charge to my account has not been removed. The bank has to continue until FreedomPop tells them to remove it...which the never do. FreedomPop says as long as there is a dispute filed with the bank they can do nothing to my account. I get with the bank they say there is no dispute filed. Okey...I tell FreedomPop who then puts the blame on PayPal. PayPal says same as bank. FreedomPop says upon digging in their files they see where a refund was issued on September 3. I get with PayPal who says and shows me that there is no refund from FreedomPop on file. I've lost count on how many lies FreedomPop has given me.
FreedomPop is a no good place to deal with. Not at all. I would hate to think what would happen if I had bought then something happened to the device...??!!! Mercy...the courts would have to be involved. Which may be where this goes.
Please,..DO NOT DEAL WITH FREEDOMPOP IN ANYWAY !!! If they treat their customers like they treat me (which I'm sure they do) their product is no good. A No Good Company...Managed by No Good;s....with No Good products. Don't Deal with FreedomPop !!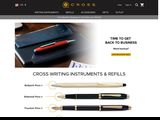 Cross
I just had to take a minute and say something about a shopping experience I had with A.T.CROSS PENS. I went there looking for a refill for a pen I got as a gift. WOW at what I saw. I dreaded going there and looking for silly refills because I felt it would be very hard to find the correct one. But oh how plesent it was when I got there on line. They have so much to choose from. Many styles, colors, sizes, on and on. You can find whatever need for such right there on their website. (www.cross.com) Even their website is easy. Not some weird get up. They have all the refills there, and, pictures of them so you actually see to compare to your empty one. The prices are unreal !! Like buying penny candy. Then you see all the styles of pens they carry and are always adding others. As I said, styles, colors, etc. Then got what you're looking for and more. I could hardly get away from that site. Kind of makes your heart melt. Even if you're not looking for a new pen (like I intended) you fall in love with them. They have been around a long time and you can look for them to stay. The best you could ask for.!!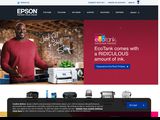 Epson America
My last three printers have been Epson Printers. I had problems with them but nothing serious like I have had with this last one I purchased. I have a problem, since day one, with the printer connecting to internet. I can't do any kind of internet printing. I purchased this printer in August of 2017 and it is still under warranty. I talked with Epson support many, many times about this problem They try this and try that but nothing works to get it on network. I have had Microsoft, Driver Support and many other techs try and fix it. Some have spent days working on it. So, this week I talked with Corporate offices about it. They have THREE of their senior techs try and fix it. The last one thought for sure he had it fixed. I tried it, no, it's not fixed. The printer cannot find the computer nor can the computer find the printer. Corporate sent me an email saying they would exchange it but when I tried to do that it was flat out refused. They say they cannot give me my money back nor will they exchange it. They refuse to honor their warranty. First statement they give you on their website and emails is "we repair to your satisfaction. Not ours but Your satisfaction". I told them I wasn't satisfied. They refused. Now, I'm stuck with a printer that doesn't work and isn't even backed by their company.
Epson is NOT the place to purchase a printer. They don't hold up even for the warranty period. They do NOT honor their warranty. They are the worst of the worst for printers. DO NOT BUY EPSON PRODUCTS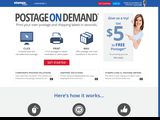 Stamps.com
I have found the best Post Office around !! Right here in my own home. Stamps.com is my way of sending packages and mail. I print my own postage whether it be on USPS Postage stamps, Labels, or even straight on the envelope itself !! I can mail a friendly letter, a package, a big or little box, registered mail, certified mail...any mail you would go to the local post office and have them do it. At my leisure too. I can even call the post office to come pick it up. I don't have to leave home for postage or any kind of mail. Everybody should have Stamps.com. They are on the internet so just log on to their site... stamps.com.com... and get your own service started the same day. That's what I did and I've had it for several years now. Get on the net and get Stamps.com today !!! Tell 'em I sent ya !!!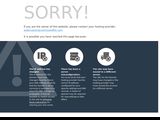 Cash Now Offer
I recently wrote a review on these people and how bad they are to deal with in any way. I gave them a 1 star then just to be nice. I did here as well but this time only because there are no negative. They do not rate even negative starts. They have not paid for the last test strips sent in to them for me OR for my wife...BUT they have the nerve to send a request for more test strips..!!!!! and Not just once but three times now. They have no fear. They just steal from you as often as they can. They don't care !!! I tell you one thing...I have a God in Heaven who knows how to deal with this kind of people. I can't believe they have had my test strips for about two months now but refuse to pay for them !!! I hope people out there with diabetes who need their money read this review and DO NOT send test strips to them. And don't fall for these letters from "Jeff" who says he will get to the bottom of this and send my check right out. He's just as bad as them. Neither will even respond to your emails or phone calls. No Fear in any of them.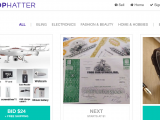 Tophatter
If you need to relax a bit this is where to come !! TopHater is a lot of fun and with so many items to bid on, you can't get bored either. And it's good items too. Things you can really use at home or office and you set the.price. Come on in and let's relax together!!!
Wish
The store is packed full of goodies !! Things for your home, your car, your boat and all at an affordable....or better.... price. Sometimes shipping is fast and quick. But be careful. Some items come in slow and some don't work. I found most items come from overseas and why it takes longer to receive your purchase.
James hasn't received any thanks yous.
James doesn't have any fans yet.
James isn't following anybody yet.
Similar Reviewers on Sitejabber
DO NOT use All My Sons! They damaged the house I was moving out of, and the house I was moving...
I've booked a hotel room at the Best Western Kings Inn, in Burnaby BC twice and it was a fabulous...