Women's Swimsuit Buying Guide
Overview
Choosing a bathing suit can be hard — that's no secret. There are so many options out there that it can be overwhelming to sort through all of them and find something that's practical, affordable and makes you feel confident in your body.
That's why proactivity is key. Before you drive to the store or open up your laptop to shop, there are a few key questions you need to ask yourself so you can easily find what you're looking for:
Once you have a better idea of what you want, you can start narrowing down your preferences even further by deciding what type of swimsuit is for you.
Style
What Are the Different Types of Swimsuits?
Not all swimsuits are alike. For women, there are three main categories of swimsuits.
One-pieces
Some one-piece bathing suits are activewear, with a streamlined and sturdy design to support athletes; others are simply a stylish bodysuit that offer more coverage than other types of swimsuits. Many one-piece suits have some type of cutout in the back. Swim dresses also fall into the one-piece swimsuit category — these are simply one-piece suits with a skirt attached.
Tankinis
Tankinis are a two-piece suit with a top that comes down over the navel; the bottoms can be traditional swim bottoms, short shorts, or a skirt. Tankinis provide more coverage than a bikini but give you more ease of movement than a one-piece thanks to the option of a looser top.
Bikinis
Bikinis are a type of two-piece bathing suit that include a bra-cut top and a bottom that hits below the navel. They're a fun way to mix and match colors and patterns, not to mention very effective if your goal is getting tan.
There are several different types of bikini tops:
You also have multiple options when it comes to bikini bottoms:
There are numerous different types of bikinis, and with so many tankini and one-piece options also in the mix, there's bound to be the perfect bathing suit style for you.
Cost
How Much Is Too Much for a Swimsuit?
Swimsuits are expensive — swimwear is a $3.5 billion-a-year business — and Slate cites a few reasons why. Designing a swimsuit is a complex process; stretchable fabrics are more expensive than any other materials, and swimsuit season doesn't last all year long, so retailers have to make as much money as they can during the brief window of hot weather.
Although bathing suits can get expensive, most of them aren't that bad. A quick scroll through the bathing suit section of Target's website produces a list of suits in the $15 to $50 range; other data, obtained from Lyst, shows that many popular brands sell for an average of $263. Of course, you get what you pay for — so in most cases, a cheap swimsuit won't last as long as a more expensive one. And many times, the quality of a suit isn't something you can assess just by looking at it; the Buzzfeed quiz "Can You Spot The Cheap Bathing Suit From The Expensive One?" proves that. Often, then, the price tag is a good indicator of the quality.
Are expensive swimsuits worth it? Probably, because a swimsuit with a higher price will have a higher quality, too. "This is basically an insurance policy on a good, anxiety-free beach-going experience," said a writer for The Cut about her bathing suit (which cost $365).
At the end of the day, only you can decide how much is "too much" for a swimsuit because only you know your budget, your lifestyle and your swimsuit goals.
Body Type
How Do I Look Good in a Swimsuit?
All bodies are different, and all bodies are beautiful just the way they are. Figuring out your body type can help you choose a swimsuit that will complement and accentuate your features to help your body look its best.
Bathing Suits for Curvy Bodies
The key feature to look for here on a bathing suit or a bikini top is ruching. A swimsuit with ruching (fabric that's gathered and textured) can help conceal anything you want to conceal while simultaneously showing off your figure. With a curvy figure, it's also important to look for a supportive bikini top or one-piece suit that includes cups or a built-in bra.
Brands to try:
Swimsuits for Full Busts
Dark colors or geometric designs can help your chest look smaller if that's your goal, and springy fabrics such as Lycra help you appear lean. Choose a suit that has a wide strap and a sturdy underwire that's built directly into the swimsuit.
Brands to try:
Maternity Swimsuits
Expecting? Congratulations! You deserve a little relaxation in the summer sun. Finding a suit that's adjustable will help you save money, since you'll be able to wear it throughout your entire pregnancy and maybe even afterward. As far as swimsuit styles, a tankini is probably your best bet since it's looser around the midsection, and a halter style top can give you extra support.
Gap has several stylish and affordable maternity swimsuits, and the clothing, swimwear and lingerie brand Venus is well-known for their tankinis. "Nice collection of swimsuits of different styles, colors and sizes. Cheap prices," said one Sitejabber user about Venus. Another added, "I have not had luck finding cute, trendy and still affordable swimsuits anywhere else [besides Venus] since Victoria's Secret stopped carrying swimwear."
For moms on a budget, Motherhood Maternity is one of the best websites to go shopping. Try the floral tankini swim top or the ruffle front one shoulder maternity swimsuit.
Brands to try:
Swimsuits to Slim Thighs
If you want to make your thighs look slimmer, choosing a tankini with a bottom that's a swim skirt or shorts is key to create that lean effect, flattening out your upper leg. Macy's has a good selection of thigh-minimizing swimsuits and is an easy place to shop — "[Macy's] customer service has actually improved; they are always a go-to," said one customer in a Sitejabber review. Alternatively, instead of choosing a swim skirt or shorts, try selecting a suit with more padding up top to help even things out.
Cellulite is another reason many women want to cover up their thighs — cellulite is completely normal, but if you want to keep it covered, a swim skirt can cover up your thighs and give you an elegant look; try these stylish options from Cabana Life. Swimsuit coverups, like these maxi dresses and beach pants from Nordstrom, work just as well (at least, until it's time to get in the water). You might not necessarily want to cover up your cellulite entirely, though — instead, opt for a bikini bottom with a busy print to draw attention away from your legs. Plunging necklines do the same thing: take the focus elsewhere.
Brands to try:
Swimsuits for Hourglass Figure
An hourglass figure body has round shoulders and cleavage, a well-defined waistline and full hips and thighs (think Eva Longoria and Kim Kardashian). When it comes to swimwear for this body type, InStyle recommends showing off your waist. If you're tall, go for a retro high-waisted bikini bottom with a top; if you want a traditional bikini bottom, look for something that's basic and simple. A one-piece is also a great way to show off your curves. Affordable options include the Shade & Shore one-shoulder belted one-piece sold at Target or this Archie one-piece swimsuit sold at Nordstrom Rack.
Brands to try:
Swimsuits for Fair Skin
If you get easily sunburned, going to the pool or beach can end up as a painful experience — so be proactive and cover up. Luckily, there are plenty of swimwear options that can protect you from getting burned and still help you look stylish. Long-sleeve swim shirts such as the Carve Designs Riviera Rashguard can hide your arms from the sun. Swim leggings and swim tights are also a trendy way to protect your skin. Even better, many swim leggings and tights are made with sun-protective fabric — and they provide enough coverage for any activity you might be doing. Choose a pair that has UPF 50+, such as the Santa Cruz Swim Leggings from Coolibar.
Likewise, if you have a darker complexion, choose swimwear that looks good with your skin tone. Warm skin tones look good in olive green, deep yellow and red (think Forever 21's ribbed bandeau bikini top); cool skin tones are best suited for colors such as sapphire blue (like this backless bikini from Rosegal), emerald green and dusky pink.
Brands to try:
Swimsuits With Stomach Coverage
If you don't want your stomach exposed or accentuated, Fitness Magazine recommends looking for a suit in a solid color; if the suit is form-fitting and has ruching to act as camouflage, it will be flattering. "Steer clear of styles that are skin-tight around your stomach," the article reads. "Your ideal tankini top is slightly loose but not billowy. Use tricks like draping and shirring to conceal your belly."
Any detail that runs down the center, such as a ruffle, can also make your stomach look smaller by visually dividing it in half. Best choices: the Norma Kamali Bill Halter One Piece, which covers your tummy with ruching and draws attention elsewhere with its plunging neckline; the Magicsuit Solid Tara Swimsuit that has plenty of concealing draping around the belly; and this high-waisted, color-blocked Flagpole swimsuit.
What else should you look for in a swimsuit to hide your tummy? An empire waist or lots of ruffles can create a slimming effect around your waist; try a design such as the high-waisted Stripe One-Piece Swimsuit by Cupshe. If you want to wear a bikini and still hide your waist, consider purchasing a sarong to tie up high around your waist or wearing a slightly see-through dress or tunic on top of your bikini.
Brands to try:
Swimsuit for Apple-Shaped Bodies
Apple-shaped bodies have shoulders and hips that are about the same size (celebrity comparisons: Jennifer Hudson, Angelina Jolie and Tyra Banks). Broader shoulders, narrow hips and a waistline that's not well-defined make up the apple-shaped body.
If you're going for a bikini, look for a top with extra support and thick straps — which make your shoulders look smaller — and opt for high-waisted bottoms if you want to cover up your tummy. You can also try purchasing swimwear that gathers or wraps on the side, making your waist look smaller and your stomach look slimmer; suits like these can typically be found under the category "Surplice". Colorful patterns on the top help draw the eye away from your waistline, and color panels on the side make your waist look smaller as well; try Aqua Green's Zip-Up One-Piece Swimsuit if you're aiming for color. Finally, a swim dress with an empire waist is another good option to show off the hips, such as the Leilani Women's Amalfi Coast Halter Swim Dress.
Brands to try:
Fabrics
What Kind of Fabric Is Used for Bathing Suits?
Seamwork Magazine explains that swimwear fabric should be made of 100% man-made fibers — natural fibers such as cotton absorb water, so they're not a good choice. Most swimsuits are made primarily from nylon or polyester, but include either Lycra or spandex, too. Swimsuit fabric should be stretchy and hold in the color so it doesn't bleed.
If your swimsuit is made of a fabric that's poor quality, it will fray and slowly degrade from the regular exposure to chlorine. Cotton and wool are terrible choices for swimwear, as they're uncomfortable, too absorbent and can't tolerate chlorine. Look for a bathing suit made of a fabric that has high chlorine resistance if you plan to primarily swim in pools.
It can also be helpful to buy a swimsuit that's made of a lightweight, quick-drying fabric so you can easily transition from ocean to sand or pool to chair. And remember, if you get easily sunburned, many swimsuits are made with sun-protection fabric — the higher the fabric's UPF rating, the better.
Sizes
How Should A Swimsuit Fit?
Figuring out what size swimsuit you wear might seem tricky, but with a tape measure and a little time, you can come up with the best number for you. Swimsuits For All shares the best way to measure yourself for a swimsuit:
Torso. Measure your torso first; run a tape measure diagonally down from the center of your shoulder, running it between your legs and up your back.

Overbust. Wearing a bra that fits well, measure around your body over the fullest part of your bust.

Underbust. Run the tape measure around your ribcage, letting it sit directly under your bust.

Waist. Wrap the tape measure around the small of your waist. (If you're having trouble defining exactly where your waist is, bend sideways. Wherever your body creases is your waist.)

Hips. With your legs together, measure over the widest part of your hips.
Measure yourself on bare skin and write the numbers down as you go. Once you have them, you can find your bathing suit size anywhere, even online — most websites provide sizing charts with these measurements so you can match up your numbers.
If you're shopping online, you obviously won't be able to try the swimsuit on, so you'll need to measure yourself extra carefully and rely on the website's chart. If you're shopping in-store, make sure to try on anything that you're considering. Move around as much as you can in the dressing room — sit down, bend over and move your arms as if swimming — so you can see and feel how much support a certain bathing suit will actually give you.
Swimsuits should fit snugly, but not too tightly. The torso portion should lie flat against your body with no gathering or stretching, LiveAbout explains. If any of the suit's elastic straps are digging into you, that's a bad sign that the suit may be too tight. Other red flags: Putting the swimsuit on is difficult, your range of motion feels restricted or you suddenly have a muffin top. On the other hand, your swimsuit might be too big if the material is wrinkly, if you can pull the shoulder straps up to your ear or if the open part of the swimsuit's back lifts off your body.
Many shoppers wonder if they should size their bathing suit up or down. The answer to that question depends on a couple of different factors. First, it might depend on your body type. The Kiefer Swim Shop Blog advises that women with a small chest and large hips may want to upsize, whereas if you have a big chest and smaller hips, downsizing might be in your best interest. You also want to consider what type of swimsuit you're buying. When purchasing bikini bottoms, for instance, you could buy a size smaller than you think you need; over time, the water will stretch out the fabric.
Finally, should you wear a bra under your swimsuit? The answer to this question is no. Bras aren't designed like swimsuits, so wearing your bra in the salty ocean or in a chlorinated pool is one of the quickest ways to ruin it. Plus, it will make your one-piece suit or tankini top look bulky, and a bra under a swimsuit will also hold the swimsuit back from drying. If you're concerned about having enough support, look for a bathing suit top with a built-in bra, such as this underwire tankini from Lands' End.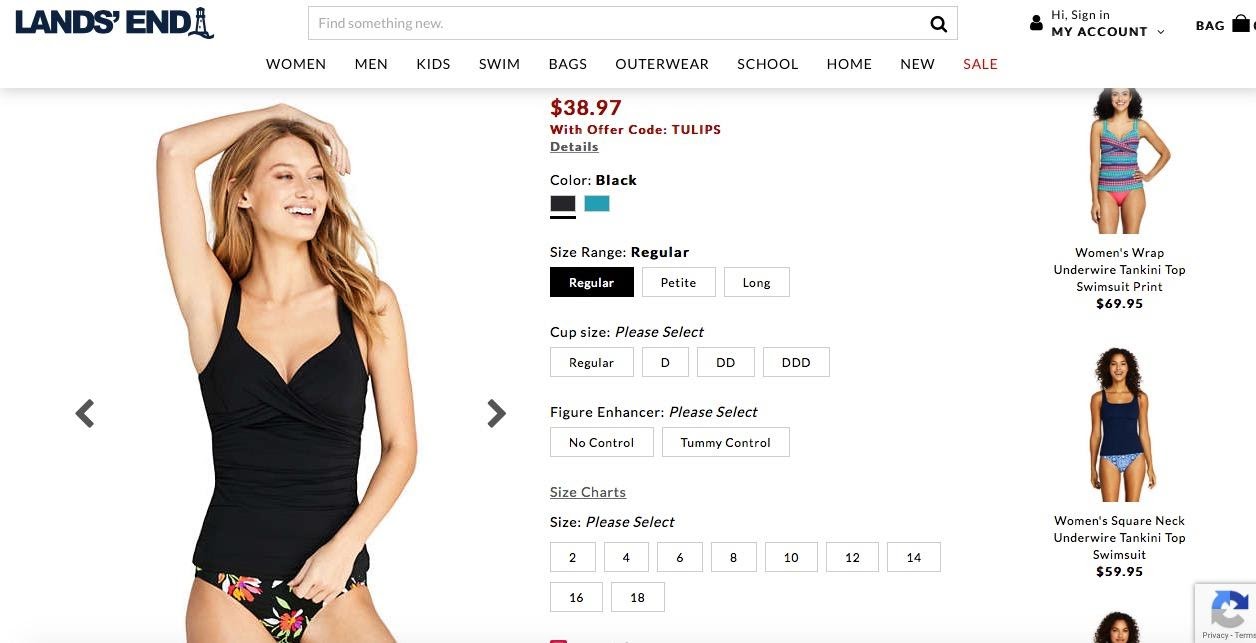 Brands
Best Swimsuit Brands
A good swimwear brand will have plenty of choices, ranging from one-pieces to bikinis to accessories such as cover-ups, and have a strong customer base that can vouch for the quality of the swimwear. Here are four of our favorites:
J. Crew
J. Crew sells bikinis, tunics, one-pieces and more. While some Sitejabber users say the customer service at J. Crew isn't what it used to be, others are more complimentary — "I am always very happy to go shopping or order from J. Crew," said one customer. "The variety is amazing and quality is top notch." J. Crew doesn't have a large number of style choices each season, but what they do have is high-quality and well-made.
VENUS Swimwear
At VENUS Swimwear, you can choose from a wide range of options and count on well-made suits — VENUS knows what they're doing when it comes to bathing suits. "I bought two separate color[s] [of] the same swimsuit because the style and fit was on point," one Sitejabber review reads. "High quality, fits perfectly, love the color selections." Many customers report that getting the correct bathing suit size from the website can be tricky, but overall, VENUS is a great one-stop shop to fulfill all your summer swimwear needs.
ASOS
Swim Solutions
Swim Solutions made Macy's list of "Swimwear Brands We Love" thanks to its trendy styles and supportive designs. Sold at places like Macy's, Walmart and Amazon, Swim Solution offers one-pieces, swim dresses, tankinis and more for a stylish fit.
Final Thoughts
Shopping for a swimsuit might seem intimidating — but it doesn't have to be! By figuring out your body type and what style of swimsuit you want, you can select the bathing suit that will keep you feeling stylish and supported all summer long.