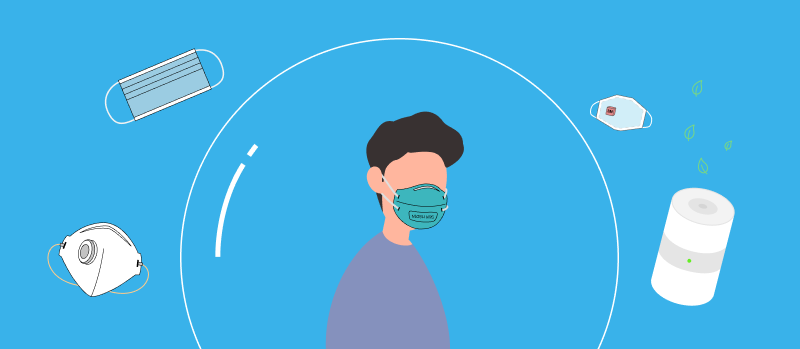 Masks and Air Purifiers: How to Avoid Scams and Buy What Works
Introduction
The COVID-19 pandemic is well underway, and as people stock up on groceries and stay at home, there's one question at the top of everyone's minds: What else can I do to protect myself from getting the coronavirus?
Many people are wondering if face masks or air purifiers can help ward off COVID-19. The answer is yes – but also no. Masks and purifiers approved by the CDC aren't going to protect you completely. However, they do have potential benefits. And according to the FDA, the best way to prevent airborne transmission is by using a combination of interventions, so purchasing both a mask and a purifier might be helpful.
Here's what you need to know about masks and air purifiers during the time of the coronavirus pandemic.
Things to Watch Out For
Before we discuss what works, let's cover a few things you need to watch out for.
Sites Selling N95s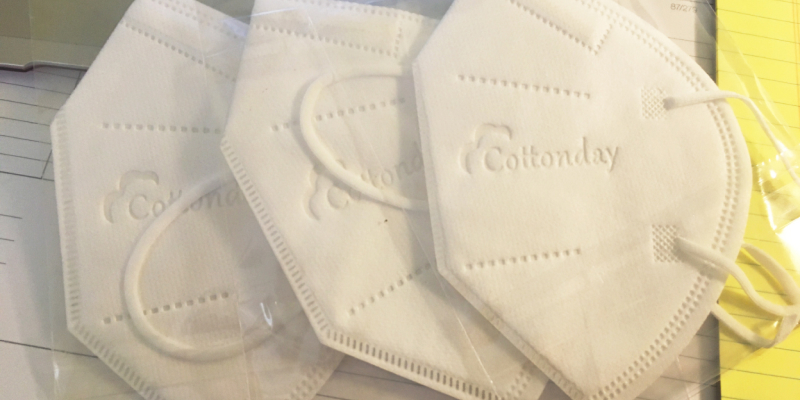 Modern Beyond, a website that sells many lifestyle products, lists N95 masks for sale. According to the website, these masks include an activated carbon filter that catches 95.99% of particles. But past Modern Beyond customers say this mask is not what it claims.
"I ordered five N95 masks," said Sitejabber user Chris N. "I received five paper masks that were completely inferior and not what I ordered. I have since read reviews online that this company has substituted paper masks for N95 masks before… [These] cheap paper masks are nothing like what I ordered and are not suitable for the purpose of avoiding virus transmission."
Other Sitejabber reviews back this up, saying that they also received paper masks and were unable to return the product. Be wary of purchasing N95s from unauthorized sites.
Sites Selling "Anti-coronavirus" Products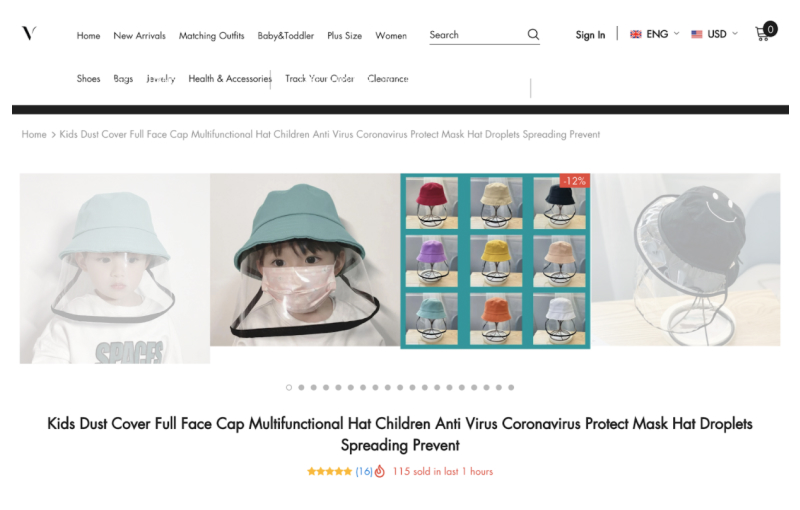 Vanichic is a website that primarily sells clothes. One product listed is a bucket hat that's advertised as "anti-coronavirus." The hat has plastic attached to the brim, which hangs down over the wearer's face. However, this hat most likely won't protect against the virus. For true protection, you need a mask that seals to your face. On this product, the plastic hangs down loosely, allowing ample space for particles to go under it. This "mask" focuses more on style than protection (advertising the embroidery that can be worn in all seasons) and will not protect against COVID-19. Shop carefully as an increased number of unauthorized businesses start labeling products as "antiviral."
Facebook Sellers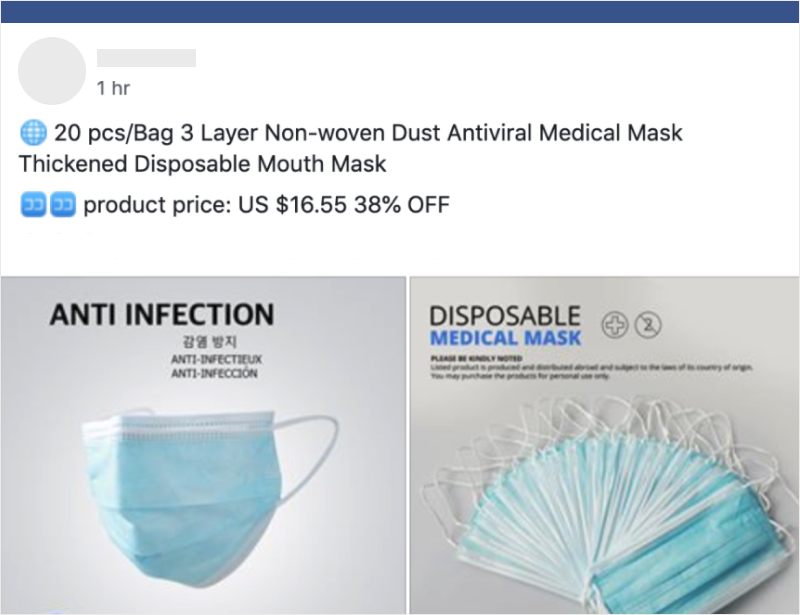 With the outbreak of COVID-19, many people are selling masks on Facebook, advertising that their mask can protect you from the virus. But this isn't a reliable place to buy a mask. Some of these sellers might not be educated about what masks are best for COVID-19 and are trying to sell you a mask that won't protect you. Others might know, but not care, and simply want some extra cash. Don't trust strangers on Facebook to sell you authentic masks. Be extremely cautious when making purchases on Facebook.
Buying Best Practices
Purchasing masks from authorized sellers is best to ensure you receive an authentic product that will protect you from airborne particles. If you're unsure whether a respirator mask is genuine, consider the following questions:
Is the mask in its original packaging with the user manual or instructions included?
Does the mask have any missing parts?
Is the package text in well-written English, or does it include misspelled words and grammar mistakes?
Does the packaging list the mask's NIOSH approval label?
These can be signs that the product might not be authentic. If at all possible, buy your mask from a verified seller (such as 3M and its store locator) instead.
Surgical Masks vs. N95s
By now, you may know that masks cannot completely protect you from viruses, and N95 respirators are more effective. However, the White House is now recommending Americans wear face masks when out in public. Let's take a look at the difference between surgical masks and N95s and the preventative measures you're taking by wearing them.
Surgical Masks

Surgical masks are best for protecting against fluids. These masks are made of paper and commonly used by doctors and other medical professionals. They cover the wearer's mouth and nose to protect from any splashes of blood or bodily fluids; surgical masks also ensure that no bodily fluids from the wearer get on the patient. These masks primarily filter droplets, not particles. Surgical masks must be disposed of after only one use. Because surgical masks are made of paper and are loose-fitting, they're not as effective as respirators when it comes to filtering out airborne particles.
However, wearing masks or other face coverings could help with the asymptomatic spread of the virus (spreading the virus by those without sickness symptoms).
The CDC is now recommending wearing face coverings in public. Since there is a shortage of masks for even healthcare workers, U.S. Surgeon General Dr. Jerome Adams demonstrates how you can create masks at home.
N95 Respirators

N95 respirators are best for filtering out particles, including bacteria and viruses. According to the CDC, respirators are masks that "reduce the wearer's risk of inhaling hazardous airborne particles (including infectious agents), gases or vapors." Respirators are certified by both the CDC and the U.S. National Institute for Occupational Safety and Health (NIOSH). N95 respirators are a specific type of mask that removes particles from the air coming into the masks.
N95 respirator masks are more effective than surgical masks because respirators fit tightly, sealing to the wearer's face so particles can't sneak in around the edges. N95s also have a more sophisticated filtration system – they filter out 95% of very small particles and can filter out bacteria and viruses, too. Surgical masks are helpful for medical professionals performing everyday procedures, but cannot stand up against a pandemic such as COVID-19. A tight-fitting N95 respirator is far more effective because it lessens the wearer's exposure to airborne particles and stops the surrounding area from being contaminated if the wearer coughs or sneezes. No respirator will completely eliminate exposure, but N95s can filter out a lot.
Where To Buy
The CDC lists trusted retailers like 3M on their website. You can also call chain retailers like Lowe's, Target, The Home Depot, Walgreens, or Walmart, to see if they have masks in stock. However, with not enough masks and respirators for health professionals and the rest of the nation, it can be tempting to purchase from unauthorized sellers. But take it from our reviewers–it's probably best to refrain.
Air Purifiers
Like masks, air purifiers cannot completely protect you from a virus. But air purifiers can act as supplementary tools to keep your home clean. Air purifiers that have a HEPA filter can trap some airborne virus-sized particles. UV and PECO filters are the other two primary types of purifiers that can filter inactive airborne pathogens.
Experts are still figuring out whether coronavirus is airborne, which the right type of air purifier could help filter.
Types
HEPA

HEPA (high-efficiency particulate air) filters remove 99.97% of particles bigger than 0.3 microns by trapping the particles in multiple layers of netting. Purifiers with HEPA filters are often recommended for individuals who have allergies or asthma because HEPA purifiers can remove fine airborne particles such as dust and pollen. However, HEPAs cannot trap gases or chemicals, and replacing the filters can get expensive. And when it comes to COVID-19 specifically, a HEPA purifier may not be the best choice. According to microbiology professor Dr. Erin Sorrell, as quoted in BuzzfeedNews, coronavirus particles are too small (0.1 microns) for HEPA filters to remove from the air. While some evidence shows HEPA filters can remove smaller particles, 0.3 microns is the testing standard.
UV Filters

Air purifiers with UV filtration systems use ultraviolet light to kill microorganisms. UV filters have several pros: They don't have a physical filter that might become blocked, and they're efficient because they run constantly. UV light has also been found to kill viruses like the flu. But UV filters are expensive and don't remove most allergens. UV purifiers are capable of killing some viruses, but there's no guarantee they will protect you against COVID-19.
PECO

Air purifiers with PECO technology (which stands for Photo Electrochemical Oxidation) can capture smaller particles than HEPA purifiers. Although no purifier can fully remove coronavirus from your home, PECO filters may be more helpful than HEPA because PECO filters are created to destroy very small particles such as viruses. When it comes to coronavirus, this won't necessarily make a big difference because coronavirus lives on surfaces for long periods of time and is spread by person-to-person contact. However, new information is still emerging in regards to the airborne transmission. PECO purifiers can help remove viruses from the air – and it can certainly improve the overall air quality of your home.
Air Purifier Brands and Websites
There are several brands of air purifiers you can look into for your family.
Best for: The Molekule air purifier is best for quickly improving air quality. Molekule is currently running tests to assess its effectiveness against coronavirus.
Type: The Molekule utilizes PECO technology.
Models and pricing: The Molekule Air costs $799.00 plus shipping, while the Air Mini will set you back $399.00. Both products offer a 30-day home trial with a full refund if it doesn't work out.
Reviews: Molekule buyers report that they noticed a difference in air quality after just one day of using the purifier. They also noted how the purifier is very quiet, and many reviewers appreciate the minimalistic design and the way the purifier can be controlled through an app.
"I had no idea how stuffed up I was until we plugged in our Molekule," said Sitejabber user Shawna H. "Within minutes (yes, minutes) my sinuses started clearing up… It has been such a great air purifier that we purchased a second. We have had other expensive air purifiers and they worked ok but our Molekules have been spectacular."
Where to buy:
For A Range of Options
Best for: Allergy Buyers Club is a good choice for you if you need a little guidance as you decide what purifier to get.
Type: Allergy Buyers Club sells multiple types of air purifiers, including those with HEPA technology.
Models and pricing: Allergy Buyers Club sells 18 separate brands of air purifiers.
Reviews: Allergy Buyers Club ranks #1 in allergy websites on Sitejabber and has over a thousand five-star reviews. "I was impressed with my first call to the club," said one Sitejabber user. "The agent was pleasant and very helpful. She understood my needs and her recommended product was just right for my situation."
According to many reviewers, the customer service post-purchase is good, too. "One product arrived with a problem that caused it to make excessive noise. ABC quickly sent a replacement free of charge! Great customer service," said David Q.
Where to buy: Visit AllergyBuyersClub.com to purchase a purifier.
Masks and Air Filters During COVID-19
No mask or air purifier is guaranteed to protect you from COVID-19. And experts have not come to a complete agreement over whether coronavirus is an airborne virus. But by purchasing an N95 respirator mask from a verified seller or finding an air purifier that captures tiny particles, you can increase your chances of staying healthy throughout the coronavirus pandemic.
Have more questions? Reach out to others on our COVID-19 community Facebook group.