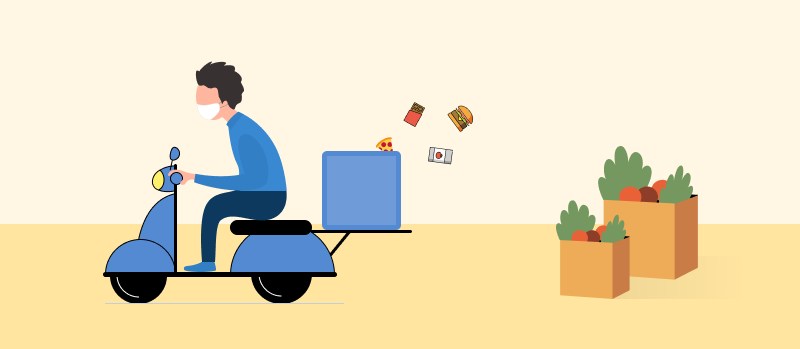 The Ultimate Guide to Food & Grocery Delivery Apps
Meals, Groceries & Household Supplies Without Leaving Your House
During this unprecedented COVID-19 outbreak, people across the country are staying inside their homes, following the direction of the CDC to help stop the spread of the virus. The good news is that you can still support your local restaurants, cook great dinners, and get groceries from home during this time of social distancing. Food delivery services for ready-made meals, groceries, local restaurants, and household supplies are available all over the United States. Use this guide to see which services could be right for you and your family.
If you or someone in your home is ill with COVID-19 or something else, choose a service with contactless delivery to keep delivery drivers safe. They will leave your order at a designated location (typically your front door).
If you think you have been exposed to COVID-19, call your healthcare provider for medical advice, especially if you develop a fever and symptoms, such as a cough or difficulty breathing.
Restaurant Delivery
Help support your local restaurants that have been impacted by the COVID-19 outbreak. While most dining rooms are closed around the country, many businesses remain open for take-out and delivery orders. While there has been some hesitation surrounding eating food from restaurants during this time, experts believe that it is safe. Many news and government sources such as CNN, FDA, and Today have in-depth reports on the topic, and all agree that the risk of contracting the virus from ordering take-out is very, very low.
Restaurants are following strict regulations during this outbreak, including strict food safety rules and restricting patrons from their dining rooms. With these efforts, they are keeping food safe and accessible for millions around the country. If you're hesitant to order from a local restaurant, call them first for some reassurance. If you feel comfortable after talking to them about their safety procedures and regulations, go ahead and order – they will greatly appreciate your business.
Helping Local Restaurants
Remember, if you can do curbside takeout from local restaurants, 100% of the proceeds go to that restaurant. If you cannot pick up your food due to illness or quarantine, delivery through these apps is the next best option.
Apps like Caviar and Goldbelly specialize in independent restaurants, so be sure to check those out if you want help local businesses during the outbreak. DoorDash and Caviar announced they are reducing commission fees for local restaurants until the end of May.
The following restaurant delivery apps can be used on your mobile device (or via computer) for easy access to all of your local favorites.
Tips for Restaurant Takeout During COVID-19:
If you feel sick and still need or want to order delivery from a restaurant, be sure to ask for contactless delivery so that you aren't putting anyone else in danger.
Dispose of takeout packaging and put the food on your personal kitchenware right away, then wash your hands.
Store extras in your own Tupperware, not the plastic that takeout comes in. The virus can survive on plastic for a short amount of time, according to a report by USA Today.
Restaurant Apps

Best for: Diners looking exclusively for local and independent restaurants. While most restaurant delivery apps are very busy right now, Caviar is new and might have more availability than other popular apps. Caviar is now part of the DoorDash family.
Commission taken from restaurants: Fees can reach 30%.
Coronavirus changes:
For the restaurant
Caviar is reducing commission fees for local restaurants by 50% until the end of May.
Caviar is eliminating 30 days of commission fees for newly signed up restaurants.
No commission fees on pickup orders.
For the driver
DoorDash, Caviar's parent company, has announced a COVID-19 Financial Assistance Program for employees impacted by the outbreak.
They have access to an exclusive online store with gloves and hand sanitizer that is available for drivers to order.
For the customer
Receive free delivery for your first month.
Ask for contact-free delivery at checkout.
Locations: Available in 30 major cities around the U.S.
How it works:
Create a free account and enter an address.
Choose a restaurant that delivers in your area and complete your order.
A Caviar driver will deliver your order.
*pickup is also available
Price/Discounts:
Prices and delivery fees vary.
Some restaurants always have a $0 delivery fee.
Diners can sort by categories, including dishes under $15.
Quickly Compare Your Order Price on Different Delivery Apps
Find the best prices and delivery times for your restaurant orders with apps like Foodboss and newly launched MealMe. You can order Caviar, Delivery.com, Postmates, and UberEats directly through the Foodboss app after checking to see which will be the cheapest or fastest. With MealMe, you can select a restaurant to find which delivery app will be the cheapest. MealMe compares Caviar, Delivery.com, DoorDash, Eatstreet, Grubhub, Postmates, UberEats, and Waitr.
Meal Kits

If you have a lot of free time during this time of social distancing or self-quarantine, why not become a better cook? There are a wide variety of meal kits available for delivery to your doorstep. These kits come with almost all ingredients pre-measured and in-depth recipes with tips. If you're not into cooking or don't have enough time, don't worry, a few options come with almost fully prepped meals that are fast and easy to heat up and serve.
Food suppliers are experiencing shipping and inventory delays all over the country. If you're interested in one or more of these meal kit services, create a free account on their website and enter your zip code to check for availability and delivery days in your area. Be sure to request "no contact delivery" on your online account. Your food will be shipped in an insulated box with ice, so it can sit on your doorstep until you're home or can get to it. If you live in an apartment building, remember to leave delivery instructions for the driver.
Best for: Anyone. Blue Apron is a very popular subscription plan offering a variety of meat and veggie dishes with sustainably sourced ingredients. There are Beyond Meat™, Weight Watchers approved, and diabetes friendly recipes available each week. For those looking for something extra, Blue Apron also offers wine subscriptions that are picked to complement their weekly menu.
Coronavirus changes: Check your location for delivery availability.
Locations: All states within the contiguous U.S.
How it works:
Choose a 2- or 4-person plan.
Choose from meat and veggie strictly vegetarian.
Log-in weekly to choose your next meals from a rotating menu of 12 recipes.
Price:
Prices start at $7.49 per serving.
Optional premium recipes are $14.99 per serving.
Groceries

There has been a considerable increase in online grocery ordering and delivery in the wake of the COVID-19 outbreak. Thanks to this relatively new way to order groceries, we can all abide by the rules of social distancing and get our groceries without coming into contact with people at the store.
Whether you'd like to do curbside pickup or home delivery, these stores and apps have you covered.
Same-Day Delivery
Order fresh groceries from your favorite local stores and schedule same-day delivery or pickup. These stores have all of your usual grocery staples, including refrigerated and frozen foods. If none of these options work for you, check your local stores to see if they're offering online ordering. Usually, they'll at least offer curbside pickup if they can't deliver.
Note that a lot of stores won't be "same-day" servicing right now because of high demand, so you might need to order a few days in advance to get the time slot you'd like.
Best for: While Amazon Fresh is a well-loved option in its available locations, it is currently bombarded with orders and has low availability. If you're having trouble with ordering, check out some of the other stores below.
Coronavirus changes:
Amazon Fresh has low inventory and delivery options right now due to COVID-19 outbreak.
Unattended delivery and pick-up options are available in some locations.
Due to COVID-19 employee safety concerns, workers on Staten Island issued a strike on Monday, March 30.
Locations: Only available in select cities.
How it works: Typically, customers can select a 2-hour delivery window for their order and have it delivered for free with a cart of $35 or more.
Price: Receive free delivery with purchase of $35 or more.
Ship to Order
Ship to order stores offer pantry items and household goods directly to customers from their warehouses; they do not have physical stores. Typically, these stores source from other brands and companies to bring you a variety of options. Most of the following brands have addressed the COVID-19 issue in some way, and all of them are still up and running, although inventory for some items is low or limited.
Best for: Purchasing bulk foods and household supplies for delivery. Boxed has pantry, cooking, and baking essentials, health and wellness products, wine, and much more.
Coronavirus changes:
Visit Boxed's FAQ section for COVID-19 updates.
There are quantity restrictions on virus-related items.
Contactless delivery is now available. Drivers call/text when delivery is left at your door.
Locations: All states within the contiguous U.S.
How it works: Shop for bulk products for your home or office, no membership necessary.
Price: No membership fees, prices are per item.
Snack Delivery Boxes
Snack delivery boxes are a great way to keep your pantry stocked, whether you're working from home or keeping the kids busy during homeschooling. Try new, healthy snacks from these popular online stores. Some offer monthly subscriptions while others are a "per item" shop.
Best for: Health-conscious shoppers looking for a variety of food, drinks, and smoothies. Daily Harvest delivers food to your door weekly or monthly, with flexible and customizable plans. Choose from smoothies, harvest bowls, soups, snacks, oat bowls, lattes, and more. All recipes are vegetarian; some are vegan.
Coronavirus changes: Daily Harvest is continuing to deliver as scheduled.
Locations: Most locations within the contiguous U.S.
How it works:
Choose a weekly or monthly subscription.
Log-on before your next shipment to choose from 50 recipes.
All recipes are ready within minutes.
Price: Prices start at $6.99/item
Household Supplies Delivery

Certain household supplies have been hard to find during the outbreak, especially paper products and disinfectants. If you aren't having any luck in-store, or you need to limit your exposure, try finding your household supplies online and have them delivered to your house.
Best for: Purchasing bulk foods and household supplies for delivery. Boxed has paper products, cleaning supplies, baby and pet essentials, and much more.
Coronavirus changes:
Visit Boxed's FAQ section for COVID-19 updates.
There are quantity restrictions on virus-related items.
Contactless delivery is now available. Drivers call/text when delivery is left at your door.
Locations: All states within the contiguous U.S.
How it works: Shop for bulk products for your home or office, no membership necessary.
Price: No membership fees, prices are per item.
From The Sitejabber Team to You
Hang in there! We know these are difficult times for so many. Hopefully, you've found some grocery and household resources through this guide to help bring you peace of mind. For more information on COVID-19 resources, visit our Consumer Resource Guide.
Please remember, if you or someone you know is showing symptoms of COVID-19 or has recently been exposed to the virus, visit the CDC's website for what to do next. It's important to look out for yourself and each other during these trying times.
Have more questions? Reach out to others on our COVID-19 community Facebook group.