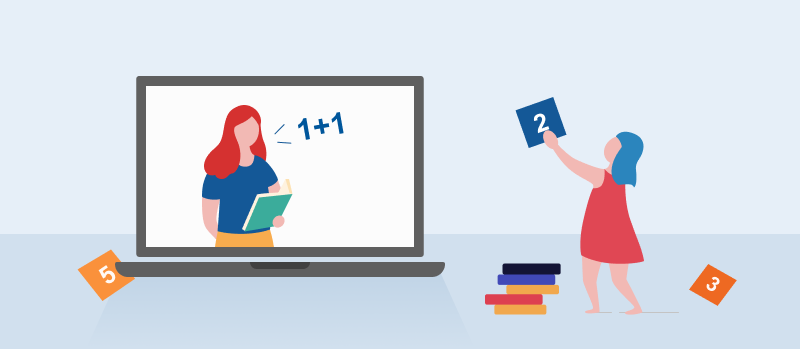 Kids' Educational Websites & Learning Resources Guide
Introduction
Now more than ever, parents need reliable digital resources to help with learning from home. To help you find the right tools for your children, we have an extensive list of reputable, crowdsourced websites that you can access at home, and many are offering free or discounted services right now.
These resources are organized by subject so that you can easily find what you're looking for. No two kids are the same, so this is a great way to create an at-home program catered to your child's needs. Use these resources to create your kid's flexible schedule or supplement their current curriculum.
Sitejabber team member Traci, who is also a seasoned homeschooling mom, has some words of advice as millions of parents across the world turn to homeschooling. She shares her experience, saying that "it takes a long time to figure out a routine that works and it's different for every single family I know. Read, play games, get outside, watch documentaries, and then read some more. I don't want people thinking they need to replicate traditional schooling right now."
The biggest takeaway from this advice, and the advice of many experts, is to go easy on yourself. Trying your best is the most that anyone can do right now.
Resources
General Learning

These sites offer more than one subject matter. Some include in-depth learning programs with courses, activities, and quizzes, while others are an excellent resource for productive breaks or free time. Some of these resources are free, and most others are offering a discount due to the outbreak. As you browse, don't forget to bookmark your favorites!
Best for: Those with young children under 8 that are looking for a variety of subjects and activities. ABCmouse is offering free subscriptions right now, with access to thousands of activities that are organized on a "learning path" that becomes more challenging or complex with each level.
Age Range: Grades Pre-K - 2nd
Features:
Reading, Math, Science, Art & Colors
850 lessons with 9,000 individual learning activities
Games, books, songs, puzzles, art, printables
Pricing:
Use code SCHOOL7771 for access to free resources
Free 30-day trial for new users
Regularly $9.95/month
Add up to 3 children for the price of one (same account)
Learning Resources by Subject
The following resources are organized by subject, including Reading and Writing, Math, Science, Programming and IT, Arts (Culinary, Music, and Visual), World Languages, and Virtual Field Trips
Reading & Writing

Reading and writing are all about practice, which means a lot of materials are needed for kids to use at home. Chris Slavin, founder of the fun and easy-to-use Classroom Cereal, gave us some advice when looking for resources:
"Consistency is always key, but it's especially important now that kids are learning in such new and different environments. My advice is to look for materials that provide consistency. Find products that encourage routines. Quick, fun, educational exercises that kids can look forward to every day."
Best for: A writing program to help refine your child's writing skills. Brave Writer has programs available for kids ages 5-18 that incorporate original thought, mechanics, literature, and projects. Writing bundles are around $200, but these are in-depth programs. There are free, short-term lessons and prompts available as well.
Age Range: Grades K - 12th
Features:
3-6 week online classes
Ready-made lesson plans
Free podcasts, blogs, a YouTube channel, and guides for parents
In-depth writing bundles available for extra writing help
Pricing:
Free lesson plans during COVID-19 outbreak are available
Other content is paid, and prices vary based on bundle (around $200 for complete program)
Math

Math can be a tricky subject for parents to teach without having a refresher. Luckily, there are a lot of reliable online resources available for lessons, homework help, and study time. Alex Cull, a director at leading game-based math site Mangahigh, shared with us her thoughts on digital learning right now:
"The issue isn't getting your child to use an online resource, it's making sure they are actually learning while sitting in front of the screen. Check the options out there to see if they can measure and demonstrate your child's progress in what they're learning and, even better, if it can suggest further activities to develop their knowledge."
Check out these community-recommended platforms that provide a flexible way for your kids to continue working with math.
Best for: Getting younger children excited about math. Bedtime Math has a few resources for parents, including two free Bedtime Math apps for phones or tablets and non-screen math activities for at home. The Bedtime Math app has daily math problems to help kids quickly brush up on their skills via a mobile device. There is even a special MiniMath app just for preschoolers. At-home math activities are organized by age, length, and math subject.
Age Range: Grades Pre-K - 4th
Features:
Two free apps: Bedtime Math and MiniMath
At-home math activities in Measurement, Counting, Basic Operations, Coding, and more
In-depth writing bundles available for extra writing help
Pricing: Always free, no account required for website
Science
Help your child explore the exciting world of science through hands-on experiments, lessons, videos, games, and more. All of these science-based sites are offering free services right now.
Best for: Supplementing your child's biology class, or productive free time. Arizona State's Ask A Biologist section gives parents, teachers, and students free access to stories, galleries, puzzles, activities, and podcasts covering an array of biology topics. From anatomy coloring pages to in-depth biologist interviews on current issues, there are activities available for all ages.
Age Range: Grades K - 12th
Features:
Free activities like coloring pages, experiment guides, games, simulations, quizzes, and virtual reality
Podcasts and videos about current events, popular topics, biologists' personal work, and more
Pricing: Always free, no account required
Programming & IT

Give your child a headstart in programming and technology by helping them learn to code. Whether it's part of their curriculum, or you're interested in giving them a boost, there are programs out there that make it fun.
Best for: Introducing children to programming. The MIT Media Lab created Scratch, a block-based visual programming language and website where kids can create online projects. This gives students an educational way to create interactive stories, games, and animations for free at home.
Age Range: Grades 3rd - 12th
Features:
Kids code while practicing problem-solving, project design, and communicating ideas
Available in more than 40 languages
Community-based program, you can browse other users' projects
Pricing: Always free, no account required
Arts

Explore different ways to bring the arts to your child while homeschooling, whether it's cooking up a new dish together with kid-friendly culinary classes, creating their own music online, or learning about theater through the historic Kennedy Art Center. You and your child are bound to have fun exploring new areas of art together.
Culinary

Try new recipes together, help your child learn cooking skills, and explore different cultures by taking culinary classes at home. Katie Bethea, Director of Community at popular kids cooking club Raddish Kids, shared with us what makes cooking with your kids so special:
"The kitchen is the perfect place to cultivate academic skills like math, science, geography, culture, reading, among other subjects outside of the traditional classroom."
Best for: Teaching kids how to cook at home. Raddish Kids is a monthly "cooking class" subscription that includes three recipe guides, a kitchen experiment or craft, three culinary skill lessons, and a grocery list in each box. Food ingredients are not included in the kit. Director of Community, Katie Bethea, explains:
"Raddish kits weave in many other classroom subjects alongside key culinary skills that nourish the mind, expand the palate and empower kids in the kitchen and beyond."
Age Range: Grades K - 9th+
Features:
Kits combine other subjects like Math, Science, and World Culture while cooking
Seasonal, global, and holiday themes
Each kit also includes a new kitchen tool and apron patch
Pricing:
Monthly: $24/month
6-month subscription: $22/month
12-month subscription: $20/month
Special discounts available on website for new subscription sign-ups
Music
Music is therapeutic for many and can be the perfect way to spend free time productively during long days at home.
Best for: Anyone with young children. Chrome Music Lab can be used as a supplement to your child's music class, or as productive free time. This program allows kids to learn music at home through virtual experiments and by connecting music to science, art, math, and more.
Age Range: All ages, but mostly geared towards younger children
Features:
Song Maker lets you make and share your own songs
Learning topics include rhythm, chords, harmonics, strings, and much more
Pricing: Always free, no account required
Visual Arts

Introduce your child to famous works of art, teach lessons to supplement their studies, or have fun with dance by bringing visual arts into your home.
Best for: Age-appropriate art lessons. The Kennedy Center has a library of free lessons and allows users to filter by age, arts subject, related topics, and lesson length. These in-depth lessons were designed for educators to use for free, but parents at home can use them just the same. Each lesson includes learning objectives, suggested materials, background information, and student prerequisites.
Age Range: Grades K - 12th
Features:
Visual Arts, Theater, Literature, World Culture, Opera, Dance, and much more
Some lessons connect to Science, History, Social Studies, and more
Articles and How-To's to bring art into your lessons
Free art media content for kids of all ages
Pricing: Always free, no account required
World Languages

Whether you speak multiple languages or not, it can be challenging to help your child learn a new language if you aren't trained in teaching it. Let these programs help you and your child succeed in language studies.
Best for: Anyone. Duolingo features quick games to help you learn a new language or brush up on your skills. This program is available in 36 languages with free access from a mobile device or computer. Helping your child learn a second language is especially hard when you don't speak it yourself, so online programs like Duolingo can be a huge help. Choose a free account or a Plus membership to remove ads and unlock other features.
*Download the Duolingo Kids free app for children 4+ to learn French or Spanish (only available on mobile devices).
Age Range:
13+ for Duolingo
4+ for Duolingo Kids app
Features:
36 languages
Adaptive lessons for personalized learning at your skill level
Instant grading
Earn virtual coins, unlock new levels, and increase your score
Pricing:
Free membership is available
$6.99/month Plus membership removes ads, allows offline play, and supports education charities
Virtual Field Trips

Whether you're looking for a productive way for your child to spend their free time, or if they're missing out on a long-awaited field trip, so many parks, museums, zoos, and other institutions are offering virtual ways for you to visit. The best part about these resources? They're all cost-free.
Best for: Getting your child excited about art and creating things. Take a virtual trip to the second oldest children's museum in the United States. The Boston Children's Museum brings the fun home to you, with hundreds of free activity ideas that teach the same lessons as the exhibits in the museum.
Age Range: All ages, but geared towards younger children
Features:
Pricing: Always free, no account required
Navigating Our "New Normal" Together
As parents, guardians, and teachers around the world adjust to their new "normal" way of teaching, we want you to know that we're here for you. Many schools have already made the decision to continue virtual learning for the remainder of the school year. For that reason, we'll keep adding new resources as we come across them to help you fill in teaching gaps and keep your children happy and busy. Even if you don't want to pay extra for resources, take advantage of the free trials or memberships offered by the sites in this guide, maybe your child will really enjoy one of them. Remember, all you can do during a time like this is to try your best.
Have more questions? Reach out to others on our COVID-19 community Facebook group.