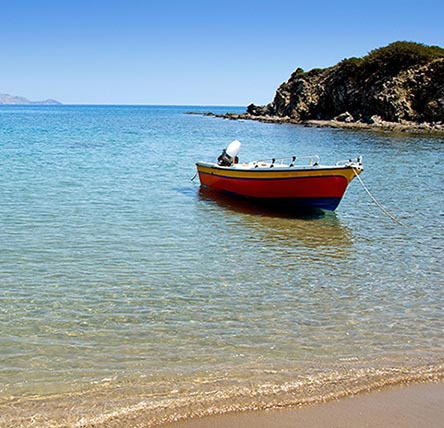 so"solman" c.
7

Reviews

30

Helpful Votes

0

Thank Yous
Experience: Relationships, Business, Computers & Technology
Member since October 2015
Reviews

7

First to Review

1

Votes

30

Very Helpful

29

Funny

0

Fraud Buster

1

Great Find

0

Well Said

0

Thank Yous

0

Fans

0

Profile Views

622
About Me
I am an internet marketer and I also write reviews on sites I have visited and products I have used.
How I Can Help
reviewing websites, products,games,movies,books and more.
Interests
technology, music,travel,books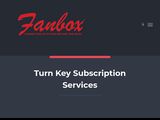 FanBox
It started as site that offered free text messages around the world. Then it went on to become an online money making platform. This is FanBox.com, a site that has had mixed reviews over the years concerning the way it does business and still does business.

It was an impressive start for FanBox.com when it jumped from a free text-messaging service website as a way of socializing, to a complete social media website that in some ways looked much like Facebook.

It had one difference though, it incorporated into its social media enviroment the possibility for its registered members to engage in income earnings activities. It created these opportunities by first introducing blogging.

This was at a time when blogging was becoming very popular as a platform for sharing content.With time it created more and more opportunities for its members to earn. It also created a marketplace where individual members could list new and used items and sell them and where interested members could buy them

Some of the opportunities created were blogging, boosting ads,creating ads for blogs, teaching and success coaching. With time more and more opportunities were added.

Registration was open to anyone wanting to earn an online income and cash out required that earnings reached $25 or more before they could be requested. The cash out procedure however required a 90-day maturity period which meant that even if someone registered to earn from the website this month, they would only be able to collect their first payment after 90 days/3 months.

Cash out required having a paypal account or receiving a check at a given physical address. Cash out through paypal was quicker as it took 3-5 days to see earnings in your paypal account.

Seeing that membership had grown rapidly and seeing that this growth kept on increasing, FanBox then decided to make the site a closed membership site. This meant that joining the site would require an invitation and recieving such invitation would require a Visa.

A Visa was nothing more than a code that was communicated to the person being invited by the person inviting them through email, who on receiving the code, would insert the code on the registration page where it was required and then get access to the site after the code was accepted and registration completed.

This as FanBox put it, was to make sure only people serious about earning and serious enough to stay on the site for long and not leave the site would join.FanBox also introduced a form of advertising credit system in which all members could receive advertising credits and use them to promote their blogs and earn.However once earnings were made these advertising credits had to be returned back to the advertising credit pool before any earnings could be cashed out.

This in a nutshell is FanBox.com which today goes by the name empwr.com.Today,It has an elected president who is voted in by members. Presidency is currently for 1 year and could eventually be extended. Participation in election as presidential candidates is open only to members who are success coaches.

When it turned to a social media website with income earnings opportunities it was one of the best online experiences of the time. Many members earned incredible amounts of money and cashed them out.Cash outs were extremely frequent such that earnings proofs were posted regularly by members on their individual timeline.

While the frequent cash outs was pleasing to members some members were wondering how sustainable this trend would be in the long term. Some also questioned where the money to pay the cash out was coming from as they couldn't find anything in FanBox's activities that could allow it to generate so much income as to afford paying millions in cash out money each month.

FanBox.com had to its advantage the creation of a social media site which incorporated a marketplace as well as an advertising platform and many earnings opportunities.Earnings could be generated within the site without the need for external engagement even though making blogs and selling products you might have, known to an external audience, also helped. But it wasn't necessary.The FanBox enviroment was big enough to meet the marketing needs of every registered member on its site.

If cash out was rapid and easy before,with the introduction of the advertiser credit, cash out request was only possible if earnings exceeded the amount of advertiser credit used.It meant first paying off advertising credit used at the moment you want to cash out your earnings and then make cash out request for what was left over as earnings. Also many programs such as the success coaching program changed rapidly as requirements into the program was becoming more demanding.

As a site that has completely changed to add lots of new features over the years even having its own downloadable app on Google Play and Apple store it moves with the changing times frequently updating its technology to better meet the demands of its members.

Having survived more than 12 years online and still continuing along the lines of its slogan which is " to empower people by enabling opportunities" . It has a rich content website that offer a great many ways to earn,to network with other people and to sell products and offer services. While this is acceptable, earnings are put to the hard test by way of the introduction of the advertiser credit feature-which can be regulated individually-being used as the only viable way to earn more and earn well. Many people may not feel encouraged by this but if anyone has challenging tendencies to try this online experience then they are welcomed to do so.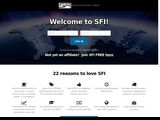 SFI Marketing Group
Many sites have come and gone in 18 years but SFi is one of those online income site that has stood the test of online time to become a household name. It is therefore a business built on a solid foundation as it's continuity for the past 18 years, makes it a site that is trustworthy.

For those looking for more ways to earn online, SFI could be your best choice both for the present and for the future. For the present because you want to earn enough so soon to use it for your daily needs and for the future because you want to meet future needs and want to work towards putting money aside.

SFI is quite easy to follow as it gives you all the tools you need to work with from start to finish, It is free to join and is always free to join. It is a site with an affiliate program in which you can sponsor affiliates or be assigned affiliates and earn from their efforts, Once you register you will have your own affiliate center. From the affiliate center you have a list of daily tasks which you must do to earn Versa Points. These versa points translate into earnings.

There is also a marketplace in which you can earn. To earn you can promote other people's products or set up your own store and sell your own products. You can also invite friends,family,people you know who are interested in buying online to register in the marketplace and earn a percentage from what they buy.

If you know of any company that could use the the SFI marketplace to promote their products then you can get them to register and earn a percentage on every sales they make. The SFI marketplace also has a very generous auction place where you can bid on lots of items with prices starting as little as $0.99. Learning tools are readily available and there is also a forum where people can get useful information from experienced SFI members.This is SFi in its simplest description of the program.

Many think of SFi as being too complicated and too difficult a system to follow. But when you have free tutorials for every earning opportunity on SFi, when you have a forum where you can get useful information to help you understand the system better, then SFi presents no complication at all.

All it needs is patience and a willingness to understand how it works and what you need to do to get the most out of it. It is not one of those get-rich quick programs so you could be dissappointed if you aim for that. SFI means building a strong and solid income opportunity that will turn out to be a home business from which you earn a generous monthly income.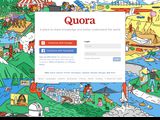 Quora
Yes good questions from around the world all meet at Quora and find great minds. Great minds means years of experience coupled with great knowledge and expertise in any chosen field of human endeavor.

Quora is just that and operates in a simple.easy to use manner. Once you register and confirm your account you can then start asking questions or answer avaiable questions. Each answer you give to a question can be upvoted or downvoted. Where you don't want to answer questions you can also place simple comments which should in no way answer the question for which you placed the comment.If by chance your comment is an answer you may receive a notification from someone telling you not to write answers to questions in the comment box.

Using quora is a good way of searching for answers to most of the questions that you may not find answers to anywhere else on the web. The questions are answered by knowledgable individual who may be company managers professionals in their chosen field of endeavours. It is truly an exciting place.

But unfortunately using quora means using your real identity. This means you must use your registered real life name and surname and other information to be able to use the site fully-that means to both answer questions and ask questions. Without this your account wil be banned from answering question until you update your information with your real identity.
This method has been questioned many times by quora users as many are not comfortable sharing real life information on a site that one day is and tomorrow might just disappear.But time and time again the answer is still the same that "it is the sites policy to require members to use their real identies when registering."

Seeing how much data theft goes on online I also do not feel comfortable sharing that much personal information as there is no guarantee that the information itself is well kept. For those who have no problem in sharing such personal information quora might be a great place to get valuable information and help in answering the many questions that are being asked.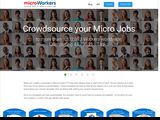 MicroWorkers
If you are looking to make decent money on the internet, then perhaps microworkers.com is not the best place to do so. But whether you are looking to make money or just want to earn something during the day, microworkers could make your day.

The site offers ways to earn money by doing micro tasks. These are tasks that are submitted by individuals. Anyone interested in earning must register on the website and login and begin doing available tasks.

Each task has an assigned amount you can earn from it once you complete the task.The task once completed as requested is then reviewed by the individual who put it out and if all instructions were followed and the task done correctly, the assigned amount for completing the task is then paid out.
Task earnings can range from as little as $0.01 to up to a $100 and perhaps even more. Currently the highest paying task pays $30. This is at the time of writing this review.

The minimum payout amount is $9.00 but you must have at least $10 or more to request withdrawal. Withdrawal can be made using paypal or payza and depending on which payment processor you use about 7% is deducted from your earnings. This is why as said before earnings must be at least $10 or more.

The first withdrawal takes time because when you make your first withdrawal request, microworkers.com will send you a withdrawal code directly to your home address or your physical mail address. Depending on your location this may take up to from 2-4 weeks to recieve. Once you recieve the letter containing the code you can use it to cash out your earnings by entering the code in the appropriate box.

Microworkers.com may not be the big money earner that most of us dream of to find online but it does offer a little satifaction in allowing us to earn something at the end of the day. Apart from the first time withdrawal that takes up some time, payments are never delayed and may take up to 3-7 to see in your paypal/payza account. I have not had any problems cashing out. I have never run into any kind of difficulty using the site and will continue to use it as long as it remains. While it may not guarantee great satisfaction, a little earning can start the day and can go a long way.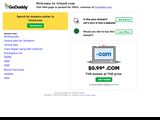 Triond
Anyone looking to make online money through blogging may look towards Triond for such an opportunity. Triond has an easy to use writing platform with a simple uncomplicated editor that comes with an auto-save function. Every time you write it is automatically saved so your work complete or incomplete and yet to be published is never lost.

Triond allows for a social enviroment where you can connect with other members and add them as friends or keep them as fans. It also has an explore option where users can click the explore button and find out trending topics. It allows for twitter integration, facebook connect and the possibility to earn from google adsense. These are many more are what Triond offers.

If your writing skills are such that you need a platform like Triond to write on, then you have the advantage of enjoying a platform where once you submit your posts they are circulated around the many websites that are connected to Triond. Just select the category your post will come under and your post will be delivered to the corresponding website..

Earning on triond means earning from the amount of clicks that your post gets and from google adsense earnings, Triond in this respect may not be a favorite spot for blogging as they pay $0.01/1000 clicks but this may vary from one topic to another.

For every post you publish you can easily see the statistics on the publish page and on that same page you also are able to use the share function to share your post on social media. You can also use the relocate function to move your post from one category to another category.

Having used this platform for sometime now, my impression of the site is that if you are going to earn from it, it may take some time to earn decent money unless you have a good traffic source that can get you enough traffic well into the 100,000 or more clicks for every post you submit.

if this will scare most of you away from the site and make you look for other similar sites to write on, then the one advantage I see is that through the publish page you can see the total views for each blog post and the earnings they generate. With this statistics you can see the topics that are getting the most traffic and the ones that have fewer traffic and thereby have a good idea of which topics to focus on.

This might help your blogging career since you now know where best to concentrate your writing efforts and get the most rewards. Even if this reward on Triond might not be so generous, you may find it elsewhere all with the help of the Triond platform.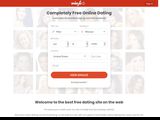 Mingle2
As at the time of making this review, this site has about 149k facebook likes and 17k google + likes. It is a free dating site where people can connect and eventually meet their possible future life partner. I've had the pleasure of chatting with 2 women who found their men on the mingle2 dating site and were pleased with the choices they made.

They would talk about it with so much enthusiasm that I was moved to ask them how long it took them to find what they were looking for. They replied that patience was all it needed and that yes they had experienced some bad encounters along the line but this did not deter them from searching and in the end they did find love.

Mingle2 is that dating site where you can meet people from all over the world. It has a rich database of profiles where you can meet people from all walks of life. Doctors,lawyers,business and professional individuals., there is no limit to the people you can meet . This goes to show that people are in need of love and happiness and are seriously in search of the man or the woman with whom to share love and happiness.

It has a forum where lots of serious discussions are held and where your questions about love and life could well be answered by other forum participants. Like all dating sites the scammers are there too with fake profiles. Messages can be sent to anyone but based on what their profile says and if it matches your profile. So if a female profile says they are looking for a male aged 40-55 and in your profile you age is 35, then you wont be able to message that person.

Mingle2 allows lots of features such as visiting profiles in invisible mode where you will not be shown that you are online. Also other visitors will not know that you viewed their profiles. if you want to have a more engaging experience you can upgrade to mingleplus and enjoy more features.

My experience with the mingle2 dating site continues and will continue as long as the site is up and running. I have met a lot of interesting people and also some scammers too. It is an interesting dating site and free to join. It may not be what you are looking for but you may want to give it a try. With its rich profile database it is impossible not to find what you are looking for.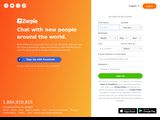 Zorpia
I got an email that said " you have a message from one of your contact", I read the email and clicked the link to the Zorpia website.. I thought I might try it out so I registered and put a profile picture( not really mine) and within the space of 24hrs got tons of messages. in my inbox.

Some had business deals worth millions they wanted me to help them with. Some thought I had a nice looking profile and wanted to be friends and share photos. I replied to all of the messages by asking them to tell me a bit about themselves before we start emailing each other.

I have yet to recieve any replies. I however got one woman who was serious and wanted us to chat on skype and gave me her skype id which I contacted and from skype we exchanged phone numbers and now chat on whatsapp...and since then have been in contact.

Zorpia may be a hell pot of questionable profiles who quickly send email addresses for you to contact them. The intention is for scam purposes or to request money. This is discussed in the forum.where it might be possible to make good friendly contacts and perhaps meet real people.

People ask for authenticity in the profiles that are created on Zorpia but many would agree that putting up a phony profile is somewhat much safer as there are lots of scammers around.Profiles on Zorpia can be verrified through the facebook sign in link or through the photo verification link where the user is asked to write ZORPIA along with their username on a piece of paper and hold up the paper and take a picture with their full face showing and then upload the picture.

Once photo is uploaded and verified a green badge with the words "Verified" appears at the top right corner of the person's profile picture. Zorpia is free to register and free to use to a certain limit and upgrade is possible. It offfers another avenue of social online contact and may not be the best dating site on the web.

But look around other dating sites of its kind and you will see the same things happening. People with questionable profiles who message users and lure them out of the dating enviroment to continue on messenger,whatsapp,skype all with the intention of asking for money for goods that need to be cleared at seaports or to renew internet subscription payments and so on...

While I don't enjoy the idea of being bombarded with messages like the way it is done on Zorpia I would still keep my Zorpia account alive as out of the heap of rubbish good things can sometimes be found.
so hasn't received any thanks yous.
so doesn't have any fans yet.
so isn't following anybody yet.
Similar Reviewers on Sitejabber
I joined sfi back last year and seen then they have provided training to me which have helped me...
SFIis a genuine opportunity , NOT A FLY BY NIGHT OPERATOR , IT HAS BEEN IN EXISTENCE FOR 18 YRS...