Do you get to choose which kind of shipping you use?
asked by
on 5/16/17
1

Answer
Yes though felton doesn't honor it. But u pay 4 it.
I just paid $19.95 for nextday delivery (as he states on his website) (in case he changes it, I have a pic of this shipping info). My lizards did come in 2 days thnx 2 usps not felton. He shipped the day before good friday and easter. The estimated time if delivery was for monday after easter. That would have been 4 days. And the box the felton shipped in had the "2 day priority mail" blacked out so it technically came as just plan priority mail that could have taken 5 6 days. Everyone knows that $13 will get u 2 day delivery on "if it fits it ships" containers which my box was until he blacked out the label and saved himself $5 on my shippment. Hows that
So he sent me 1 of the 3 dead lizard from the previous order and it was a baby not as an adult as described .
U decide if u want 2 deal with this guy.
Other places do charge twice as much as felton BUT ! they dont argue with u, they dont blame u for receiving dead animals and the actually send u living replacements.
U decide.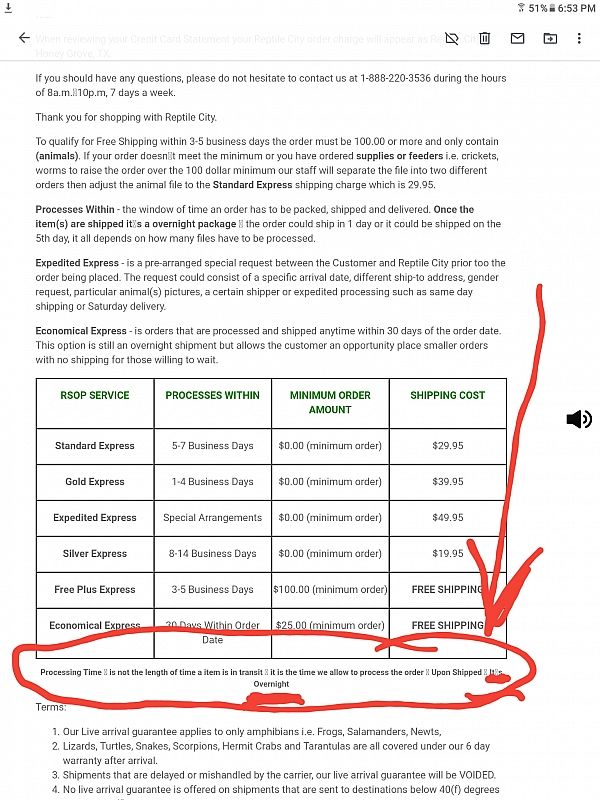 0


Votes
Thanks for voting!