Go here and file complaints . He is entering his own reviews we must compensate
https://www.bbb.org/us/tx/honey-grove/profile/reptiles/reptile-city-*******8669/customer-reviews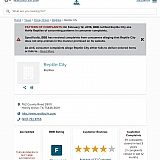 "
months and still waiting on 3 DOA Lizard replacements. He won't do it. He won't guarantee his own g
"
4/21/19
• Previous review
Felton Willis;
On the 2nd order (November 25th 2018) I've waited since for replacements for 3 DOA lizardslizards. I had to order more lizards (the 3rd order on April 2nd 2019) just so u would send me ONE of the THREE lizards that died in the 2nd order. their own guarantee that they r reneging on , it states that they guarantee live delivery . this is false advertising . i guess its federal mail fraud too. Because they arent giving me what they are taking my money for. And they r doing it thru the mail service. That's mail fraud.
This isnt good.
Oh yeah, the 2nd order was supposed 2 B 2 Golden gecko and 2 golden geckos for free. Remember! U sent me 4 regular common house geckos that are not golden geckos AND 3 of them were DOA anyway.
The more I write down the more I realize that you are intentionally ripping me off.
Do u have it in for me or what? I didn't do anything to u. This is the 3rd time I'm buying from you. The 1st time was no problem with 4 anoles. The 2nd order 3 of 4 (wrong) geckos died. U complained 2 me about ur own guarantee about free shipping and guaranteed live delivery and the buy one get one free that were the terms for the 2nd order. I have copies of all receipts. Technically on the 2nd order, 3 of the 4 geckos were dead on delivery (even though they were the wrong species of geckos that I ordered. so u owe me replacrments but u won't do that even though I paid for them.

NOW, On this 3rd order, u shipped on the thursday before good friday and easter ? R U kidding me ?
See 3rd picture of the over night delivery claim
Im not getting that either.
This is bull$#*!. I gave u a fair shake, then u ripped me off from ur own guarantee on my 2nd buy (Dec 11) I made from you.
Unbelievable. This is going to the BBB and ur local chamber of commerce. And I'm sure u will have someone at ur door with in days.
They sent wrong items then what u order. They argue with u over his own policies. Buy the time I got my replacement lizard it was 5 months later AND actually 3 died BUT I negotiated him sending me one replacement ALONG WITH THE NEXT ORDER I WAS FORCED TO BUY JUST TO GET ONE OF THE THREE GOLDEN GECKOS that died before they even got to me that I ORIGINALLY ORDERED! how's that.
Oh yeah, I bought adults and I got little 3" lizards of a 8-9" adult sized golden gecko and the white spotted gecko.
The problems with the last two orders goes on and on. But uget nowhere because he argues with you. I dont ask for nothing (even less if u read my ranting post) that I didn't order and pay for on his website.
Dave C. Stout

I hopehope this all goes thru. Im having problems with editor.