sean p.
1

Review

3

Helpful Votes

0

Thank Yous
Experience: Computers & Technology
Member since May 2013
Reviews

1

First to Review

0

Votes

3

Very Helpful

1

Funny

0

Fraud Buster

0

Great Find

0

Well Said

2

Thank Yous

0

Fans

0

Profile Views

168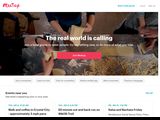 Meetup
Meetup is a great way to meet people with similar interests. There are a lot of different groups..including hiking, camping, dancing, workout groups, dating, networking, movie lovers, international foods and even groups to learn another language. The meetup.com website is pretty well run and is always adding new features. Hosting a meetup group is pretty easy. There are forums and Q&As that the website has created that are extensive. Joining a group is easy and painless. Remember the site is not free to the meetup group organizers. Meetup does not charge members a fee but many group organizers charge a fee for their group to pass on the costs of the meetup fee and other group costs (clubs around the world also do this).
.
I am reading the negative comments below and must say all of them our false...so I am going to try and correct the information.
.
WHO CAN START A GROUP - Anyone who wants to start a group can. You pay a monthly or annual fee to do so. If you are computer literate it is easy to set up and manage meetings. I host a meetup group for people wanting to learn Spanish and we have weekly meetings. I charge $10 a year to my members to help recoup the costs.... there are some business' on meetups but the ones I have seen are pretty clearly marked...i.e Yoga $8 a lesson. Like anywhere there may be some scammers out there. I haven't seen any on meetup and I have been a member and an organizer for 5 years... Since anyone who pays can set up a group there are a few that are disorganized and their are some groups that never take off (especially in small towns). But for the most part meetup groups are run by volunteers who are willing to give their money and time for their hobby or interest and are a great way to meet people who share your interests.
.
EMAIL - You can easily manage your mail from meetup. You do need to do this for your general meetup membership and for each group you belong to though.
I belong to many groups that I have totally turned off my emails from and then choose to get every email and notice from the group I host. You can choose in between options also, for example choosing to get an email when a new event is posted to your group. As an organizer I can choose other emails that go out to my group. I have it set so I have to approve all group emails from anyone but my co-organizers.
.
PROBLEM WITH MEMBERS - Meetup, like any volunteer organizations, does always have problem and ungrateful members but they are few and far between (looks like we have some in these reviews). Many groups do have a problem with members RSVPing for events and not showing. Most groups have started removing members who do this. Since going a meetup group is so easy you do get people to join who might not fit in with your group or lack group etiquette. Some of these people have not been previously active in clubs and have definitely not been an officer in a group. These people don't realize the time and expense it takes to organize a club, even one that is on meetup. However, as a rule most members are great, especially the regular core members.
If you join meetup remember that your organizers and hosts are volunteers and please remember to say thank you. While the meetup site makes things easier, hosting a group and/or an event is still time consuming. I have a large group that has 2-3 meetings a week and I get more "why don't you do this or this or this" (from new members who can be quite rude about it) than "thank you's". I am president of two groups outside of meetup and members of these groups are helpful and appreciative.
.
DUES - It does cost to host a meetup group and many groups charge a nominal fee to their members. In the 4 years I have had a group, the expense of the group has come out of my pocket 3 of those years. I know this is partly my fault since I don't go around asking for dues all the time. I also buy supplies for my group and buy gifts and give little thank yous for the people who volunteer to host events or teach a class. I know quite a few groups that are removing people who don't pay their group dues and have done so on occasion. I think meetup.com could do a better job at letting people know that the organizers do pay for the groups. Many members don't know this and expect it is free.
.
SECURITY -There are a lot of ways to keep meetup group and meetup members secure, this is important for any group but especially anything on the internet. You can make your profile private to anyone outside of meetup and can make a lot of your information private to people who are not in the same meetup groups. There is also a lot group members can do. To join my group you have to answer some questions and provide a identifiable photo id. I also personally approve each member. My group is also private so no one outside the group can see my members or where we are meeting. For meetups in homes etc I only send the addresses for people who RSVP. I don't require anyone to use their full name (I use my first name and last initial). I also remove members who cause a lot of conflict and have a friend who has a social group that has removed several men because members had complained about them.
.
When meetup organizers get together we talk about member problems (problem personalities, and people not paying dues or not RSVPing), I don't think I've ever had a discussion about a problem with the website or the company..other than to explain how to do something on the website or discuss a website tool they are now using. What most conversations are about are the one or two problem member groups we have. Although as we have gained in experience we started removing the trouble makers. When you remove a negative member the dynamics of an entire group changes. Also removing problem members will help you keep your volunteers. I have had numerous volunteer Spanish instructors quit because one member or another was rude to them etc. These are normally new members. I have also had people say they will never host an event again because people have RSVPed and not shown up or have been late and got nasty when the group did not wait an hour for them to start.
In summary I would say the meetup website is well done. The fees to host a group are a bit higher than I would like but there are a ton of great features on the website and the company (meetup.com) is there to make a profit and running a website like this takes a lot of people and resources. AND ;) if meetup club members paid their dues the cost wouldn't be an issue.
sean hasn't received any thanks yous.
sean doesn't have any fans yet.
sean isn't following anybody yet.