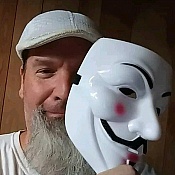 Tommy R.
11

Reviews

27

Helpful Votes

1

Thank You
Experience: Shopping, Business, Clothing & Fashion
Member since July 2018
Reviews

11

First to Review

0

Votes

27

Very Helpful

27

Funny

0

Fraud Buster

0

Great Find

0

Well Said

0

Thank Yous

1

Fans

0

Profile Views

400
About Me
Jack-of-all-trades & master-of-none. To think myself a "master" would be pretentious. There's ALWAYS room for improvement. Life keeps getting better.
How I Can Help
World Cuisine, Music, Hobby Interests
Interests
Music, Movies, Sports & Hobbies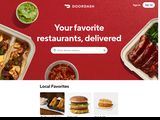 DoorDash
This company has tried to work its way into my wife's business...even by advertising that her café "uses Doordash" (which it does NOT).
3 CALLS in 2 minutes for an account that doesn't exist!!!

The customer even called our number to find out why we declined Doordash.
I told them it's because we do not have an account with them.

When this regular patron double-checked the Doordash account, Doordash miraculously "froze" the link.

If anyone looks at the fine print on the site, Doordash is a commercial business leech.
They charge exhorbitant fees to both the customer for a delivery and the business they claim to "represent" in a delivery format...EVEN IF THE BUSINESS HAS SAID IT DOESN'T WANT TO PARTICIPATE!!!

That's NOT free market OR capitalism.
That's involuntarily leeching off an honest business and potential customers...to an overpriced "delivery" scam that overcharges the patron & even merchant alike with business charges...for a 1/2-assed delivery scam.

(Photos included)

3 words summarize Doordash:
TOO DAMNED EXPENSIVE!!!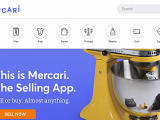 Mercari
It's hit OR miss on an extreme scale with this app.
The tech support is kind-of okay after having to research HOW to use it.
Buyers & Sellers HOWEVER...that's an integrity issue of the individual...yet Mercari should protect merchants from the types that sell junk (hurts the marketplace) as operational & buyers that constantly cancel...or low-ball offer (hurts the marketplace).
Mercari doesn't only charge 10% for completed sales as they claim, though...you'll get hammered by their S&H system in overcharges.

My first ever complete purchase was glowing because of a great seller nonetheless.

STILL ***(3) overall
"Mercari...UTTERLY USELESS thieves!"
4/22/19
• Previous review
I've sold a whopping 2 items, I can't get the money I've "made", my items are mailed out...so I now have no money for items I sold.
To make matters WORSE, they make it so sellers cannot track, update OR complete transactions in favor of the payment received for goods "sold".

Basically, a buyer buys at inflated sale prices where MERCARI collects money for overcharged to the seller, overpayed shipping to the buyer & the seller STILL receives NO monetary compensation for services rendered.

This "business" has to be run by progressive liberal socialists...PROOF FOR THE OFFENSIVELY OFFENDED???
The merchant makes NO MONEY.

ITEM:

NHL Santa Official Figure https://item.mercari.com/gl/m13863853859/

I have a whopping $5.80 balance I cannot use at all.
Do this to 10,000 users & they've taken over $58,000 (not to mention the hundreds of thousands of dollars "lost" in shipping "fees").

It's a racket.
BEWARE!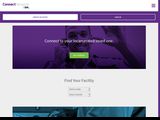 ConnectNetwork
I had been using Connect Network for a while to communicate with a friend of mine who has been incarcerated over a farce of a conviction...he's my best friend and it's important to be able to communicate with him and be there for him.

At first, it worked.
Next, messages failed.
Bug fixed.
Didn't get my credits back, but no big deal...at first.
Next, the upgrades gave me the option to send video and pics...but they'd never load...& it cost MORE.
I ended up adding phone minutes and I received NOTHING after paying $15!

The final straw that pushed me to this review is that GTL (Connect Network) has made my username and password "not exist" any longer after I filed a complaint.

Absolutely absurd.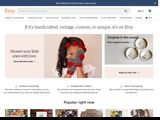 Etsy
It'd be a much better site if I wasn't charged selling/listing fees for items not sold/listed.

It's a decent merchant community...but the admins have to get a better grip on business practices before they become eBay/Listia/Craigslist...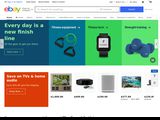 eBay
Apparently in a recent dealing with eBay Global, I was temporarily "suspended" for 7 days because I actually sell on other sites (but never cross reference in any sites).

I called eBay Central and was connected with a foreign representative who claimed that using the phrase "proprietary online monopoly" was PROFANITY.
I reminded that rep she was in error & she told me to "cease using profanity" as if she was reading off a prompting card.

I demanded to be connected with a local rep...that one threatened to have me permanently removed from the eBay community... BASICALLY ALL BECAUSE I USE OTHER SELLING SITES.

ATTENTION eBay:
YOU ARE NOT A PROPRIETARY ONLINE MONOPOLY!!!
"Buyer/Seller since 2002"
7/12/18
• Previous review
I've only ever had 3 nonsensical transactions on eBay as a buyer OR seller since 2002.

Although eBay has been nicknamed "feebay" by many users, it's still a decent site.
Not perfect, but it's been good enough to have a business from 2002-2008 & reestablish it in 2018 after a decade-long hiatus, while keeping my buyer/seller username open since 2002.
Reestablishing my seller account was easy.
STILL...fees tend to be a little bit high...if one doesn't sell properly.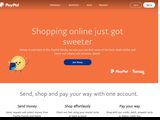 PayPal
It's not perfect...but it's better than risking a credit card hack.

I've been using PayPal for eBay sales&purchase transactions & sending/requesting money for more than a decade&1/2.

Sure...the fee percentage is higher than the standard credit card line, but used correctly, one never runs up a massive debt.

Sure...it's a standard 3% for transactions, but it's better than running up a charge account at 29% compounded, right?

Nothing in life is free...use resources wisely...ANY resources...& you won't live a life in servitude to debt.

PayPal is decent enough.

End.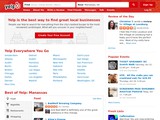 Yelp
Awful. Just plain AWFUL.
I help my wife manage her restaurant which she owns & is head chef.
Yelp. Tries constantly to get us to claim our business wouldn't "thrive" if it wasn't for reviews & site clicks.

I DON'T BUY IT. My wife doesn't either.
It's her art of fine cuisine & her ability to maintain business through thick&thin...NOT an outside entity laying claim to it.
Sure...we'd like to see a slight increase in business (who wouldn't)...but not at the effort of continuing an ALREADY annoying phone sales pitch I've shot down 3 times & ignoring patrons that just walked in... RETURNING PATRONS that have NEVER clicked on the Yelp link.

That's the 4th Yelp rep that has pulled that "just 2 more minutes" stunt...
I think my wife's café patrons are more important than some 1/2 baked guilt trip into buying "special effects" to the Yelp link.

I wonder how long it will take to have my password to the account "fail" again so I have to talk to one of the rep bozos to "unlock" it...AGAIN.

Absolutely terrible phone call. AGAIN.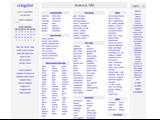 Craigslist, Inc.
Spam, Spoof, Fake, Scam, Fisher, Bot, Hacker, Criminal, Junk-Mail activity is all I see anymore.

How legit people continue to use that site is beyond me.

The prementioned lot of people in the previous group aside from the sparse group of legit users must've moved their scams to LetGo. It's just as bad there, NOW...& why I leave this review for an online seller site I haven't visited in years because of the seething mass of people who honestly couldn't sell water to a desert caravan because of poor selling practices.

It's very disenchanting.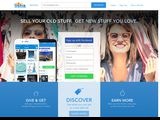 Listia
I used to Free Trade often when it first started...I was with the first large group of users.
It was AweSOME.
I had to step back from it for a while.
I returned to find a "dollars-to-credits" type of trade thing happening like a virtual currency & it has changed the face of the once-upon-a-time "Free Trade"...to the negative, unfortunately.

I'm saddened by this.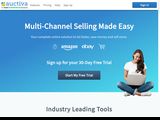 Auctiva
I've seen it more as a buyer & rarely use it as a seller, but it works well enough.

If my business picks up, I'm definitely going to use it more frequently than to view other's listings via Auctiva.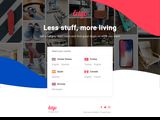 letgo
As useless as Craigslist
Spam, Spoof, Fake, Scam typesflood the app, etc...
Recommendation? Absolutely NOT.
End Review
Tommy Has Earned
27

Votes
Tommy Has Received
1

Thank You
Tommy doesn't have any fans yet.
Tommy isn't following anybody yet.