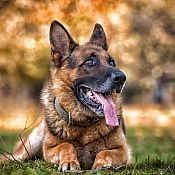 Terry"Neutral Ground" W.
14

Reviews

9

Helpful Votes

0

Thank Yous
Experience: Shopping, Entertainment, Health
Member since January 2018
Reviews

14

First to Review

6

Votes

9

Very Helpful

9

Funny

0

Fraud Buster

0

Great Find

0

Well Said

0

Thank Yous

0

Fans

0

Profile Views

553
About Me
I am an independent freelancer running a small business from home; online marketing.
How I Can Help
I buy and review many products online.
Interests
Computer, blogging, photography, my dog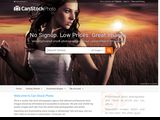 Canstock
Don't get caught using stuff off the web - 'cause if you read the disclaimer (that tiny, teeny little stuff you need a magnifying glass to read) it says specifically says Images may be subject to copyright!

In other words, it belongs to someone else and if you use it without their permission for say business purposes - you could get into some hot water.

There are many places that legitimately sell stock pictures for you to use for your website/book covers/banner, etc. The problem is that it's really, really ridiculously expensive. Most of them have you sign up for a month/yearly subscription, or if you buy one at a time - they zing you with high price.

I find Canstock to be the most affordable and they have the exact - identical stock photos all the other expensive site have at fraction of the cost.

You can sign up for membership for little as one week or you can just buy credits. They have a plan for almost every type of buyer, from the occasional user to the mega user. I use the credit method as it is the most convenient for me.

The number of credit used for each purchase range from as little as two for a small or 10 for the xxlarge tiff file. For most books, banners & website the medium or large at 3 to 4 credit works just fine.

You can buy credits which does not expire so you use it when you need it. I use mine in large quantity all at once then won't need it again for a long time but the credits remain - which I just love.

They also allow members to have a random free download - typically a theme of the month like Christmas and other major holidays.

You can also favorite any pictures you like and sort it however you need to for later use.

I give this site an A+.

Don't get caught with using illegal stocks - it could be embarrassing when you get a notice from the actual owner of the picture or photo with a take down notice. Do it the right way and buy it on any of the stock photo sites.

There is another site called the dollar stock photo - I haven't tried them yet. They do look promising. I'm a fan of Canstock, they are just as good as Shutterstock with better pricing!
Tip for consumers: * If you are an occasional user, buy the credit, the more you buy the cheaper the price per credit and it never expire.
* Before you buy the credit. first take a look to see what you like and subscribe for the weekly/monthly download - get max number of photos you want, then sign up for the credits.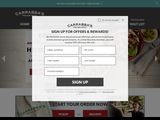 Carrabba's
Something so unique about Carrabbas, from their menu to the ambiance - this place has it all. The staff's are friendly, the food is great and you just feel welcomed!

Very few menu items are not made in house from scratch - I think the New York Cheesecake is one of them but rest of the menu items - oh, boy, oh, boy is it great!

Their pizza's are thin and crispy with the right combination of sauce, cheese and toppings - one of the best pizza's around.

No one can beat this restaurant when it comes to the Soup! I love their Mama Mandolin Chicken soup the best, but the sausage/lentil soup is a close competition. These soups have a bit of a zingy spiciness to them but not too much - just plain feel good food.

This is a make me feel good because I had a bad day type of place. You will not be disappointed with the quality of food or the people that serve you.

I had an occasion where another customer sitting at the bar harassed me. I was rather upset and when the bartender found out, she had the manager comp my food, apologized and really so sweet, it made my day.

They are individually owned, so occasions they do have minor issues. I've had on small occasions a pizza that was burnt - which I didn't know until I got home, they've run out of bread here and there. These are minor things that doesn't deter you from adding on a few pounds (ha, ha!)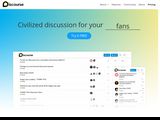 Discourse.org
This forum/community setup is modern, sleek and just all around awesome!

It's easy to follow, setup, looks fantastic and if you're the owner/moderator, you'll love the spam filter. You can set it up for private membership/invitation only or any one to sign up.

As the owner, you can set it up for various themes, colors and design it for any category. It's so much better than that tire old bland looking sites you see all over the place!

The best part, Discourse if FREE! Yup the software is free, you'll have to figure out how to set it up though. The initial setup is a bit tricky, if you're doing it yourself reason why I'm giving it 4 stars vice 5.

The good news is there are hosting sites that did all the leg work for you and you can just pay them as little as $20 a month to host. I will review a few of those sites. If you're using a discourse hosting site, the process is so easy a child can do it! ;)
Tip for consumers: * Use at least an initial set up expert otherwise you'd be scratching your hair screaming for help
* You can find various places on the discourse.org community itself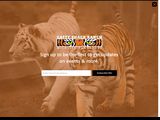 Catty Shack Ranch Wildlife Sanctuary
This place needs to close down.

The enclosures were tiny with barely any room for a large Siberian Tiger to move around in. It was like these poor tigers and few lions were in prison. The place smelled horrible, probably urine.

The placed is line one next to another of small enclosures with as many cats as they can cram into it. The ones that were a bit larger had three to four tigers all sharing the same areas.

The small pools, if it even had one, was green and dirty. The ground was dirt with very little grass - mind you this is Florida in the warmer weather.

I have no idea how these people were able to stay in business this long but it really needs to go.

In the wild, a tiger or a lion roam hundreds of acres, of course, I do not expect that in a sanctuary in the USA. Most of the big cats are rescued from deplorable conditions of neglect and abuse; this place isn't down right abuse as the cats did seem somewhat well fed.

My heart broke seeing such tiny enclosures that looked more like a cage. Imagine putting a Rottweiler in the back area of a midsize SUV - yup that's how most of the cages were to the cats. They can't get any exercise or movement - can you imagine living like that day after day.

They would be far better off rescuing a small number of big cats and upgrading their habitat to suit their needs. Far as Sanctuaries go, it's not the worst but definitely one of the worse ones.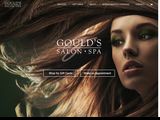 Gould's Salon Spas
I've had mixed results from this place call Gould's Salon and Spa. The ambiance and cleanliness is pretty much top of the line but the service depends on the person you get.

I've had check in person to be both perky and sweet to depressed and plain mean. This one person seems to have a bad day every day. I hate checking in when she's at the counter. She's just plain mean and cold towards me but not to other people ahead of me and after me - hum, maybe she just doesn't like me?

Of course, I've also had one wonderful, sweet young woman that checked me in several times; all around friendly and jovial - putting me in an extra good mood before my massage or haircut.

So the check in desk gets a 3 star from me, overall.

Far as your haircut, massage and facial, the quality of service you get is the person you get. Some listen to what you told them and do an amazing job; others seem to day dream and do whatever they feel like it.

Overall, my service has been above average; it goes from 5 stars to 3 star but no one has been so bad to be a one or two stars.

Overall, I would recommend this place. I go there at least once a month to get a decent massage when feeling pretty low.
Tip for consumers: * Not all Gould's offer spa service, some are just salons so call and ask in advance.
* If you want to get a Brazilian, you may want to call in advance - not everyone is qualified.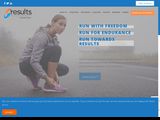 Results Physiotherapy
I never knew what physical therapy was and never gave it much thought before. I figured it was bogus - that is until I had to go to one. I went to a location called Results PT (Physiotherapy) . It has been a truly amazing experience.

I had a major surgery that took me off my feet for over a month and thought I was going to heal myself - I'm stubborn that way. I was in so much pain, especially since the doctor would no longer prescribe me the good stuff.

He sent me in to see a PT to retrain my body. I am thrilled to report, it has been a slow & painful process but the two amazing therapist that I've been working with are the reason why I am 95% better.

I listed to what they said, never missed a session and worked out the exercises they taught me to extend my core.

I can't speak for every physical therapist in the world but I can vouch for the two that I had - so if you find the right guy/gal to work with you & (here is the most important thing) you take the time to do what they tell you - - - it will be a fantastic experience.
Tip for consumers: * You can interview your therapist as much as they will you
* Take the time to do the exercises they teach you on your own, every day
* Do not miss a session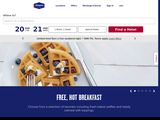 Hampton
Hampton Inn is part of the Hilton Hotel collection that is individually owned. This hotel chain can go from exquisite to poor depending on location.

I've been a member for over a decade going from the basic (blue member) to top (diamond) member. I stay at the Hilton chain whenever I can with Hampton Inn, Hampton Inn & Suites, Hilton Garden Inn as my three favorites.

The locations of most Hampton Inns are really nice. Some are a bit dated and older but still on the nice side. The lobbies are always clean and well maintained - regardless of the age of the hotel.

Another positive is that most employees are friendly and helpful when you ask them questions. Of course, not all of them are as knowledgeable and sometimes they tend to forget a few things when checking you in.

The Gold & Diamond members are supposed to be given free choice of beverage or a light snack as displayed on the counter but they don't always offer it. Diamond members are supposed to get a free upgrade, when rooms are available, but they don't always offer this either. They need to keep their loyal clients the best service. They could use some work in this area.

The most important aspect of any hotel is the bed! They pass this with flying colors. I have yet to stay at any Hampton Inn that didn't have wonderful bed and pillows. It's warn, comfortable and a pleasure to sleep in. They get an A++ in this area.

The rooms are mostly clean, but then there are occasions that makes me question their management. I've stayed at ones where the bathtub won't drain and I'm standing in a pool of water when taking a shower. I've had ones where the toilet is running all night long, room smells rather musty and wet.

The quality of the rooms vary so much that I can not rate it properly. It can be an A+ or a C - ; depending on the location.

Their free breakfast is good with nice selection. Every hotel has a do-it-yourself waffle maker with sum yummy batter. Coffee & tea available 24 hours a day in the lobby and they do a pretty good job of making sure it's hot and fresh.

Most Hampton Inns are Outstanding, but a few are poor and dated, so my best rating is a 4 stars.
Tip for consumers: * Sign up for the Hilton membership. It's free and you earn points every time you stay. Those points adds up to free nights. I recommend you using the points at more expensive Hilton chains.

* If you have a choice between Hampton Inn and Hilton Garden Inn (in or around the same location) for $10 price difference - trust me, pick the Garden. If you are a Gold or higher, you get two free breakfast!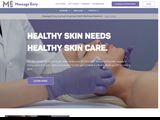 MassageEnvy
I've used Massage Envy in Georgia.

The quality of massages varied from great to poor, depending on the therapist you get. Most of the people that work here are rather new or just graduated from school. That being said, it doesn't mean you'll get a bad massage.

The $50 a session is a great price if you get a dependable person who listens to your needs. It has mixed results, I would say 50/50. At least half the time I got a fairly decent service but the other half, it was pretty darn bad. I had one guy that was so rough I asked him several times to be gentler. After about the 5th time, I told him I had enough and left.

Far as the price for relaxation, I will give them 3 stars. What you pay is pretty good for what you get.

Now, let's talk about the contract. Yikes! The first one you get the discounted price, then you have to agree to a monthly fee of $50 for one year. If you don't sign the contract the price is 1.5 to 1.8 times higher. Instead of $50 an hour, it's like $80 an hour. Trust me, you won't get a massage here worth $80 - the ambiance isn't worth the additional $30.

If you agree to the contract, they charge your method of choice once a month for $50. For that you get one service a month of choice at the discounted rate. As an example, you get a 60 min massage or facial (if they offer it) - if you want 90 minutes or something more, you have to pay the difference. If you can not use it this month, you can carry it over to next - so not too bad.

The thing is, you are stuck with it for a whole year. If you aren't lucky enough to get someone you like, they will continue to charge you to get a mediocre massage and you paid $600.

The contract is not worth it, the service is 50/50, the price - you get what you pay.

So, customer service is pretty good: 4 stars
Massage varies from time to time: 3 stars
Ambiance/cleanliness is good: 3 stars
Contract is not worth it: 1 star
Tip for consumers: - Try them out at discount price, but don't sign the contract. They will give you their top masseuse on your "trial" so don't be fooled.
- If you're okay with average, then go for it.
Walgreens
I don't know if Walgreens is individually owned or corporate but the one I go to is always very clean with professional and friendly staff. Their pharmacy is knowledgeable.

Their products are on the bit of expensive side, but if you are a member, there are great discounts of many items that makes it comparable to your local supermarket.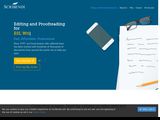 Scribendi.com
I've used them several times in the past.

Most editors/proofreaders are excellent and provide more than I expected from them. They give you excellent suggestions if you are having writer's block. Scribendi always delivers clean version and the marked-up version so you can accept or decline changes.

If you are not happy with the level of edit, you can contact their customer support and 90% + times they will ask the same editor or a different editor, if you ask, to look over your work again. All of this is done anonymously, so there is no awkwardness.

If there is a particular editor that you really like, you can save their editor number and request them for your next project. This is good for them because it gives them "browny" points to get higher pay.

I've used several editing services online and Scribendi tops my list for the best when it comes to anything related to books and manuscripts.

The reason why I am giving them a 4 star and not 5 is that they have few editors that lack the skills to properly edit your book or any paper, for that matter. I paid few hundred to get several thousand words edited; I received back a product that contained less than dozen corrections, no comments or reviews.

When I gave that manuscript to another editor, it was marked all up and she gave me great ideas on how to improve. I must say, I was quite disappointed with Scribendi because up to that point all I had was great experience.

Final conclusion, not all editors on Scribendi are alike. Some are "WOW - great" while others are "WOW - bad." All in all, most, like 9 out of 10 are fantastic.
Tip for consumers: - Try editing small to start with, like one chapter of 1000 words or less
- Write down the editor numbers (typically starts with 9xx) and request them on next project
- Remember some editors are better at certain genre than others; i.e. great with romance but not so good with thrillers, etc.
Southwest Airlines
I must say that when it comes to prices, Southwest is the king. Whenever they offer direct flights, it's also pretty darn good to be able to go from point A to point B without the hassle of a layover. I give them 5 stars for that.

When it comes to loading, I hate the open seat concept. Trying to get there hours early and stand in line just to get the first come, first serve is ridiculous. I've seen families separated because they couldn't get there in time to sit together. I give them 1 star.

When it comes to professionalism, Southwest is the worst. They're uniform are less than businesslike and the flight attendants are not the friendliest. I saw one yell at an elderly lady because she got the trash bag vice recycle bag mixed up. This happens, quite often. I give them 1 star.

All in all, they average a 3-star review overall. If you are traveling alone and the price is your first concern, then yes go for it. If you prefer professionalism and don't mind paying a bit more, go with another airline.
Tip for consumers: - Get there early for good seats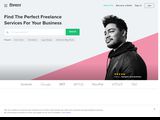 Fivver
I'm going to post more reviews for this site based on the products I buy. Since everyone here is an independent contractor or freelancer like me, I don't think it would be fair for me to judge based on one or two bad services.

This particular review is based on the logo design. To be fair, I did not purchase any of their so-called "vetted" sellers that they call PRO sellers. These are apparently professionals they hired from all over the world. They charge in the thousands. I don't trust their vetting process and didn't want to spend that much money to discover yet more stolen or mediocre work because of all the bad experiences.

I have spent as high as $150. When I paid the lowest price of $5, I received clip art - okay, that's fair, I get what I paid for - right? No, not exactly, it was downloaded probably from Google. I could have done that myself without paying anyone $6 (there is a $1 processing fee tacked on) and waiting two days. That seller had no legal right to sell me something he does not own. This happened to me 3 times for logos I bought from low as $5 to high as $25.

When I spent the higher price based on really good description on their gig page, it was the same result. It wasn't stolen stuff they gave me but the work was awful, communication was even worse. The only time they seem to send me messages was when they wanted more money. If I pay them, they disappear until they deliver at the last minute.

The products I received were below average all across the board from everyone I bought from. They only care about getting 5 star reviews and getting as much money from you as possible.

If you end up getting a decent logo - google search it because its likely stolen from another designer. If you use a logo that belongs to someone else, it's you who will get sued not the person you hired on Fiverr.
Tip for consumers: 1. Communication is good up until you pay, then they ignore you.
2. Product in this category is horrible. If you pay $5, you may get your money's worth, if it's not stolen.
3. The commercial use license is useless. You get no legal documentation saying you own it. Some sellers try to sell you this even though they stole the design from the website.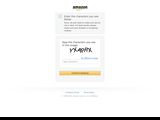 AmazonPrime
If you happen to shop often on Amazon, you should really get this great deal. For $99 (the last I checked) you get unlimited 2-day shipping or if you're not in a hurry, they will give you credit towards other product for future use.

I used them for birthday, Christmas and personal with 50+ purchases last year. I got my money's worth on shipping alone.

There is also the bonus feature of free movies (limited to prime selected) and ability to check out one ebook per month. Granted the number of movies & t.v. shows that are free through prime are free but it does rival other streaming sites, with no commercials.

Definitely worth the money but only if you are a frequent shopper like me.
Amazon
As a frequent buyer of Amazon products, they have proven their customer service department to be unsurpassed when dealing with me as a customer. They respond to emails promptly, call me, refund me or replace the product quickly. I was quite impressed with their level of professionalism and customer satisfaction.

From a buyer's perspective, highly recommend.
Terry hasn't received any thanks yous.
Terry doesn't have any fans yet.
Terry isn't following anybody yet.
Similar Reviewers on Sitejabber
Great Italian eatery. You will walk out full with something to take home too. Great place to eat....
Carrabba's in Palm Bay Florida is an awesome place to dine. Managers Valarie and Scott go out of...