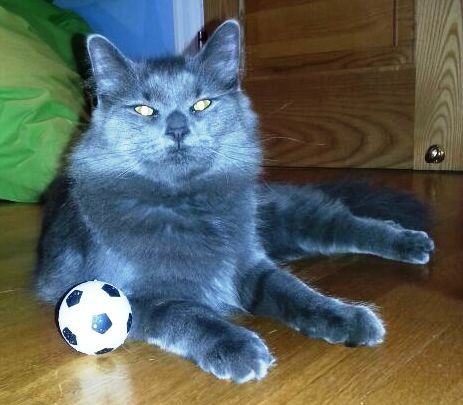 Swee"De Sniper" Q.
27

Reviews

22

Helpful Votes

0

Thank Yous
Experience: Clothing & Fashion, Shopping, Business
Member since February 2012
Reviews

27

First to Review

13

Votes

22

Very Helpful

22

Funny

0

Fraud Buster

0

Great Find

0

Well Said

0

Thank Yous

0

Fans

0

Profile Views

1,214
About Me
Been away from home too long..
Interests
Watches, travel, food..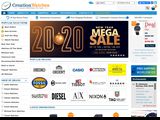 CreationWatches
I bought this watch together with 2 others (order nos. 10131043 and 10131011) on the same day. They arrived super quick (as usual - I have bought many watches from Creation Watches) and without doubt, their service and prices/value for money is the best I have come across - and I buy numerous watches from diverse sources!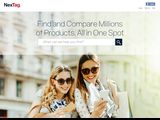 NexTag
NEXTAG is an absolute nuisance site!! As I find nothing of interest/value, I tried to unsubscribe. And then tried again.. and again. But the last step just doesn't work. It bombards me with its pathetic emails like clockwork and even though, on my desktop, these get caught as junk, my Blackberry still displays the cr*p from them. RIM really should develop greater customer-friendly sophistication in their devices (no wonder they are going down the tubes - unnecessarily)!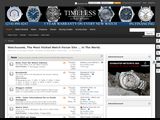 Forums.watchuseek
I have dipped in and out infrequently in the past, but have recently been checking in a lot more (recommended by a fellow member on another watch forum who gave me a heads up that a watch I was looking for had surfaced there). For sheer fire power of information, watches and watch paraphernalia it is wow!! Nothing I have come across comes even close. The one thing I wish the website would do for me (and I acknowledge it may be me being inept) is allow me to search (as one ebay or some other smaller watch forums) for a specific brand(s) under the trade section. No matter what brand I search for, the result will throw up every other brand of watch as well. This is a brand agnostic site lol!! Save for this small glitch - and the fact that being so big, it doesn't have the friendly, supportive banter of smaller or territorial sites - I love it. Not good for watch addicts trying to rehab!!
Google
I can understand why Yahoo is failing - they have to contend with Google! I long ago gave up looking for answers on Yahoo - I now Google (it's my most visited site) everything; whether it's to find out more about something or just as a quick and lazy way to access a website. Having first tried Yahoo Finance (which I found very fiddly and sometimes downright impossible to get working or to enter data - but I confess I am a technophobe/dinosaur), I switched to Google Finance for portfolio management and stock price/trend checks and comparisons. It's just easier (most important!!) and more intuitive to use. Notwithstanding, Google Finance still has bugs it needs to sort out for folks like me (and there must still be a handful of us old timers left). When I learn how to use it without hitch, I might just return and pin another star to this review (or in a revised one.. if that's permitted).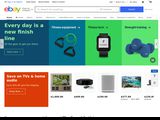 eBay
Things change over time. We live in a world where online consumers all over the world are growing exponentially more sophisticated and knowledgeable on the choices they have - including the non-obvious ones they can manufacture/conjure. But, pioneers who become dominant players sometimes think they know it all and can let their foot off the pedal. They forget that dissent travels virally and far quicker and more robustly than positive sentiment. Additionally, as the adage "necessity is the mother of invention" is as true today as it ever was, arrogant, dominant players provide reasons for alternatives and substitutes to arise.

(Wikipedia is a great source of information which I shall credit with some of the info in this review.) Ebay and its powerhouse offspring (that is fast outgrowing its ageing parent), Paypal, seem to be guilty of the above. (One cannot talk about Ebay without referring to Paypal, Ebay's "unfair advantage".) Notice how they change rules unilaterally without consultation with or regard for those who contribute so much to their success - e.g. requiring every seller in Australia and UK to accept Paypal; and taking away the rights of sellers to leave negative feedback for buyers, no matter how criminal or perverse their behaviour. Some of these rules could well fall foul of unfair contract laws - but with their deep combined pockets and army of legal minds, they are understandably not particularly perturbed by individual action. When Paypal moved from the UK to Luxembourg in 2007, they removed themselves from the relatively conscientious and onerous jurisdiction of the FSA and with it, the English, Welsh and Scottish courts.

Ebay and Paypal may think that they are too big to fail, but the welter of disenfranchisement among its user community remains very much a reality. (There are websites dedicated to the downfall of these monolithic entities.) To Paypal's credit, it has not just survived but thrived whilst others e.g. BidPay and PayDirect, have bitten the dust. For all intents and purposes, Paypal is a monopolist that is getting bigger by the day. Perhaps it's time the M&MC checked it out.

I have been an 'ebayer' since early 2000 but am now looking for alternatives. Ebay and Paypal are very friendly to buyers but sellers (especially newbies) have a tougher time. I have noticed that some superb sellers I have often bought from in the past - who have had thousands of feedback - are no longer on ebay. Happily, I have managed to track down their own websites... When there are problems, getting through to Ebay/Paypal can be a grind. There are times I have called during their office hours only to hear (after having laboriously obtained and entered the PIN number, etc etc) "your call cannot be taken at this time..."!! Messages left verbally or through their messaging system (and email) not infrequently get lost in transit (or translation??).

Even though Ebay/Paypal are huge organisations, a bit of personal touch from well-trained and empowered staff and some situation-specific flexibility (followed by fine-tuning of their systems) would certainly pay dividends in improving customer affection, referrals and loyalty (which immensely reduce cost of sales).

I rate Amazon far above Ebay. I think I shall sell my ebay shares and buy Amazon...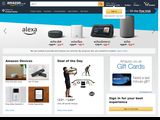 Amazon.co.uk
It's amazing what you can buy on Amazon these days. This review will largely benchmark Amazon against Ebay as they are the 2 Goliaths in the e-commerce space.

For me, it all began with what Amazon began with: books, CDs, DVDs (and no, I haven't a clue how to do MP whatever downloads).. Since then I have bought pearls, jewellery, watch boxes, watches, clothing.. My kids spend a chunk of their allowances on this, too. Whilst it is not yet as extensive as Ebay, my experience (incl my kids') of Amazon has been far more positive than the 'Bay (also referred to as "the Evil Bay" by some for reasons I am beginning to understand). It's probably because (pls correct me if I'm wrong) more sellers on Amazon seem to be proper/serious businesses and, consequently, the professionalism delivered is that much more consistent. Regardless of whom I buy from on Amazon, the packaging always seems to be 'bullet proof'. I have also never had a non-delivery or any hassle with Amazon sellers. Increasingly, I will check Amazon (followed by commercial websites and watch forums) before I try ebay, which understandably has more to offer by the way of hard-to-find and used (e.g. vintage watches) items. Even though I have over 1100 feedbacks (100% positive - not bad as I am a buyer 99.8% of the time) on ebay, I look forward to Amazon extending its product lines to really compete on all fronts with Ebay. This should happen as Amazon's strategy is to be a one-stop-shop global phenomenon. Perhaps it will shake Ebay's hubris and complacency a bit.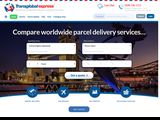 Transglobal Express
Caveat emptor. I sent a parcel through UPS Saver via the Transglobal Express website. It stated that the max insurance cover was £1,000 and I duly paid the £20 premium. Again, nowhere made evident, was the proviso that UPS in certain territories could leave packages on the doorstep of the address - without signature. Surely for a courier, this is unacceptable - and if Transglobal are in any way interested in being customer-friendly, they should have highlighted this. It was only when the parcel I sent was "left on the doorstep" and purloined that I (after digging into their website) came across a note stating that if customers wanted signed-for service, they could pay another £1.95!! Again, I cannot understand why they did not make this clear at the point of selling the premium - or (better still) why they didn't just add it to the price. My parcel contained an item sold for just south of £3,000. Upon my request, Transglobal initiated tracing and after 8 working days has just emailed me to say effectively "tough sh** but your parcel's gone (my paraphraseology) AND by the way because it was a watch and even though we took your premium, you aren't covered, so here's your £20 back (which we would have kept if nothing had gone awry)". I have just checked their T&C's and I can't find this exclusion. This is a classic case of "heads I win, tails you lose". This is also the last time I use UPS which is being myopic by providing a "leave at the door service" (while collecting insurance premiums or permitting this 'product' to be attached to their service) - without making this UPFRONT!! Surely they know that customers these days are far more demanding and are hugely too busy to study small print and minutiae. Avoid like the plague!!!
Swee hasn't received any thanks yous.
Swee doesn't have any fans yet.
Swee isn't following anybody yet.