NEVER! Ever. Terrible service!
This is part2of my story with PROOVIA. To read 1st part go down. So they got mattress and about a month was Lying about deliver it. Finally they said that DELIVERY DONE. We call to the mattress warehouse to get our money back and they said: NOTHING WAS DELIVERED.
What? Call Back to PROOVIA and they said ah sorry we lost PROVE TO DELIVERY, but we delivered they was ignored us for a while with "manager sick or we will call you back later", then they SENT prove to delivery- IT WAS A PICTURE WHERE NEW double size MATRESS WAS LEFT IN THE MIDDLE OF THE STREET BESIDE BUILDING AT... WRONG ADRESS! (You could see adress on top on the wall). ‍ My heart was broken first, and second - are you guys are normal?
Then now - more that 1 months now, THEY FEED US - we will give you money back, money on the was, manager is off in hospital (about manager my favorite)
NO MONEY NO MATTRESS
Do you want try have experience with PROOVIA?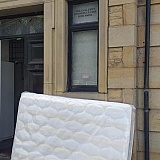 JUST TERRIBLE! Never use it. We got wrong size mattress on amazon and used shiply to deliver it from Glasgow to England.
The day when the guys from shiply must comeS-nobody comes and never contact us. We contacted them next day and they finally got our mattress. Then. It's more than 14 days now and we can't find our mattress, it never was delivered. Customer service Shiply saying "the manager is sick, the manager on the meeting ". Nobody help up. Now you decide want you situation like this or not