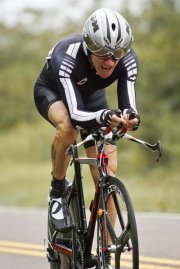 Sandy S.
8

Reviews

23

Helpful Votes

0

Thank Yous
Experience: Art & Design, Home & Garden, Food & Drink
Member since November 2011
Reviews

8

First to Review

1

Votes

23

Very Helpful

23

Funny

0

Fraud Buster

0

Great Find

0

Well Said

0

Thank Yous

0

Fans

0

Profile Views

954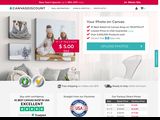 CanvasDiscount
I've had issues with them in the past and swore off ever using them. Recently however, I needed two fast canvas prints and ordered through them. On one of them, the white siding overlaps on to the main part of the photo indicative of some rather shoddy work. Today, making the mistake of ordering an aluminum photo from them and paying $5.90 extra for the hardware to hang it (you always pay extra for hanging hardware with these folks - nothing ever comes wall ready), I opened the box to discover that they had not included the hardware to hang the aluminum plate - even though it was clearly on the invoice and I paid for it. Then, upon closer inspection of the photo, there were numerous bubbles on the face of the photo and the top left edge was irreparably bent. Again, evidence of their absolutely shoddy, careless work. I have given these derelicts my last order and have demanded a refund.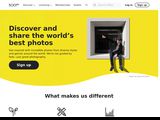 500px
The site is excrutiating to deal with in regards to receiving payment from them when work is sold by them for licensing. There is an inordinate amount of wait time required before the photographer can request payment. My latest example: I was informed that a work of mine was licensed. I waited the obligatory time (I believe it was 45 days) prior to having the ability to request payment. Finally, I filled out a W9 form, requested payment and three weeks later I have still not received payment to my PayPal account. Numerous emails exchanged with their alleged customer service rep "Steph" and as I write this, it is three weeks since requesting payment and no payment has been received. They are simply not worth the aggravation versus the pittance that they pay photographers.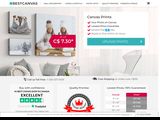 BestCanvas.ca
I should have known better after recently receiving a canvas that had a white border that slightly overlapped onto the main body of the photo - pretty shoddy work. However, I recently decided to order an aluminum print of them (not inexpensive at over $50). It arrived this morning and the first thing I noticed was that the mounting hardware that I ordered separately for $6 and was clearly shown on the invoice was left out of the box. Understand, you do not receive prints from them ready for wall mounting. You must either furnish your own mounting hardware or pay them for theirs. A total pain to say the least.

If that was the worst part, it would not be so bad in that they would be able to ship me the missing, paid for hardware. The surface of the print had bubbles of various sizes and not surprisingly (they furnish no padding for the photo as part of the packing material - simply cover it with a membraneous piece of foam and put it in the un-protected box), the upper right edge of the metallic photo was irreparably bent.

You need to be a detective to track down their alleged customer service. They requested that I send them photographic evidence of the damage which I did, but I am having a difficult time confirming receipt of said evidence. Avoid these derelicts like the plague! There are too many good photo processors out there and as the old saying goes, "You get what you pay for." Of course the exception to that was my aluminum print which again was expensive and is obviously something above their production heads!

Added 1/18/18 The company did in fact issue a credit for the merchandise. Their first offer was to reprint the photo, but based on my very negative experience with their quality control, I declined. Having said that, it changes nothing about the review other than the fact I was finally able to make contact with them.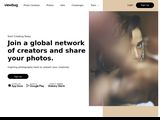 ViewBug
The people who run this site are totally clueless. They lure you in with the plethora of meaningless "rewards" - you get nothing for these alleged rewards. A Good portion of the photos posted are sub-amateurish although having said that there are some outstanding pros that habituate the site. Of course you get little unless you pay annual fees to use the site.

There are lots of issues with the software, too numerous to mention, but the one I dislike most is the ability to paste something that you cut from something that you wrote off-site that you might want to use as a photo description.

As an side, I am not a disgruntled user who never one any of their silly awards. As of this writing, I have "won" 56639 of their alleged awards and have 5382 followers - IOW, my stuff was quite popular on the site.

I live in Florida and I am a nature photographer. This time of the year it is hot, humid, buggy and the creatures are in short supply, hence to amuse myself I started a Photoshop project of putting my dog in various scenes. For example, the photo attached shoes him as one of the lions at the New York City Library.

I got a note from the rocket scientists who run the site claiming that I was violating their rules - I guess the clowns have no sense of humor - they are too busy out there protecting illegal immigrants I guess. They indicated that after years of using the site, I must remove the offending photos. In that I have been disenchanted with them and their alleged support when I have had an issue and in that I have to pay a annual fee to perpetuate said disenchantment, I informed them that they simply could delete my account and the 5078 photos I had uploaded over the years. They were finally fast to comply with a request!

Interestingly, for a site for which you have to pay, if you ever lose the original of one of your photos and which to download another copy from your own portfolios on this ridiculous site, you are unable so to do. Conversely, on the photo site Flickr, which is a free site, one can download the any photo in its full size at any time and there is no cost so to do.

Oh and yes, on the free sites of 500PX , Pixoto, and Society6, where I have uploaded a fraction of those uploaded to ViewBug, I have sold many of my photos. The same ones were available on ViewBug, including many what have won major International photo contests, been published full page in major publications, and have even been displayed in the Louvre in Paris, and not a single one has sold in the years I have been there.

Bottom Line: The site is a total waste of your time and money - go elsewhere!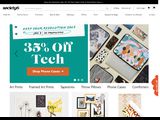 Society6
I had a potential issue with a work that I was having shipped to a museum after being selected by a very high level jury including world famous photographer, Clyde Butcher. In that I was shipping directly to the museum, I was afraid that in that it was not coming directly from me, there might be some confusion and it might get lost in the shuffle. That did in fact happen to me last December when a piece was shipped directly from a print/frame shop and a piece that cost me a lot of money to prepare and ship, not only was never received in a timely manner (after the show, it was discovered to be misplaced) for the multi-day, high profile exhibition and sale, but I lost a lot of money due to the fact that it neither was displayed nor sold because of the error.

Fearing the same error, I contacted Society6 asking it the piece could be clearly identified as not only coming from me, but sent for the specific event. Unfortunately, they were so incredibly fast in their production and shipping of my 18x18 canvas print, that they were unable to include the requested information.

Unbelievably, at no cost to me, they are preparing and sending another costly print with the requested documentation. This might be an example of the best customer service/care I have ever experienced anywhere. Thank you very much Society6 and especially Dev who was my customer service rep!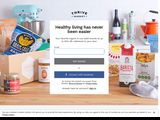 Thrive Market
I got some "free" chocolate in August of 2016 and paid a $1.95 shipping charge on my VISA card. Today, I discovered that I had a fee on my credit card for a $59.95 annual membership fee. Further investigation showed that they also charged me $59.95 last October. I have now paid them $120 for nothing. It seems that there was some fine print that by getting the chocolate, I was instituting a 30 day trial membership and if I did not cancel, I would be charged their fee. No one seems to care that I have never ordered anything during my two alleged memberships. They claim that I got email notices which I did not. Visa is crediting me for the recent "membership" charge, but that free chocolate from 2016 cost me $59.95. I contacted them and although I was able to get the recent charge removed, they couldn't care less about the fee they charged me last year for nothing.

When the company read my issue they were incredibly responsive and although the initially refunded my recent charge, they also went back to 2016 and refunded my unused membership fee. Now that is very responsive and caring customer service!!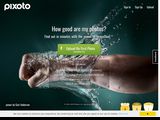 Pixoto
This is the absolute worse photographic site available on the internet. I would steer you towards ViewBug. If you have an issue on Pixoto, which you assuredly will, their hatchet woman, Janseta, writes you an abuse note. The site is all about competing images but often your image will be paused for voting in the first few minutes based on a stupid algorithm used by the site. It's all about money for them. I left the site a couple of years ago and decided to give it another try. I lasted about 4 days and I am now gone permanently. BTW, I'm not a hack photographer, I have been published in the biggest photo magazines, had my work displayed in the Louvre and as of this writing, I have taken 206 first place finishes in photo competitions.
Tadlock Roofing
I called them about a re-roofing job and rather than set me up for an appointment, they said they would call me back later in the afternoon with my appointment time. It is over a week later and I have yet to hear from them. I am pleased they showed their cards early before I let the derelicts do what would have undoubtedly been a lousy job!
Sandy Has Earned
23

Votes
Sandy hasn't received any thanks yous.
Sandy doesn't have any fans yet.
Sandy is Following
1

User
Similar Reviewers on Sitejabber
Get ready to upload your best shots! Then, see all of them 'losing votes' for iPhone pics of...