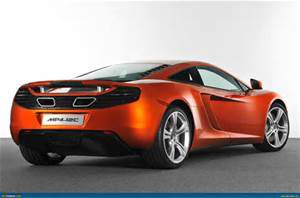 Rahjee"Raj" B.
10

Reviews

66

Helpful Votes

0

Thank Yous
Experience: Computers & Technology, Jobs, Shopping
Member since November 2015
Reviews

10

First to Review

1

Votes

66

Very Helpful

61

Funny

0

Fraud Buster

0

Great Find

0

Well Said

5

Thank Yous

0

Fans

1

Profile Views

616
About Me
My name is Rahjee Brunner, I'm 23, I live NYC, borough Brooklyn, I'm an Information Technician and a student. The reason I decided to join Sitejabber is because, I enjoy reviewing things. I'm even on Metacritc. I'm also planning on starting a YouTube channel to start reviewing video games.
Interests
Video games, money, excerising, girls, climbing, MMA, debating, basketball, technology, and space.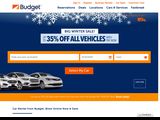 Budget Car Rental
This service is so devious and doesn't keep it real with you. By the time you get the full picture, they've either wasted your time or $#*!ed you over. In this case I got my time wasted. Me and my brothers decided we wanted to plan a trip to 6 flags great adventures. But we didn't have a vehicle. We looked and a lot of car rental services were expensive, because I was under 25.
Until I found budget. They did boost the fee because I was under 25, but it wasn't that bad. I added insurance on it and everything. So later that day I went to go to pick the car up. I had to wait on a short line, however there were only two slow employees, so that took an hour for me to be seen. After the long wait, I talked to the lady. She asks for my Driver's license and Credit card. I was assuming she meant Debit card, because didn't pay using a credit card. Than she says if you're not flying in or out I can't take a debit card I need credit, besides you need to be 25 or older to do debit. I said Why do I need a credit card, because I'm under 25 and I'm not flying in. That's a pretty stupid policy and I was never told this. She avoids my question says the best thing you can to do is call this number and refund the reservation. I told her about the trip and was trying to figure out if there was anything she could do. She said in a nonchalant attitude, Sorry it goes against our terms. I called them up and I spoke to two customer service unrepresentative who could barely speak English, they were given me the run around, until they cancelled the reservation. Now I have to wait up to 7 business to get my money back. Thanks to them for not keeping it 100 percent with me, I have to not only break the bad news to all three of my brothers, but hope I could rescheduled the trip I reserved at 6 flags. Budget needs to communicate with their employees and customers, change their terms and services for drivers 21-24, stop hiring idiots and stuck up people and stop the under handed tatics. For this I will never attempt to use this service, anymore.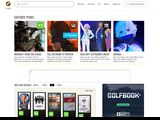 MetaCritic
Metacritic is a website where both users, and critics can review just about every movie, TV show, video game and song for the public to see. This can be pretty helpful for those who are unsure if what they're looking for is worth spending money on. However, there is a con. Lack of moderators moderating when they should is one of them. Sometimes there are users who obviously never owned the product or are just there to troll because they're on their fanboy status. They'll spitefully make different accounts so they could bring down the score of a product and bring up a score of their favorite product so it could look better. This is the problem that mainly happens with Video games on this website. Metacritic is a great place to create and look for review. However mods need to knock off the trolls and fanboys.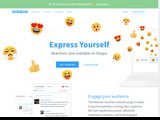 Disqus
Disqus.com is a website where you have different categories where you create discussions or respond them. It seems cool at first, but I got to be totally honest. Disqus.com has the worst moderators I've ever seen and the news and politics communities are insane. They will all attack you if don't agree with all their views. However, I was warned by sitejabber about this place. But for some dumb reason, I believed if I a gave it a chance I'd might like it. It could be a new Sodahead and a step up from IGNboards. But man was I horrifically wrong. Let's start with the moderation. Unless they like what you say, free speech isn't tolerated. They'll remove your comments and ban you without you knowing. I got remove from the breaking news section and all my comments I posted in the breaking news section were removed. They weren't bad at all and didn't violate any of the rules. I made a thread about how to figure out why I was banned from breaking news in Duck's den.
The Duck's Den is suppose to be a place where you could ask why you were banned or why was your content removed. However, the thread has been marked as spam. How the $#*! is that spam!? I tried asking other communities before that thread, they couldn't help or figure out what was going on either. I even ask the Admins of Disqus but they said:

"Hi Raj, As Disqus doesn't moderate at the site/ channel level. The best you can do is to pick another channel to post on."

Unbelievable, right? Mods there can get away with anything. It's totally frustrating. Now for the communities. It's mostly a right winged site. But that's not the problem. The problem it's full of flammers, bigots, racists and blockers. What's annoying is that most moderators due that favoritism BS, so if you're cool with the mods you're not going to get nuked. The website design is seems OK, they should allow private conversations. This is a terrible website ran by people who were clearly bullied in school or just flat out $#*!s who didn't make it in life. So they bully people online, by the deleting things and banning people because they can. Don't be a victim. Heed my words: STAY AWAY FROM DISQUS.COM.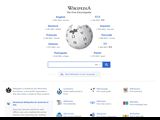 Wikipedia
Wikipedia is basically an online encyclopedia. It haves numerous articles of information on just about everything. Even though there are a few mistakes in some of the articles and sometimes the information isn't always accurate, I believe this website deserves a 5 star rating, because Wikipedia normally knows what they're talking about. Wikipedia is a great, well known place to find out what you need to know.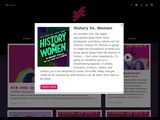 Feminist Frequency
This website is terrible. A bunch of bull$#*! blogs on how mostly women and sometime gay and people of color are being oppressed in the media and to advocate to prevent "online harassment". Not to mention how the white straight male is the devil of this world. You cannot reply on the website. All you can do is follow them on twitter, facebook and give a donation to their dumb cause. This place is so hypocritical and Anita is a $#*!ing liar.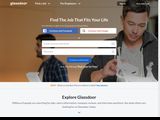 Glassdoor
I went there to review my former job because it was a terrible company. It never got posted, I was wondering why. So the next day I was checking my email and I find out their moderators felt I was too specific about the situations about my former job and I gave too much criticism. A review is supposed to be specific. That point makes no sense. A review is also supposed to be honest and it should be exactly how you feel, like what I'm doing right now. I'm not holding any punches and beating around the bush. I'm telling you exactly what my opinion is about Glassdoor. I'm not doing some elementary school BS being totally nice. I didn't do any name-calling, mention anybody and use profanity. But yet I have to edit mine for being too specific and giving too much criticism. Who controls reviews based on those two reasons? Glassdoor is a bad website that has no clue on how reviews are supposed to work.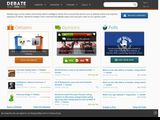 debate.org
Debate.org is exactly what it sounds like. A website where you could debate topics give your opinion on polls and topics and there's even a forum. I came to Debate.org after Sodahead.com cut all of the user off for financial reasons. Unfortunately however, the website suffers from a bad community, poor moderation and a lot of technical issues. Most of the users are desperate for attention teenaged trolls and the older ones are mostly stubborn $#*!s. It's nearly as worse as Yahoo answers. The Debate sections is riddled with stupid debates that wind up turning into conversations. Not to mention when you start winning the debate, they resort to the troll card. People tend to use a lot of Plagiarism as well and the debates are mostly rigged because debaters normally has a couple of friends waiting to vote for them. The Opinion sections and Forum section are full of flammers who make threads and tend look to attack people who don't agree with them. Not to mention all the dumb polls and topics that are allowed to be put up. Certain members get away with a lot $#*!, due to moderators either being overly laid back or for favoritism reasons. The website is poorly managed. Sometimes I can't click anything in the Opinions section, pages don't appear, the forum section design is so generic and the topic sections seems really useless and to use the debate section you have to do a verification. It's not the worst opinion base websites, but I can't recommend something like this.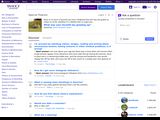 YahooAnswers
Basically in the title. Yahoo answer, is place where you ask a question or help answer a few. There are plenty of categories for different question such as:

Arts & Humanities
Beauty & Style
Business & Finance
Cars & Transportation
Computers & Internet
Consumer Electronics
Dining Out
Education & Reference
Entertainment & Music
Environment
Family & Relationships
Food & Drink
Games & Recreation
Health
Home & Garden
Local Businesses
News & Events
Pets
Politics & Government
Pregnancy & Parenting
Science & Mathematics
Social Science
Society & Culture
Sports
Travel
Yahoo Products

If the OP (Original poster) thinks your comment is the most helpful, then you'll be awarded as the best answer. You could also dislike, like or comment on fellow people's comments. You can follow questions as well. But there are quite a few problems with this website and here's one of them moderation. Sometimes moderations seems non-existent, people will ask the most offensive and troll questions and sometimes they won't be taken down. They'd rather take down offensive comments for some reason. Another problem I come across is that the community is full of trolls. They ask questions just to get attention, mess with people and purposely lend out the wrong information. That's also where the moderators are suppose to come in but don't. The customization to profiles are sort of generic, and blocking is only good for people not sending you emails. Uploading pictures is little annoying because they only show links. Yahoo answers is a fun place to ask and answer questions but suffers from a trolling community, half-ass moderation, and being very average when it comes to the little things.
Amazon
Amazon.com is an online shopping website. They sell everything from new to used at a cheap price. Rather if you're looking for a guitar to rock out on, an outfit to dress like a diva, get the latest gaming accessories or whatever you're looking for you'll certainly be a satisfied customer. It normally takes up to a week (Including business days) to get your order, or if you have amazon prime you get it in a little as two days. To get amazon prime you must pay $99 a year after a one month free trail or pay $49 a year (if you're a student) after a 6 month free trail. Amazon prime not only gives shipping in two days, but it's free as well. That's right, FREE shipping and handling. You also get early access to the newest stuff, you get to stream thousands of movies and TV and get unlimited access to your favorite songs. They even allow you to sell your own stuff on the website or trade it in for cash. If you're not satisfied with your purchase just get in contact with the seller and ship it back to them and you'll get your refund. But however there is one con. Some of the sellers are rip-off artist, procrastinate and sometimes lie saying the package is on the way. They'll sometimes lie and say your order is in perfect condition when it's not, and not take care of it after you paid for S&H. So should you should probably check the ratings and comments on the item the sellers selling, before you buy anything. But cut off those rotten apples and you got a perfect tree. The scam buyers really doesn't do anything to my 5 star review for Amazon, due to it's great customer service and refund policy. Are you still reading this? Go to amazon right now, and get what you need for lower prices in a short amount of time! https://www.amazon.com/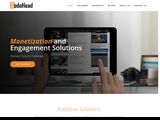 SodaHead
When I first joined Sodahead, it was a great website. Even though the community was full of bigoted conservatives, foolish liberals, religious nuts, know-it-alls and straight $#*!s I liked how you could make polls, groups, vote, debate and all the that cool other stuff. But that all changed this year of June 3rd. They nuked all the accounts and now all we can do is vote on polls:

"We are announcing today that, effective immediately, SodaHead.com will no longer support user login, poll creation, commenting and messaging. We will, however, continue to support users ability to vote on editor-created polls. Their reasons cited limited human and financial resources directing them to refocus their service as a distributed polling solution for other online publishers, and disabling their social media services. We ultimately resolved that we cannot do both to ensure our long-term viability, SodaHead needs to focus on furthering its position as a market-leader in distributed polling solutions for online content creators."

They turned to money, blowing us all away. It's suppose be an opinion based website, but you're no longer allowed to put your two cents anymore. This is nothing but a click and vote poll site now. You can't do nothing else.

BTW:
White Panther: You're a racist. Stop denying it and blocking people when they prove you wrong.
Truth Matters: Stop being arrogant and stubborn and actually learn how to debate.
TNMusicalman: Let truth matters hold his own.
Kat: Stop being a massive bigot, as well as blocking people and deleting conversations so you won't look stupid.




-Realist RS
Rahjee Has Earned
66

Votes
Rahjee hasn't received any thanks yous.
Rahjee Has
1

Fan
Rahjee is Following
1

User
Similar Reviewers on Sitejabber
On December the 11th, 2015, a Blue KYA was rented at Budget Rent a Car at Garrett Hidalgo, 1801...
Don't EVER Rent from Budget I had the misfortune of leaving my wallet in the Budget rental car...