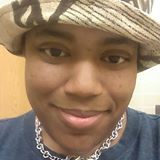 Nafeesah"Queenie" A.
14

Reviews

62

Helpful Votes

0

Thank Yous
Experience: Computers & Technology, Reference, Business
Member since December 2013
Reviews

14

First to Review

1

Votes

62

Very Helpful

62

Funny

0

Fraud Buster

0

Great Find

0

Well Said

0

Thank Yous

0

Fans

0

Profile Views

1,426
About Me
I've been doing reviews online for about four years now and I currently have elite status with another review site called Yelp.
How I Can Help
I am very honest about my reviews
Interests
reading, hanging out with friends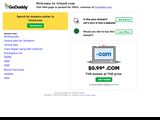 Triond
I had written for them for a number of years and when I had gone back to see if my work was still up only to find out the site had shut down and now it's some webpage for GoDaddy.com. I was so angry because that was a lot of work that I had put into building my writing portfolio. Now it's hard to build yourself back after losing years of work due to a sham site like this failing to notify writers so they could retrieve their work before the site had shut down permanently.
LegalShield
I've been using LegalShield for almost a year and it's an OK site. but you're only going to get legal advice since some areas will get referred to a lawyer outside of LS which you'll be responsible for retaining. So you really won't get much for $17.99 a month

Note***** I canceled the service as of March 15th because I felt that this is just a referral service and also keep in mind not all specialties are serviced on here and that if you're referred out it's at a 25% discount. Also, customer service asks too many questions as to why you wish to cancel your service trying to guilt trip you into staying when you're not getting anything out of it. I gave it a year and I don't see how they're helping me when I am just wasting money.
InterPals.net
I've been a long time user of Interpals and I found that a lot of the people who come here are not as real as they seem to be. I've had several pen pals who would get to writing and then out of the blue stop writing. OK I understand situations will come up where you may not write for a while, but have the courtesy to let the person know you can't write anymore because to stop writing altogether makes that person feel like they did something to cause a pen pal to not write. I had one from the Netherlands recently who just up and decided after a year and a half to terminate our friendship citing she had "choices" when the actual truth was that she didnt want to write me anymore and didnt have the decency to say so. I also learned what kind of people come to this site:

Attractive people-Most of them who come here are generally pretty shallow and don't want to talk to you unless you look like a model (both male and female)

Horny toads-These people seem to be interested in looking for someone they can have sex with which makes you wonder how Craigslist got to be so damn popular.

Desperate for marriage-You have ones from foreign lands who are desperate for wives and will take whatever they can get.

Racists-You have the ones who won't communicate with you unless you are white or other they assume someone who's black is from Africa and is looking for money, marriage, green card, or trying to scam someone. Not all black people are from Africa and are not looking to scam someone, desperate for marriage or looking for a green card.

I have a problem with how you got extremely younger men contacting older women who are 30+. Every other day I have views from guys who are like 18, 19, 20 years old and who look old enough to still be in high school. Mind you I am 41 years old and I am not interested in someone who's old enough to be my kid. I have had a hard time finding pen pals who will actually commit to writing back and won't waste my time by writing once or twice and then disappears. If you want to meet people on some BS this is where you need to come to if you're looking for serious pen pals honestly you should look elsewhere the choices arent exactly stellar if people are picky about ethnicities and many seem to want email pen pals which for me poses an issue I don't have time to sit on my computer typing endless emails I have a busy work and personal life. Also you have pals that are wanting people who will write extremely long letters 15+ page length letters and how much can you possibly say a letter longer than 8 pages? Not a whole lot and that's why I considered deleting my account because after 6 years of being on Interpals I found that the people there arent very nice and many of them have nasty attitudes and some don't even bother responding to you and even go as far as blocking you when you send them a message askng if they're interested in being pen pals you're not even harassing them just stupid petty stuff.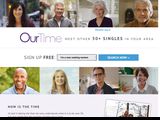 OurTime
Having seen a boatload of commercials for this dating website I assumed that it was for people that were more mature 40-50+. It has also become a place where the younger guys are here trying to pick up older women. I decided to give it a try and I wasnt impressed with a lot of the replies I've gotten some of the guys are looking for women they can be sexual with and many do not read the responses they give since some of them are grammatically incorrect and they sound immature. Some of the older men here are also seemingly shallow they want those very young girls just to see if they still got it going on. Some of them don't have it all together in terms of personality and mentality. The sad thing is that many of them don't show their photos, but will like your picture which doesnt help if you're trying to know who's the person on the other end of the computer. We also have to keep in mind that this is the internet and people will lie so be wary of men who come here because a lot of them are married and looking for dates. It doesnt help women who come here under the impression they're here to meet single and available men. Many women are often times rejected by not getting a reply if they've reached out and sent a message to a potential date. Our Time needs to revamp their site by allowing people to pick their preferences in terms of dates and also consider redirecting the 20s and 30s crowd to age appropriate dating websites since I am not interested in dating guys much younger than me.I would get a ton of messages from guys who were pretty unattractive and the attractive ones wouldn't even bother responding. Who has time for these lame ass games especially if you're 40+ and I keep thinking they're messing with people's profiles where it gives very little information about the person and you think you're meeting a nice and available person turns out to be a superficial and shallow jerk that does not even have the respectability to even send a reply back saying they're interested or not. It's hard enough to try and find a date without someone playing games or just acting like a complete ass towards someone especially since it seems the outside is more valued than the inside and moreover this site appeals to men more than women which makes it one giant matured meat market. I am better than some of these guys who come here looking for dates since I have more integrity and maturity than to deal with some man who's not really up to snuff and isnt ready for actual dating.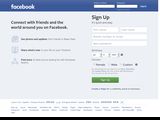 Facebook
I've had a Facebook page for a few years now and it's aggravating when you have an issue you can't even email someone at Facebook to get answers you're simply referred to a FAQ page or some community board. If they had an established customer service division they would actually find it easier to communicate with the countless users who have pages on this site through a live person phone system with hours, email service to respond, and maybe a 24 hour or limited hours customer service online chat. There are ways for Facebook to improve this instead of changing other things they need to work on their level of customer service.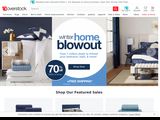 Overstock.com
I ordered a stroller from here for a family member and it was reasonably priced since it was on sale and many of the items featured on the site are discounted, but it's best to catch the deal when you see them so you can get them at a reduced price. I may order stuff from Overstock again in the near future because of how they have a vast array of products for your home. I had a pretty good experience with customer service they're very helpful and at least you can talk to a live person who's American and not some call center in India or Bangladesh where they employ foreigners because they're cheap labor and don't have to spend much to train them and pay them a lousy wage. It's a great site to go on if you want to find something nice to give to someone as a gift or fixing up the house.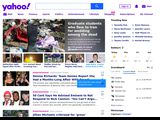 Yahoo
I've had an email account with Yahoo for more than 8 years and my issue with them is the lack of security that plagues the email system and their chat program. Yahoo also has terrible customer service with people that have nasty attitudes and if you're trying to get answers to something they're not very friendly. They need to really overhaul Yahoo's way of existing and just start over with people who actually give a crap about customer service and can perform their job right.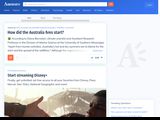 Answers.com
This site is full of crap because I got blocked for changing an answer to sound along the lines of someone actually doing research most of the answers on there are copied from websites and according to them copyrighted material is prohibited and yet the supervisors are pricks especially this one called Kluss. Whoever that person is got Site jabbed and I stand behind my review. I wouldnt bother going here because all you're getting is regurgetated information that you can easily find on Google or any search engine and not waste your time getting fed stuff that someone copied off a website and fed it to you. A good majority of those people are not experts and some of the categories are ones I have experience in, but then again your answer will be seen as wrong by the supervisors who live on that site day in and day out changing people's answers especially the ones who know what they're talking about. A complete waste of time I've had more success with Yahoo Answers than this BS nonsense.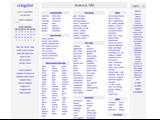 Craigslist, Inc.
Craigslist to me is a joke of a classified site. I was looking to find clients for massage and came across some weird people on here. Some of the men I've communicated with are married looking for happy endings which to me makes the massage field look trashy and low class. I am just trying to make money legitimately not just doing sexually inappropriate things to men who are not getting any attention from their wives at home. I even had a potential client try to cheat me of money to ask me to do two back to back 90 minute massages for $30...WTF was this fool for real? A standard 90 minute massage runs about $90-100 per session and knowing this moron tried to supercede me via email I passed on the gig. You have to really screen people you meet on Craigslist before you agree to meet them in your home or in public. I have also seen people posting things for specific ethnic groups since some of the men here think asian, latin, and eastern european women will do sexual favors for extra money. Again the behavior of some of the people on here makes you wonder how trashy they make the massage field with them asking for happy endings when your client should want the session to be kept professional. Either way screen everyone you meet on classified sites so you know who is coming to your place of business or your personal residence.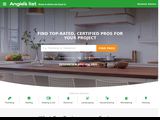 Angie's List
I keep getting spam emails and occassional print literature from Angie's List to join when I am not interested in joining a site I have to pay a nice chunk of change for in a membership.It's a joke I am much happier here on SiteJabber and Yelp. I can keep my reviews honest and real and I don't have to pay a penny to do anything else.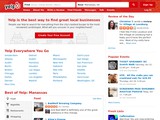 Yelp
I have nothing, but mad love for Yelp because a lot of my reviews have been well rated by users as an Elite member. Unlike many sites Yelp has gone not just local, but regional and internationally as well. It's worth setting up an account and also downloading their mobile app so you can have Yelp at your fingertips. I found a guy on here who fixed my washing machine who will be worth checking out on my reviews from Yelp. I have more than 200+ reviews on Yelp from local places to places I have been to in other states and cities that I have gone to in the past. It's worth checking out if you want to do something to help other consumers to get a good deal somewhere or saving them the added headache of some buisness not worth the time and money. I have 150% love for this site :-)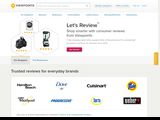 Viewpoints
I love love this site because the people who come here are actually very friendly and they don't inundate you with nasty emails questioning your ability to review a product carefully. I have done enough reviews to know what I am doing or saying and a lot of members who were with Epinions.com have actually set up accounts and started doing reviews and are much happier with their place on this site. This site gets lots of love from me.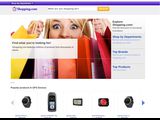 Epinions
This site needs to delete a good chunk of their members. I signed up for an account and when I started doing reviews I had members from the site sending me nasty emails saying I didnt know what I was talking about and how I am not an "expert" on the subject at hand. The entire thing is very childish and full of grown a** adults acting like high school bullies.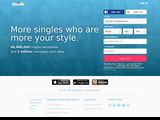 Zoosk
Honestly this site is a joke because I had some really creepy guys sending me messages and some of them were way younger or way older than my age and it seems that half of them also are looking for casual things which is what tells a lot of women they're seeking something of a sexual nature and not everyone is wanting to just meet people for sexual encounters. If that's the case go and set up a profile on Adultfriendfinder.com since that's where you can meet those for booty calls and god knows what. Then they want you to pay an outrageous fee(plus additional money just to activate your membership) for a membership. I saw a couple potential guys, but one was five years younger with a kid and the other was 8 years older with a kid. They seem to emphasize a lot of single parents which most arent even married most of them have baby mamas all over the place. How are any of these men going to be taken seriously if they present themselves like this? Customer service is a joke you think you're talking to an american.....you're not I called them and some woman with an Indian accent answered the call and they're not helpful at all. You have no activation fee with EHarmony or Match.com just a simple membership fee that fits your budget. Im doing a trial and its a waste of time most of the guys on there have abandoned their profiles without officially deleting them so you're emailing dead and fake profiles. I honestly believe that Zoosk is deliberately creating profiles to get people to sign up dont waste your time. Tell anyone who will listen to go sign up for legitimate sites like EHarmony, Match.com, and Our Time(if you're 50+) at least you know they're for real and dont create profiles to draw people in.
Nafeesah Has Earned
62

Votes
Nafeesah hasn't received any thanks yous.
Nafeesah doesn't have any fans yet.
Nafeesah isn't following anybody yet.