Where is the item Lazada? You people dont care about customer satisfaction and prompt service. 31 days in transit? My parcel left San Pedro sorting station June 24th! July na po! June 2 pa po pinadala ni seller item sa inyo!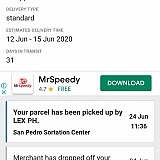 "
Worst Customer Service! Worst delivery!
"
6/24/20
• Previous review
Lazada has the worst customer service and order/delivery system. Take this order for example: Order id: *******57251865. Expected item arrival: June 12-15 2020 not 2021! When you look it up only a chatbot will answer you. When you check LELEX. PH it will only tell you its in transit. Four almost 4 weeks?! If you people don't mind about time, honesty and integrity there are people who value it most if you dont. I dont even know if the order could still be completed because you people in Lazada who's supposed to update us dont even care to answer a phone call and just leave it to your chatbot or blame the seller, while in fact the item is already in your possesion. They you say to check facebook and IG what for? Isn't your app sufficient enough? Makikita ba dun order info nmin? Di ba hinde. Use your common sense please.