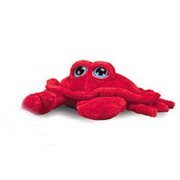 martin"Foznots" m.
10

Reviews

59

Helpful Votes

0

Thank Yous
Experience: Computers & Technology, News, Art & Design
Member since September 2011
Reviews

10

First to Review

4

Votes

59

Very Helpful

51

Funny

0

Fraud Buster

1

Great Find

3

Well Said

4

Thank Yous

0

Fans

0

Profile Views

1,829
About Me
I am the Internet's version of herpes.
How I Can Help
I am passionate about being truly annoying and feel it is my gift to the world when used for good.
Interests
I love to annoy people.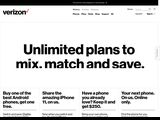 Verizon Wireless
I can not even begin to convey just how much I loath Verizon.

Other companies have corporate offices but Verizon utilizes an "EVIL LAIR" located somewhere in hell or possibly New Jersey (which may actually be worse) to carry out their incompetent misdeeds. The building is on fire but nothing burns because it is in hell and the CO is a cloven hoofed, hairy legged and horned beast with a pentagram centered on its ram shaped head.

Verizon wears its ineptitude like a badge of honor.

I would even go so far as to say that Verizon deploys their stupidity with malice.

I will not bore the reader with my story but let me just say that I did have to get the Better Business Bureau involved as the dullards at Verizon kept screwing up my bill and when I left them, they left me with erroneous charges. As it was, I had already OVERPAID them when I left.

Their criminal negligence has left a black mark on my credit even though the BBB came in heavily on my side.

A quick Google search yields countless horror stories from many customers.

Just once, I would like to gather up the millions of screwed over customers and gather them together in front of Verizon's corporate LAIR on their front lawn (assuming there are lawns in hades that aren't on fire) and have them all pull out Bibles and crosses while shouting "THE POWER OF CHRIST COMPELS THEE"....

There just aren't enough keystrokes to tell Verizon just how much I hate them and that I wish that from the highest ranking corporate officer to the lowliest pee-on that they rot in their own filth while surrounded by hundreds of buzzing flies in the darkest, dankest bowels of hell.

"... to the last I grapple with thee; from hell's heart I stab at thee; for hate's sake I spit my last breath at thee."
Moby-$#*!, Ch. 135

Verizon has become my whale.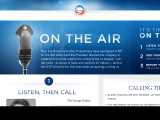 Radio.barackobama
As a person who leans far to the right, I want to hate anything connected to this president and his propaganda machine but I just can't hate this site. In fact, I love this site.

The concept is absolutely hysterical, beyond laughable.

1- Listen- You will find a player button which will take you to that radio show to listen in.

2- Call- You call the show using the phone numbers provided by the site and regurgitate the web-site's canned talking points. If you fail to get through, you press the "Give me another show" button to cycle through another show to listen and call.

3- Report- You then file a report with the web site to tell them how you did.

FUNNY!!!

So, why do I love this?

Thanks to 0bama's minions, I can now listen to all my favorite conservative talk shows for free WITHOUT the use of an XM or Serius reciever anytime and anywhere from the comfort of my computer.

Thanks to this site, I got to talk to Dwight Schultz of "A-Team" fame and now conservative talk show host who was filling in for Rusty Humphries just to tell him about this ridiculous site. But hey!!!... I made sure to report back to the site. Howling Mad Murdock got a kick out of it as well and we both had a good laugh at the site's expense.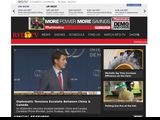 RFD TV
RFDTV is a charming network for farm living. It is informative and entertaining. It is a modernization of a simpler time when folks worked the land and got along with each other as a community. If you love rural living then you should enjoy this website as well as their TV network.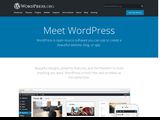 WordPress
I am going to keep this review simple. I LOVE WORDPRESS!!!

Wordpress is feature rich, versatile and may be the last bastion for free speech.

If you have something to say to the world then Wordpress is the place to say it.

Wordpress is as simple as you need it and as complicated as you want it.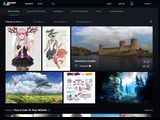 DeviantArt
I love DA. I check it every day. I post my poems there and wouldn't have it any other way.

Just look for foznots!!!

:p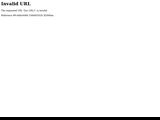 Blip
Blip.tv will crush Youtube as Blip is feature rich, allows longer video content than Youtube and best of all is there are no bots or nasty mentally deranged children screwing it up.

I have fallen in love with this site. I love that there is no "flag spam" feature which is so patently abused by nasty users on Youtube who will go right for that flag like a moth to a damn flame when they don't like your content or are jealous for your creativity. Many good folks have had videos deleted and their content gone forever because of the abuse of that miserable button. Not on Blip as Blip is way more friendly to those providing content to the world.

I simply can not recommend this site enough. You can even choose your video format. Use the player that YOU like. Choose Flash, Quicktime and others.

Good reasons Blip is better

1- No size limit like Youtube's 10 minutes or 100 meg. Go large!!!
2- Automatic video backup.
3- Support for video formats.
4- Video Playback Options.
5- Video Thumbnail Image.
6- Video Download Options.
7- Detailed Site Statistics.
8- Viewer Comments.
9- Video Descriptions
10- Video Quality
11- NO DAMN FLAG SPAMMING ABUSE!!!
12- Blip unlike Youtube will actually respond to user feedback.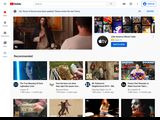 YouTube
Youtube has devolved into a sandbox for nasty children. Censorship is rampant by abusing the flag spam feature while paying members seem immune the the flag abuse. I had a video just recently get yanked and there is no one to complain to for a resolution. What was in my video? I was boiling lobsters, no political diatribe and no insulting anyone. Somebody didn't like lobsters getting boiled and flagged it and just like that, poof. Gone. The vitriol spewed by morons is out of hand as people who seem to think anonymity is a free pass to animosity. I have since started migrating to Blip. The children can keep their sandbox. I am going to a more mature and responsible video site.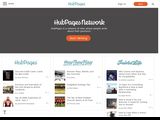 Squidoo
Blows the doors off of Hubpages or as I call them, "SNUBPAGES".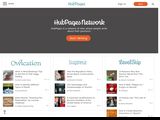 HubPages
I can sum this site up in one word and that word is "LAME".

Squdoo is better and they, unlike Hubpages do not yank every single post I make.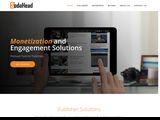 SodaHead
A diatribe of the deranged, Sodahead is the default home of left-wing bias and propaganda. The unoriginal hack spewed forth by its leftist users goes unchallenged as any user not in lock step with their screed will find themselves censored or banned. It is nothing but unintelligent vitriol and regurgitated talking points for elitists. The socialist rhetoric is matched only by their sheer level of socio-political retardation. Bat guano shows a higher level of cognitive functioning than the moderators at Sodahead. A quick Google search for Sodahead bias will show just why this site barely achieves one star. The chipmunk on my porch is more entertaining and far less insulting than the mindless drones that frequent Sodahead. If you are an unthinking follower looking for a queen then this is your hive but for everyone else, it is a site to be scorned and mocked for being so deliberately embarrassing to such a degree that a walrus would be more fun and challenging to debate. In the end, this site proves that liberals make great pets but lousy site designers.
martin Has Earned
59

Votes
martin hasn't received any thanks yous.
martin doesn't have any fans yet.
martin isn't following anybody yet.
Similar Reviewers on Sitejabber
Yesterday I tried to connect a Samsung S4 that a friend gave me. The phone still works...
Don't be fooled how they spin this. Be weary of this company apparently not all employees know...