Member since December 2014
Reviews

5

First to Review

3

Votes

14

Very Helpful

13

Funny

1

Fraud Buster

0

Great Find

0

Well Said

0

Thank Yous

0

Fans

0

Profile Views

423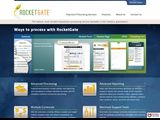 RocketGate®
they took 7 days to reply to my request and then said it was not their issue when it was

this is terrible company to deal with

they make you provide far too much evidence

requested cancel on 30 th dec

wrote back no reply on 30th with evidence

Re: [Customer Support #IAG-862-33456]: please cancel autorenew for this site and revert back

wrote back on 31st
REPEAT OF PREVIOUS EMAIL
NEXT I AM GOING TO COMPLAIN TO YOUR CUSTOMER

2nd january description of problem

hi
thanks
i eventually managed to cancel jeffs site
but despite this i have not received email confirmation to this effect which is the normal standard practice.
so this is stressful
one should have to worry about these things if one has paid legimitately and cancelled autorenew legitimately

also the oei -billing support-number linked to this site, is temporarily inaccesible
this leads to loss of peace of mind
i will avoid that biller in the future

jan4

Date: Sun, Dec 30, 2018 at 3:01 PM
Subject: Re: [Customer Support #IAG-862-33456]: please cancel autorenew for this site and revert back
To: <cs@rocketgate.com>

i have cancelled my subscription on the site oei then redirected to roguebucks
but have not requested email confirmation

my message below sent several times, was also ignored
i intend to create a big fuss about this

the company are now denying having a service issue and are pressuring sitejabber to remove the review, please draw your own conclusions

i did have a service failure, the repeated emails and attempted phonecalls are documented and they ignored requests for clarity. they also did not approach me in advance of contacting sitejabber to resolve this issue. also it is standard practice that when autorenew subscriptions are cancelled an email confirmation should be sent

these people have the gall to try and pull a legitimate review off after an extensive papertrail that i have of correspondence with both rocketgate and the company that they process the payment for.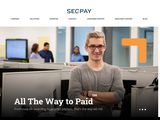 Segpay
dear marc b you said that i contacted segpay on the 23/3 the last time and that an agent reached out to me with some kind of answer

what is this below then? 29th of march, so you're lying again!!!
and read the response from the agent reproduced below
it was pathetic

are you going to resolve my refund issue or not?

my bank are ok with initiating fraud enquiry, and i am not going to hold them back.

you have wasted an enormous amount of my time being in touch with your customer service people and it has been very stressful and even after 10 business after the refund was supposed to have been made, they were still saying silly things like, give us a few more days.

look through the correspondence on your system i have given lots of identifying information in my original complaint on sitejabber

29th march

New reply for the ticket #CS00793088: #CS00793088 attention marc b

#CS00793088

Hello,

Thank you for contacting SegPay, a third party payment providers for many sites on the Internet.

How can I further assist you? Please state your concern/situation so that I can provide you the proper help that you need.

If you have any additional questions or concerns, please contact us back.

Thank You,

Alvin , SegPay Billing Support
http://segpay.com/contact-us.asp

hi there marc b
i replied to your silly reponse on sitejabber
and i put a new complaint on scambook
please look it up at your convenience

sincerely
jeremy b
"hi marc from segpay here is all the info you need"
3/28/18
• Previous review
marc i have tried everything you said and waited 10 business days and then another 4 and still your staff are being impossible. no fund reflecting from bank
bank initiating fraud enquiry
. information you need is below
please resolve immediately
jeremy

Purchase Information

Website: fantasyhd.com
Purchase ID: 49663098
Transaction ID: 71422888
Username: tiny413xl4v

Refund Information

Refund Amount: -69.95 (EUR)
Additional Information: A refund has been issued immediately on our end. It can take up to 10 business days for this refund to be processed back to your account. If you don't see the funds back to your account in that time, please contact SegPay Customer Service.
Statement Descriptor: For your privacy, whalemember.com 8664504000 will appear on your statement.
Tip for consumers: avoid like the plague
"crooks of note"
3/22/18
• Previous review
segpay represent a rotten adult entertainment company called fantasyhd
segpay do the billing. i had a membership to a site called fantasyhd and was tricked by clicking on something, to sign up for a 69.95 euro additional adult movie service. the adult site concerned didnt even indicate after i made the mistaken click, that i had signed up for an additional expensive service. i requested a refund from segpay after i got an email that i had just been charged 69.95 euro. i chased it up and after a while no refund reflecting. i then checked again after 10 business days with no refund reflecting, and they told me to wait another 5 days. instead i phoned in and was told there was no supervisor available to speak to. segpay are disgusting and the company they do the billing for, fantasyhd are also evil the way they try and trick you to click on something that signs you up for another service
disgusted
Tip for consumers: be careful of losing your money!!!!!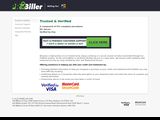 Pro Biller
rude customer service staff
unapologetic and cut off the online chat
made a signficant unauthorised charge to my credit card and it will take up to 10 days to get it refunded to my card. this sucks
also a customer service person gave me misleading information about a subscriptions benefits, and so then i had to pay again to upgrade.

bad attitude, not apologetic, misled me, would not transfer me to manager and cut off the online chat, bad all round
Tip for consumers: dont use them-ever-if you dont want grey hair and heartburn

update-they subsequently cancelled my membership entirely and refunded me the regular membership fee-even though i expressly asked them not to do this!

i have never come across a company that behave in this disgraceful and entirely unprofessional manner

image coming soon
Stackry
i am bowled over by this excellent freight forwarding/remailing company.

in every aspect they excel, my impressions have been confirmed time and again over the entire time period that i have been doing business with stackry

there are many unscrupulous companies in the remailing industry,
BUT THIS IS NOT ONE OF THEM.

stackry try their best at all times to exceed your expectations and their prices are very competitive when it comes to shipping. what really sets stackry apart, is the amazing warm personalised customer service, which is industry leading.
they are also very gracious when it comes to resolving any slight problem that may arise and their efficient packaging regimen is brilliant. they are genius at packing as much as possible into the tiniest box, to save you on shipping costs

please try this company out. you wont be dissappointed. i have used them for several years now and they have been excellent throughout and i am not an easy customer to please.!

just look at the stackry average review on sitejabber. it is staggeringly high and totally blows the other remailing companies out of the water.
Tip for consumers: i have tried many other companies in previous years and none comes close to stackry. great value great service, great attitude and great attention to detail. very highly recommended! try them once and decide for yourself.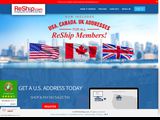 ReShip
i have been a reship.com customer for several years

in the past 6 months the service has deteriorated drastically

they have very limited hours to contact by phone
in the morning us time often dont answer

i had to wake up in the middle of the night to
speak to them!

fistly they shipped me an incorrect book and refused to take responsibility at all and gave me the runaround

they agreed to ship me a blu ray drive that i had bought and not remove the protective packaging

when i received the box, not only had they taken the drive out of all of its packaging, but they put the drive at the very bottom of the box, which is complete foolishness.

they should have known better and packed it in the middle where there was a lot of padding

i asked them to apply fragile stickers, but they said that they didnt have-would you believe it?-
a remailing company that doesnt have any fragile stickers!

they were not interested in sorting out my problem fairly

they applied a 7 dollar credit to my card for a drive that cost me 175 dollars by the time i received it

owing to the way the drive was shipped, i cannot be completely confident in its suitability for use as a data archiving device

reship very selectively answered my emails and when i got up at 12:30 at night in my country, to phone them, i spoke to somone called maciej, and spent more than half an hour pleading my case. he promised that i would have a constructive response by the following morning

i received no response!

reship used to be quite good in the past

they have deteriorated dramatically and it is my civic duty to make the broader public aware of these problems to obviate potential misery for the customer

this morning i woke up and received an email that my reship.com account has been deleted,

do business with these rogues at your peril

rather use myus or another reputable company

i wouldnt wish reship.com on my worst enemy.

Dealing with them has been profoundly stressful and indeed quite traumatic

bottom line: avoid this company like the plague

from my experience, i say do business with them at your peril!

jeremy b
Tip for consumers: this is the worst remailing company i have ever encountered
avoid using them at all costs
try myus or another service
this service will cause you misery as it has done for me in recent months

please see the photo attached which shows the incorrect book they sent as well as the manner in which they shipped the drive to me
jeremy Has Earned
14

Votes
jeremy hasn't received any thanks yous.
jeremy doesn't have any fans yet.
jeremy isn't following anybody yet.
Similar Reviewers on Sitejabber
After I renewed a subscription (with a real credit card having a zero balance on it), Segpay...