Member since November 2014
Reviews

1

First to Review

0

Votes

303

Very Helpful

302

Funny

0

Fraud Buster

0

Great Find

1

Well Said

0

Thank Yous

0

Fans

0

Profile Views

216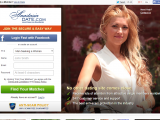 AnastasiaDate
After Being on this site and seeing the reviews, I decided to give it a chance anyway and I should have listened to the bad review comments that were posted. If you are considering using this site or are still using it, My advice is to walk away. you will only spend money and in the end you will have lost a lot of money and still not meet any of the Girls or be any closer to finding an International wife. My personal Experience has been that I have chatted and emailed about 10 different girls on the site that I thought were going to be a good match, over the course of using the site these past 7 months and with each girl it has been the same. I chat with a girl, ask questions relative to the qualities I look for in a wife and each of the ten girls has stated that they are happy to have been able to find me, that they agree and are the type of woman with the qualities I am seeking and in turn each has lied or when it comes time to meet, they are not able to meet. Ihhave never been able to reach any of the women on the phone, wheather it was an instant call or a scheduled call through their service. The Chat is very expensive and each of the girls is against sending you and communicating through letters, they always insist on the Live chat. and there were a couple girls that I had sent flowers to and provided my personal email for direct communication and in both Instances, they have emailed me directly, but after a few emails, they say that they are not recieving my emails any longer and they both have tried to influence me to get back on the chat (that you have to pay for) that is on the Site. When I suggested using Skype, Both have said that it is expensive and that you have to pay to Download (which is not true). I had a friend that travelled to Ukraine recently and he had told me that Skype in eurpoe is like the Skype web site here, it is a free download and works the same there than it does in the U.S. But the girls Insist that they can't download, due to cost. It is an outright lie. Another thing I noticed was that even when you established a relationship with a girl, A few girls wanted exclusive communication and stated that they only communicated with me, But I began to notice that after we would chat and I would log off, but they would remain on live chat. I saw this when I went back online after reading a review one time and sure enough 38 minutes after me and a girl had finished chatting, They were still on live chat when I went back online. I asked why they would be online after we had said our goodbye, if she was only communicating with me and all the girls said very similar things, either they were waiting for me (which didn't make sense cause we had already said our goodbye after chatting) or they would say they forgot to turn off computer. Let me state, they all said the same thing, like if they were taught this or something. I would then ask them directly to log off after our chat, but they did not and when confronted about it, there were various excuses. I even went as far as creating a fake profile with another email and even after they said and even promised they did not communicate to others, I would log on later with my fake profile and they would still be online and I would initiate a chat and everytime they would answer, I would chat with them and ask questions about their search and if they had found anyone, if they were available, things like that, and everytime, they would say they are available, they have not found anyone and even said their search was not going well, but 30 minutes before on my real profile, the same girls would say they loved me, they only wanted me and how lucky they were to find thier match. I also tried other clever tactics to prove if they were lying or real and each one failed and when confronted, they stopped answering the chat invite immediately. Also the other tactics I used (which I will not go into detail here) but they always contridicted themselves on things they had said earlier or previously in chat and one weird thing too was, it was like they were not the same person sometimes. the girls would not remember what they had even told you a day before or sometimes, would not even be able to recall things you had told them before. So... I do not believe there is anyone real on the site at all. I would not believe any of the 5 star reviews, I am convinced that the 5 star reviews are fake and implanted. I know a couple people that do have russian or ukrainian wives and they did not use this site and they also have never heard of any marriages or meeting from anyone that had used the site. I am done using this site and am going to use the site a friend who married a awesome russian wife used. I will not name the site cause I am not here to promote any sites, I just want to warn any one else about this site and the other site that they have, which is russian brides.com. This site is a scam and if you want to use it, go ahead, but you have been warned. You will only waste alot of time and money. The girls play games, waste your time, and are not serious. I do not know if they get paid to chat or not as I have read on some reviews, but it seems like it to me, cause all the girls, and I mean all, in my experience, have either said they only use chat on the site or they try to influence me to use the chat. a couple girls have sent letters a few times, but it always goes to a conversation about just using chat. Goodluck in your search and I hope I have helped people to save their money and use some other reputable site, but stay away from this one.
Tip for consumers: Leave this Site Immediately, unless you just like to waste money and waste time.
Jeff Has Earned
303

Votes
Jeff hasn't received any thanks yous.
Jeff doesn't have any fans yet.
Jeff isn't following anybody yet.
Similar Reviewers on Sitejabber
just being curious checked the girls I was talking with a month ago - 90% of them are gone form...
I have joined this dating site over 3 years, and I just came back from Ukraine two days ago, I...