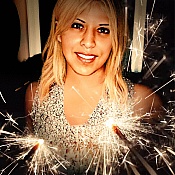 Jaquie M.
10

Reviews

10

Helpful Votes

0

Thank Yous
Experience: Food & Drink, Business, Travel
Member since September 2016
Reviews

10

First to Review

0

Votes

10

Very Helpful

10

Funny

0

Fraud Buster

0

Great Find

0

Well Said

0

Thank Yous

0

Fans

0

Profile Views

326
OliveGarden
Note that I am only reviewing their delivery / pickup options, as I have not stepped foot into an Olive Garden except to pick up food, in YEARS.

Anyway, I normally make a better version of their Zuppa Toscana at home, but when I'm too lazy, we like to order it from them for pickup. WELL, I am not exactly sure when their phone menus changed ... but it is a godawful experience to call in and try to place any type of order over the phone. HOW, i ask you, do companies survive with such a moronic way of doing things? It's mind-boggling! While the phone system pushes their online ordering system (which we will get to in a moment), there is literally no way to get a live person without jumping through hoops, so I can only imagine the number of people who have called for other things, and have just become fed up (hahha) and have hung up. Now, I understand their desire to automate things, BUT COME ON! I AM LITERALLY CALLING YOU TO GIVE YOU FIFTY DOLLARS for what basically boils down to (like my pun? :)) sausage, potatoes and water!!! As it is, you have to sit through an entirely long and tedious and tiresome message asking you to order online ... The kicker? The kicker is that their online ordering system did not have (in the past - not sure if they have added it) the option for a GALLON or two of soup. So, if you really want their soup you have to make a conscious decision to go through the Never-Ending Message Loop of Boredom before you could place an order.

Furthermore, as for delivery it is nonexistent.

While they do have what is technically dubbed "catering", get this: YOU CANNOT ORDER FOR DELIVERY TO YOUR "HOME" because .... further get THIS: they cannot "set it up" for you. Well, who is asking them to? Should that not be the prerogative of the person placing the order? Should I order from work so that I can then jug around two gallons of soup to my casa? NAY!

Really, with so many other options out there, I just can't fathom how companies with no obvious common sense toward the CUSTOMER, survive for as long as they do.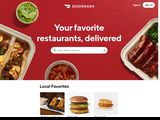 DoorDash
ZERO, or better yet, NEGATIVE stars would be more appropriate.

Doordash is horrible at meeting customer's needs. HORRIBLE.

We used to be pretty steady customers, but Doordash repeatedly dropped the ball either through their drivers or the restaurants on their platforms, but mostly, through their RESPONSE to customer problems/issues. As such, we went with another delivery service for almost 4 or 5 months. With us ordering so often, though and since the other service has higher fees, we recently decided to give Doordash another try. Well, nothing changed.

Since being back with them for a couple of months, EVERY restaurant we have ordered from, except for one, has messed up our orders royally in that there are incorrect or missing items. THEN, upon phoning Doordash about it, we receive mere pennies - and only for the missing items - in the form of a FRACTION of what was spent on the items that are missing once you weigh in the fees and delivery and tip which are factored by the total amount of the order. Plus, your food can be incorrect, cold, hard, rancid etc. and they will NOT make good on it, instead advising you to just 'leave feedback on it'. The shoddiness of the CS agents who offer vapid banalities and canned "I understand your frustration" platitudes, while in no way really understanding how unbelievably frustrating it is, is utterly ridiculous and obviously a measure of what the company as a whole feels about its customers.

As such, what is the sense in ordering? Invariably, one member of the family is either left without food, has to cook, has to go out and get something, or has to share, which defeats the entire purpose of ordering for delivery!

The ONLY thing that makes me feel better is leaving an honest review. You may find it emptily bitter or vindictive, but after throwing money at Doordash and being bilked over and over again, it is somewhat satisfying to think that if I can save at least ONE family the exasperation, annoyance and irritation of going through the same thing: YEAY.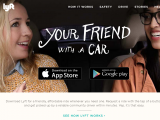 Lyft
To begin, they are LEAGUES better than Yellow Cab, and slightly less expensive than Uber. Unfortunately, they are still greedy, disorganized and unprofessional.

To begin, our first few rides went SO well, that we became addicted to not driving, and just taking Lyfts everywhere. A few of the drivers however weren't the greatest, so we began to think before ordering a Lyft. It was so hit or miss, we'd actually debate it. The straw that broke that camel's back however, was a round-trip to pick up an order of wings. The driver could not set his GPS, and got lost on the way there. That was not a problem, as that happens, and we weren't on a tight schedule or anything. AFTER the trip however, I saw a $25 charge on my card above and beyond the fare and tip. When I contacted Lyft to inquire about it, they said it was for cleaning the driver's car, since we had supposedly left grease in it from the wings. Knowing our order had not leaked, I immediately canceled my credit card and asked for proof from them. They sent me pictures of some clear liquid on the seat (where we had been sitting!!!), floor, and base (or footrest) of door. I told them that it was not grease from our order, as our wings were "hot" wings and the oil and sauce on them was orange, and I asked them how they explained the oil being where we had our butts. Did they think one of US leaked oil? It was obviously a scam on the part of the driver, but no one at Lyft was smart enough to put it together, or to even TRY. They have zero common sense. Anyway, a couple of days later, I received a message from them that stated that a $SEVENTY-FIVE$ dollar charge would not go through and to please update my card. Ha! As if. I contacted them yet again, and they explained it was for cleaning the car. What, again, or more, or what?

We have never used them again, nor will we.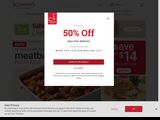 Schwan's
Their offerings, while super processed, are really very yummy, but on the high $$ end when considering other options.

We used a coupon and promo code twice (which brought what was ordered down to a more reasonable price/cost), and the second time, the driver said he could not accept it, which became a semi-argument, after which he said he could not accept it "next time".

While I understand that promo codes are normally a one-time deal,
1. it did not specify that on the promo,
2. without the promo code they are way overpriced, ordering would not have been worth it, and more so,
3. his attitude sucked

So, we just stopped ordering from them.

No big loss.

With the advent of grocery stores that deliver now, and especially Walmart joining in, I don't see too bright a future for Schwan's if their prices remain what they are.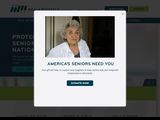 Meals On Wheels
Have really helped my granny. Some of the volunteers aren't very sunny or well-dispositioned, but the service itself is a god-send.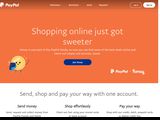 PayPal
Sorry, but all I had heard and mostly read about this company was negative. Seeing as I like to make up my own mind, I decided to open an eBay and PayPal account. While PayPal worked great with eBay, when I had a dispute with an outside company who pretty much jerked me around for THREE months with no sign of what I had purchased, PayPal hung me out to dry. I swear,, it is as if there is not one person who has any common sense at PayPal, and then their moronic 'supervisors' have no clue what they are speaking about.

The company I dealt with said they sent the product a few days after I ordered it, provided a bogus tracking number, then would not respond to emails until, finally, after a barrage of emails from me, they responded and said the package had been returned by US customs. Still giving them the benefit of the doubt, I asked AGAIN for the correct tracking number to 'see why customs had returned it'. Of course, they did not provide it. Days later (more than a month after the original order) the company said it had resent the package, and provided another tracking number. It did not arrive either and even weeks later, all the tracking information available, was: "Label created". Yet THIS tracking info was what PayPal wanted to go by, ignoring the time from when the order was originally placed.
To add insult to injury, the Supervisor I spoke to was a rude idiot.

Sorry, but no. All the negatives about PayPal are right. I should have listened, and so should you.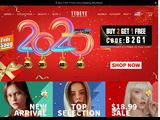 TTDeye
Just AWFUL. Not only are their prices on the high-end, for equally nice or better lenses you can find elsewhere for less, but I literally sat through close to THREE months of bogus tracking numbers and condescending emails (when they CHOSE to reply), telling me to "be patient, dear".

This is one company that really warrants negative review numbers.

Save yourself the headache and trust me (I don't think I can posts links) when I tell you that there are prettier lenses available at a lower cost if you look.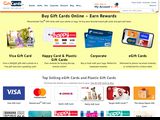 GiftCards.com
I tried to order a gift card twice from them. The first time, granted, I gave them a wrong telephone number at checkout because their 18-page disclosure and agreement document was a little too wordy to be on the up-and-up and I did not want to have them sell my number to marketing companies, which is what you are basically agreeing to upon clicking the "I Agree" buttons.

In any case, they held $1 from my credit card/bank, said the order had been placed and gave me an invoice number, yet a few minutes later, I received an email stating the transaction had been canceled.

A couple of days later I tried again, and despite my better judgment, used my real number that is tied to my card account. The same thing happened. Well, that's absurd. I called them and CSR said that they "have a team that reviews each purchase and looks for any discrepancies". Excuse me, but there was no discrepancy in the purchase. All of my information was valid and matched across the board, etc.

In my estimation, they indeed sell some cards, but based on reviews I now see, the card bearers have difficulty ever using them, and (again, in my estimation only), this is because they actually sell to account holders who do not have the backing of well-known and established bank entities who one would have an option of going through to dispute a bad purchase. I paid with my Discover card, and again, there was no reason in the world for the order not to have been processed, but for the fact that had the recipient not been able to use the gifted card, I would have turned to my bank for recourse. I know it sounds like a stretch, but I can't fathom another reason why my purchase, among so many others I read about, were declined. I additionally think they sell your information when you open an account with them as you are prompted to do before you place an order. As such, I deem them very untrustworthy and would highly recommend people stay away as per the saying: "better safe than sorry".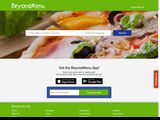 BeyondMenu
We order out A LOT. As such, I used to enjoy using BeyondMenu because it was quick, had a simple interface, stored my data and with a few clicks, I was done. Well, not sure what happened but for the past year, they've been AWFUL. To begin, it lists restaurants in my area as delivery, when they don't deliver. They also have restaurants which come up in my area, only to find out that they actually DON'T deliver to my area AFTER I am through with the ordering portion. Then they have a bug where restaurants where I have consistently ordered from in the past, come up as "does not deliver to your area" on some occasions. Lastly, the customer service is useless. I literally had to call three days in a row last week due to something being wrong each time. The 'straw that broke the camel's back', was that I placed an order and after almost an hour and a half, I received a call from the restaurant asking if I was going to pick it up. I said no, that I placed it for delivery. They said they had informed BeyondMenu several times that they did not deliver, but that she would ask her son to bring us the food. I called BeyondMenu because after all the garbage I had been experiencing with the last few orders, I wanted at least some of my money back. The guy who answered said that the lady had just called him and told him they did not deliver. I do not believe for a second that it was the first time they had been informed of this, but even so, I placed the order WHEN IT SAID IT DID which is totally on them, and it was two hours later (and would be another half hour before we got our food), yet they did nothing.

Again, not sure if they sold their business or what, but BeyondMenu is garbage now.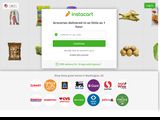 Instacart
Let me start by saying that the idea of Instacart is FANTASTIC and that if anyone ever gets such a service done right, they would make millions. It is much too easy not to fall into the habit of having something delivered and saving time rather than wasting it.

That said, this is NOT the company to do it.

After receiving various emails from them to try them out, I decided, why not and spent some time ordering a few things from a local store. Upon check out, the system told me that it could not add my card, but did not say why. (It is a perfectly good MasterCard, not prepaid, with enough funds, etc). I phoned them and was told to email their helpdesk, which I did.

In the meantime I decided to see if anyone else had run across the same issues,and found nothing but bad reviews online for them

I guess I am the lucky one in that their system did not accept my card. While I didn't progress through the entire receipt of the groceries or billing, just the initial experience with them speaks volumes.

I will not be doing business with them, and thank others for their reviews.
Jaquie Has Earned
10

Votes
Jaquie hasn't received any thanks yous.
Jaquie doesn't have any fans yet.
Jaquie isn't following anybody yet.
Similar Reviewers on Sitejabber
Olive Garden in Rivergate has gone to pot, just like a lot other Restaurants. Really, never...
Me and my friends went there recently and we were not impressed. Long wait, horrible service and...