After a long wait i can assure that this webpage is a scam that just takes your money and walks away with it! I requested the unlock to be "prioritised" and guess what? Nothing happened! I requested a refund, and still nothing happened. Their service just keeps getting worse, now the log says that there has been a response from their side 5 hours ago when the last message is the one i sent 12 days ago! I hope this helps anyone considering ordering an unlock from them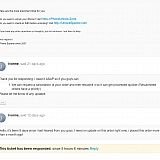 "
Still hoping this is not a scam
"
8/21/18
• Previous review
So after the very upsetting email i sent to their customer service, they replied me with a nonsense email:

This is Angelica from the IMEI Support Team.

Your IMEI number was verified on our IMEI server and is now being processed.

We are giving our best to get your iPhone unlocked as soon as possible, but please note:
Due to the nature of our service, we cannot guarantee an exact completion date, but based on our experience in the past few weeks, this is what we expect:

Estimated delivery time frame: within 5 - 12 business days

They are very slow to respond to my messages and its been now day 8 out of the 12 days they gave me as estimated time, but they keep giving me a new estimated time everytime they have an update like "we have received your order, wait 5-10 days" then "we now know what carrier it is and will try to get it unlocked, wait 5-10 days" and later "we have found that this imei is blacklisted, wait another 5-12 days"
"
waste of time and money
"
8/14/18
• Previous review
You guys are ridiculous!!!! What kind of service is this?!
OF COURSE IT'S BLACKLISTED! THAT IS WHY I PAID FOR YOUR SERVICES!
It doesn't take more than 2 minutes to check the IMEI and know that is blacklisted, and on the very first step to order your services you also have us choose between a clean and locked imei so why does it take more than 2 weeks to get this response from you???

Now you're telling me that you can't provide a service that you are advertising and that i paid for????

I am aware that i paid to get this IMEI unlocked to use overseas NOT Unblacklisted.

I overpaid to get notified that my phone is blacklisted. I expected a much more professional and faster service, i just wasted time and money on your website!