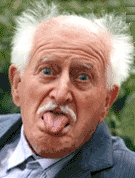 H"Sophia" M.
13

Reviews

99

Helpful Votes

0

Thank Yous
Experience: Home & Garden, Health, Pets & Animals
Member since June 2011
Reviews

13

First to Review

4

Votes

99

Very Helpful

83

Funny

1

Fraud Buster

2

Great Find

10

Well Said

3

Thank Yous

0

Fans

2

Profile Views

1,891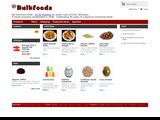 Bulkfoods.com
THIS BUSINESS IS RATED "A" BY THE BBB WEBSITE. I have made many orders (more than 10) from this site and never had a problem. They have different things for sale like; chia seeds, millet, and amaranth by the pound, whole nutmeg, fossil shell flour, goji berries. I like to get dried fruit to add to the kombucha brew. It's good stuff!
You can find every spice you will ever need here. I got a 5lb bag of cayenne to spray the garden pests!
They also have organic dried fruits & grains, dried beans, and old fashioned ribbon candy. I am partial to their organic evaporated cane juice sugar. This would be a great place for a bakery to get their goods. I guess, once again, I got lucky with this site. Of course I have never ordered nuts or had an occasion to contact customer service. So they seem to be A+ to me!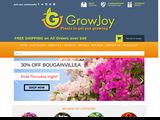 GardenHarvestSupply
This company ships plants very neatly and carefully. If you are behind in getting your garden started you can order all sorts of starter plants. They have cool steel gazing balls for your garden to get a shock. They also have a super cool strawberry planter that I can't wait to get! The great thing is that each order will earn you credit towards the next order!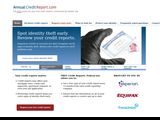 AnnualCreditReport
This is the one! Each year you can get a free copy of your credit report. I love this site! It gives you access to all 3 credit reporting agencies. You can get all 3 reports at once or you can get a report every 4 months by just picking ONE credit reporting agency to print a report from each time.
You can sign up for a free account at the 3 credit reporting agencies and they will hold your report online for 30 days to view. They will try and upsell you to pay for your credit score or report monitoring. You probably don't need the score unless you're buying the Taj Mahal...HA! So go check your credit report now for free!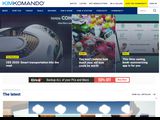 Kim Komando
This is an awesome site by the digital goddess Kim Komando. She has a radio show about everything digital. I mean EVERYTHING! From ipods to ipads. LCD tv's to plasma, pc's to laptops. She scours the web to find awesome sites daily. Her site has daily downloads and lots of free stuff. You can sign up for her newsletter but some content on her page is for members only. There is so much info on her site you probably won't have to join. Check it out and I bet you will find something you need.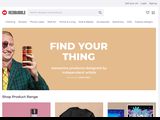 RedBubble
RedBubble is fun for photos and digital art. I have never bought anything from them so I cannot speak of the quality. I do have my art there as a portfolio sort of place. They will sell your prints, posters, cards etc for you and you control the markup on your stuff. It is free to join. There are no fees.

I like that they let anyone join. Apparently they had some "offensive material" but don't look at that if you don't like it.
I like that you can copy html banners for other sites and help promote your art. If you want to be really invloved then you can since they have contests and groups to join that have similar interests. It is so fun to talk to other artists from around the world. You can find out about all sorts of free programs they use to create.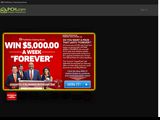 Publishers Clearing House (PCH)
I wasn't going to review this site, but since they do sell things it made the cut. I was surprised at all the people who said they got scammed by PCH that I was reading on a different consumer site.

I play PCHlotto regularly and It's fun! And I don't have to buy a ticket!
They also have a blog about their trips to find winners. They will find you if you are on vacation. They will sit and wait for you to come home from the store. The Prize Patrol is a SURPRISE with their giant check and flowers and champagne! That IS the first time a winner knows they won!

Sometimes other companies pose as PCH and say you have won prizes but it is usually a phishing scam. You may want to check your computer for a virus or spyware that knows you have been to PCH. I think if people were more careful online they would realize that they had clicked a popup-window that was an ad on a PCH site. There's a window that pops up and says I won when the PCHloto is loading the games page. I just hit the "X" and close that window because it is NOT PCH!. They do have "offers" at the end before they enter you for 10 million bucks but if you wait for the entire page to load at the bottom you will see a button to "skip" those offers. I get their emails too and have no problem entering or getting to the end of an entry without buying something.

Also, I have entered by mail for years before the internet and would occasionally order their random gadgets. I have never had a problem with them. I didn't get charged for items and they didn't ship me things I never ordered. So, either I am very lucky or some other folks on consumer affairs got scammed by a company pretending to be PCH!

The whole point of the Prize Patrol is to surprise the winner. You won't get paperwork in the mail to win a prize. You don't have to pay for your prize either! Just taxes, unless you won the tax free drawing! They do word things at times to make your heart jump, but it's just a come on to get you to open the email.
I think PCH shaped up after they got in trouble for misleading the elderly. They do have fun games to play as well. You may have to watch an ad first but you can win tokens to earn more entries on most games. The more entries you have the higher your odds of winning.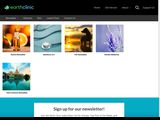 Earth Clinic
This website has helped save lots of money. As you know doctors are expensive. And they don't always guess right but it still costs you! Sometimes we can fix ourselves with a simple item we already have in the kitchen. This site offers natural alternatives for whatever ails you. Each remedy is then voted on by people who found it to work or if they added something to make it better etc. People around the world comment on here. You can search by ailment or symptom or by remedy! At the very least you will learn something! Even has remedies for pets! Very helpful site!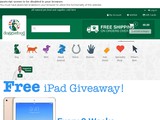 DoggieFood
This is a great site for pets. As you may have guessed I like sites that have a lot to offer. My favorite things here are the Blue Buffalo dog food and Dr. Harvey's products. Dr. Harvey's is chemical free and washes tons of dead fleas down the drain! No fleas left to try and climb your arm out of the bath! The folks who run this small company have BIG customer service. I highly recommend you give them a whirl next time your pet baby needs a treat or a bath.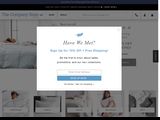 The Company Store
For a few years I have annually ordered bath sheets to refresh my supply. Those are the extra large bath towels. They are bigger than beach towels! Each year they would have a sale and you could get a bath sheet for under $30....bargain! These were nice fluffy towels that were thick and stood up to weekly washing. Well not anymore. This year the towels seemed thinner and less absorbent. After the first washing the binding on one started to come off as a thin hole formed where it was sewn. I can't even repair as the fabric has come undone.
So,I email the customer service rep and they say they can snail mail me a UPS label and I can send back the faulty towel!
I am shocked they do not know how to email a UPS label and that they didn't just send me a new towel. I am used to the good online stores that just send me a new item. They tell me to throw out the defective item. Or they could have just credited my card. But no, they want me to go to the post office and mail them their thin, torn towel from Pakistan!! I told them no thanks and I'd get my bath sheets elsewhere. I am sad their quality is not so good anymore. They sell high dollar sheets by the piece too so I would save my money.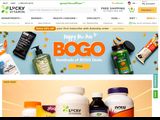 LuckyVitamin
It's always great to get a discount! Lucky Vitamin has all sorts of "drug store" type items. From coconut oil to organic dried fruit, lip gloss to date sugar. From Clif Bars to Burts Bees, Mascara & bar soap to vitamin C. An excellent job is always done on packing too! I love their boxes and generous use of bubble wrap. I can't believe what a variety of items they have! Also they have lots of homeopathic items, and flower essences which are obscure at times.
Each purchase will give you points towards a discount so be sure and sign up for an account so you get all your points!
Customer service via email is also quick to refund the price when an item arrives damaged ( which was only once). I would give them 10 stars if they could ship as fast as other companies.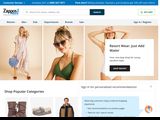 Zappos
Excellent website! They have more than shoes for the whole family. It is incredible how much stuff they have. Also shipping is super fast. If you order before 2pm EST your order will be upgraded to next day shipping. They have no hassle returns with free shipping BOTH WAYS! You can also return shoes 364 days after you bought them. It is rare to find internet companies with such great customer service. I would give them 10 stars if I could!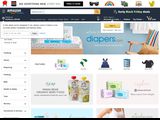 Diapers.com
This is the best online commerce company. They deliver everything but the baby! They have it all. Food, toys, clothes, etc. Super fast shipping usually within 3 days of ordering! Very quick to credit your account if there is a problem with a product. I even got a hand written note apologizing for a problem I had with a product! What company does that? They are also very generous with discounts. Here is a discount you can use now.
ENTER SXPH0638 TO SAVE $10 at DIAPERS.COM NOW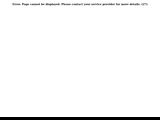 Darntoothysam.Com
I have emailed them several times asking for the part I ordered since they already charged my paypal for it. Most places do not charge you until the item is shipped. They rarely answer emails. Mostly they ignore you which is bad for business. I will dispute this on paypal and I will find another source for Canon camera parts. If you're in a hurry skip DTS. They do not understand about customer service and communication but they WILL take your money!
You WILL get an answer from Thomas D at complaints@darntoothysam.com
He likes confrontation and only responded to me after I disputed the Paypal transaction and got my money back.
Thomas D. blamed Alex since he doesn't read "sales" emails. Funny since they seem to be working from a small house. Apparently Thomas is so busy answering complaints on the internet and wearing his sass hat that he has no time to call Canon about parts or do his job. Poor Alex is just a fall guy!
Thomas D. I don't believe all I read online. But I believe you did not keep your word to the people who complained. They are not fake or made up like you want to believe. I know you want my order number to make sure I'm "real" but your bogus site never gave me one or an order confirmation email for that matter. You should follow the advice of the nice man who had his 9 year old send you money and close your site until you can get a handle on your "job". You definitely have a screw loose and I don't mean in your camera!

To order camera parts from Canon call (866) 481-2569. They told me the part was on back order before they even took my card info. They immediately send order acknowledgement and confirmation emails. That is how a good company does business. It's nice to not be ignored and not have my money stolen by a scam biz!
H hasn't received any thanks yous.
H Has
2

Fans
H is Following
2

Users
Similar Reviewers on Sitejabber
Ok, I checked many sites looking for seeds/nuts/beans, and bulkfoods has really really good...
I order 2x a year (10 times total) to get vegan stuff for my wife. They have alot of great...