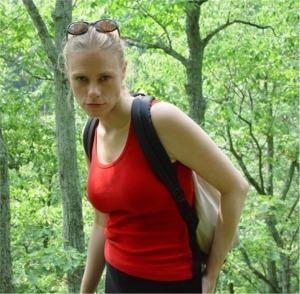 Heather U.
14

Reviews

63

Helpful Votes

0

Thank Yous
Experience: Clothing & Fashion, Baby & Kids, Home & Garden
Member since September 2011
Reviews

14

First to Review

8

Votes

63

Very Helpful

53

Funny

0

Fraud Buster

2

Great Find

3

Well Said

5

Thank Yous

0

Fans

3

Profile Views

1,739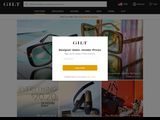 Gilt
I've ordered a few clothing items home items from this site. Fast shipping and excellent customer service. I had to call in because I had a few questions about my shopping cart. Top notch service and they gave me a 15% off discount for my current order because of my "hassle". Can I say, I was not really hassled....just had questions.

The website is attractive and easy to navigate. I've received a few baby items and I'm just impressed with the quality. I just ordered a McLaren techno buggy as my back-up strolled for $150+ off what I would have spent elsewhere. I also ordered a few maternity items and organic crib bedding. Previously I bought a hand-knotted area rug. $5000 pricetag was actually a steal....Its beautiful and fits well in to the decor of my Tudor's decor.

This is a great website and I'm happy I found it!!!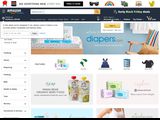 Diapers.com
My sister-in-law recommended this site. Its actually great for more than just diapers! I ordered a few items to go with my Phil and Ted's Vibe stroller. Seriously....I ordered it on a Saturday around noon. Literally arrived Monday. How amazing is that? and shipping was free. AND they are on UPromise (1%, no great but its better than nothing.)

The shopping experience was a breeze. (I love when sites make it easy to spend my money!) The website well organized and I found several products cheaper than I found on the BIG Baby retail site.

My new go-to site for baby staples!!!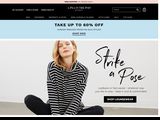 A Pea In The Pod
As a first time mom-to-be and business owner who is client-facing daily, it can be a challenge to find appropriate maternity clothing. I need stylish, comfortable clothing suitable for a corporate environment.

I've learned three things....1) a dress and a cardigan is the third trimester equivilent to a skirt suit. 2) I *can* and will wear heels as long as I can through this pregnancy. And 3) A Pea in the Pod is a great place to shop, either on-line or at the boutique!!

I've purchased from many on-line maternity retailers, and www.apeainthepod.com is one of the few that i keep going back to. Sure, I've not found a maternity skirt suit, but I've found some amazing maternity dresses that are perfect for work, and dinner afterwards. great styles, true to size, mostly quality materials, and good workmanship in most garmets. I did receive a cardigan with a small hole. I put in a stitch and kept it because it was WAY too cute and practical to return.

One not so supportive comment from me....I do not feel like the models on the site are reflective of real pregnant women. I've love to see women who do not look as though they are not even pregnant. its unrealistic to think your body will not change during pregnancy, and in fact....its unhealthy to promote such a view. skinny women with "bumps" are NOT what its about. It makes me feel like whoever chooses the models is a guy or has never been pregnant. I'd spend even more money shopping here if I felt like what i wanted would look good on my pregnant body....not just on a stick figure with a belly pad.

But really, this store is worth the difference in price that you may see with less expensive maternity clothing. I've shopped at motherhood.com and the quality of the material there is just revolting (yes, I've reviewed it.)

I wonder if A Pea in the Pod has a non-maternity sister site/boutique!!!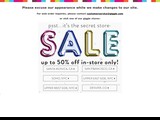 RightStart
Since I'm in baby-buying mode, this is my new favorite website. initially i registered with the BIG baby retailer, but after a bit of research discovered Right Start. I'm very glad that I did.

First, shipping is super fast despite the size of the item. I had one item backordered, but I knew it would not be available until a specific date when I added it to my registry. THANK YOU for the heads up....it allowed me to make an informed decision (I decided to wait for it.)

They are a member of UPromise with a 3% cashback reward. granted, it does not apply to gifts purchased FOR you, but small price. What RightStart.com does offer is a 10% cashback rebate on all purchases from your registry. I received my first card a few weeks ago. I did not realize the card would be a rightstart card, meaning you can only use it on their site....but lets be real...I will be baby shopping and child shopping for years. It will not go to waste. and it is TEN percent back.

Shipping is free for all purchases over $49 (at this time) and there are always special offers in addition to this. I happened to buy several expensive items on the weekend they had a 10% off discount. OMG. Between the rebate, the discount, and UPromise....I earned 34% off (I used my UPromise Bank of america credit card which gave me an additional 11% cashback to my UPromise account.)

So let's talk about prices. I don't have a Right Start boutique near me (yet....surely DC/Northern Virginia will happen soon?) so I cannot comment on in-store prices. But the prices on-line are right in line with the BIG baby retailer and other retailers. this is not including rebates, rewards, discounts, etc.....just retail pricing.

I've not had to use customer service, but there is a chat-option. I work during the day and don't have time for shopping, so I'm never on-line when CS reps are, but since I've not needed them....so be it. I'm happy. I cannot imagine this on-line retailer to be anything but professional.

One suggestion I would make to the site owners...consider an product suggestion section. I hate to have to buy anything from other retailers now (really!!!) and identifying my needs/wants would allow you to increase sales even more. There are high-quality, high-end products here...this is NOT a Walmart-quality store. This is for people with an interest and the means to buy the best for their kids; consumers who do research and are highly discriminating.

I might also suggest a product review section. The down side to other baby sites....you do not know what is a real vs staged review. I was able to write a product review on the BIG baby retail site without having purchased it or having it on my registry. It was real, but how do they know that? I bought it elsewhere. I also worry people who write negative reviews are often focused on the dollar point...which is very relative to the buyer/user. I suspect Right Start would provide reviews from like-minded, like-income-based consumers w/o the attitude of "at that price, it should never break and it should make you a latte, too."

This is my absolute favorite site right now. I cannot give it enough thumbs ups. Loving it!!!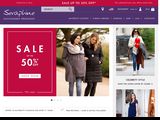 Seraphine
When I was first maternity shopping on-line, i ordered from three maternity boutique websites. Seraphine.co was the first order to arrive. the order also included many free samples and coupons for Mommy-type stuff. Bonus!

However, at the end of the day, free stuff is good and fast shipping is great, but I'm a business-owner and first-time-mum-to-be, I need comfortable, stylish, versatile clothing appropriate for a corporate environment. Seraphine.co delivered!!!

When I was first showing (around end of month 3), I wore items from this site and for two months people were like... "You're pregnant?" the draping, quality, variety, and style really made it hard to tell. i'm 6 months now and there's now avoiding the fact that I'm carrying a little life in my midsection. But women in the workplace ask me all the time how i'm fitting in to "regular" clothing so far in to my pregnancy. That makes me smile.

The fast shipping, quality construction and fabrics, stylish and versatile options, and a HUGE range of versatility really appeal to me. It's a tad more trendy than professional, but its WAY better than frumpy. And the casual stuff is really great for weekends. SOOOO much better than sweatpants and oversized tees that many women seem to wear when pregnant.

For my level, this is a highly affordable site. Its also fun to read the advice and tips sections. I'm glad I found this website early in my pregnancy. Its enabled me to add some interest to my maternity wardrobe. HIGLY RECOMMENDED!!!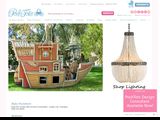 PoshTots
I think ultimately when you shop at this site, you should expect top-notch everything. I mean, if you sell a $45k playhouse....you need to back it up with top-notch everything. Products, customer service, user experience....soup to nuts.

I ordered a beautiful white canopy iron crib. It stated that it was "artisan" but had "MADE IN CHINA" on the box. This was NOT an artisan product. Good grief.

The only issue that i had with shipping was the huge and uncertain delivery window. I was scheduled for work travel, and don't you know it....the freight delivery company tried to deliver during that time. And apparently you can't ask them to hold it or they return it to manufacturer (in China?) I was barely able to get in touch with the delivery company before it was sent back. I arranged delivery even though I was out of town. A neighbor signed for it, making sure to write "contents not inspected" next to his name. Because apparently if you don't and there is damage to the contents....you're screwed. I spend over $1000 + $200 shipping on a crib and can't even be assured damage will be addressed? NOT POSH, GUYS.

Ultimately, I like the site. Its upscale....really upscale and I've found many items that suit my tastes....quite an accomplishment, to be honest.

Also, I was fairly certain that my delivery included white glove set-up, but the delivery guys dropped the box off in my GARAGE (imagine me, pregnant, and the crib....IRON...heavy. NOT an ideal situation.) I checked and yep, white glove service was paid for. And not reimbursed.

So note....be aggressive on the details. You pay for it here. I just am too busy these days to track down issues, so I admit....I let it go.

i like the site and the catalogs. Great products but not cheap. Most items I've received have lived up to my expectations....except the delivery. Oh, yeah. I was told that once the item was delivered I had 5 days to note any damage or missing parts. Sadly, I was on travel and my 5 days expired. The crib is still not assembled (contractor delays in the nursery), but I guess this weekend I'll find out if I'm missing "artisan" parts. cough.
Zulily
Basically I'd call this website concept a big fail. My understanding is the site is merely a portal to ordering from small designer and boutiques. They carry nothing in stock, and place your order with others ordered during the same "sale". Once they receive your order, they ship all or part of your order to you. I do say they have some pretty good deals. The real issue is waiting up to two months to receive a completed order....if you ever receive it.

I've place three orders. The first arrived within about 3 weeks. three items in the order and it was right at the end of the "sale". FYI....i did find one of the items I ordered elsewhere for about half the price.

The second order was placed a month ago, and it *still* not delivered. several items have been received, some are in transit with a trackable id, and some HAVE NOT EVEN BEEN SENT YET.

The last order was place the day after the second order and nothing has been received. And nothing from Zulily regarding the status.

the items that I have received are in poor to decent shape. but everything was jammed in to a shipping bag. without even a shipping receipt. Many items have loose threads CLEARLY visible....one came with two missing buttons. None of this should have been sent to me and there is a no returns policy. I emailed about the quality and the CS response was basically they take no responsibility for the quality of items they "distribute".

Why the concept fails? Well, this is a Mums and young child focused site. What pregnany gal wants to wait 2 months before receiving their maternity clothes? we want....we NEED a quicker turn-around. Same with baby clothing. Fortunately, I am shopping for the yet-to-be-born, and I have three months still....so baby is OK. But if you are shopping for a child of the "already-born" variety.....find another site. The child will be out of that size before the items arrive.

The quality is questionable. The baby clothing material is all good....but I stayed with cotton, organic cotton, and natural fiber knits. don't dress your child in synthetics....and check before you buy. One of the maternity items i ordered is a joke $65 for a see-through-quality acetate (the description said natural fiber blend, I suppose the stitching is cotton?) Its unacceptable. What really gets me is those loose threads. Who SELLS such crap? Why this fails?.....the website really is nothing but a portal and does not even have internal Quality Assurance of the merchandise they market.

Will not shop here again. quality and time are big factors to me. No sale is worth a sacrifice in either!!!!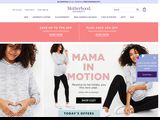 Motherhood Maternity
I think if you just need maternity clothing at a reasonable price, fine....shop here. However, I'm a business owner and I am client-facing daily. I need stylish, comfortable, corporate-appropriate clothing. Motherhood.com is NOT for me.

I've made a single order, which arrived in two shipments. My cousin sent me a gift card and a discount coupon that was to expire in july (she sent it in June). with this order I purchased several items, using the gift card and my credit card. The coupon reflected in my initial purchase price (was a BIG discount mind you), but would NOT reflect when I was asked to finalize the purchase. Eventually i gave up and just made the purchase, giving up the discount. This annoyed me, but hey....I could not ignore the gift from my cousin.

When the first part of the order arrived I had mixed reviews. A few items were ungodly cute, and versatile. But most were made of flimsy material with poor quality construction. I've not worn them except around town for errands on the weekend. The second order was similar....half the items were decent and wearable, the other became house-wear.

The shipping is VERY fast. The prices are relatively low. The quality is poor. The selection is decent. Ultimately though, this is not a place for pregnant women of discriminating taste. Motherhood became MEH-therhood. (Sorry, bad pun)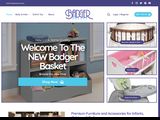 Badger Basket
I ordered a few Badger basket items. The first is a 3X3 storage cube. I also ordered 9 sage-green, soft-sided folding cubes to go in the 9 cubby holes. Lastly I ordered an espresso-finished barrel-top toy chest.

The 9 cubes arrived first. They are easy to assemble....just pop open really. They are true to color, material, and description. I have no qualms with them; they are sturdy for what they are.

The white storage unit just arrived and I have no had time to assemble it. Its a heavy package....but that's not a criticism, just a note.

The espresso barrel-top chest is pretty much a disappointment. I start with some of the pros. It is the color described, assembled it looks pretty much like the website, the lid *does* stay open until closed (no slamming lid, its true.) Its not a an unattractive piece. But here are the cons. First, sure the lid does not slam, but it DOES NOT CLOSE PROPERLY either. It sits about an inch open; a safety hazard for little fingers. I suggest attaching a safety latch to either keep it open permanently or to secure it closed until parents open it. The finish has been marred. That was a huge disappointment, especially since I did not realize many of the pieces had scratches until I had it almost entirely assembled. Also, it was missing parts. fortunately, nothing that prevented it from being assembled (which is good because I did not notice what was missing until I needed it.)

If you buy the barrel-top toy chest, (I don't recommend buying it just FYI), check for missing and damaged parts. I'll call the company on monday, but given that its assembled, I don't expect them to do much about it. If they do....I'll change my rating. Its just such a disappointment to be almost done with the baby room, only to have things like this get in the way.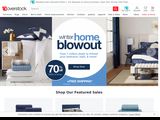 Overstock.com
I've never had an order from Overstock that was not entirely screwed up. First I ordered a leather upholstered king-sized bed. It took 2.5 months to arrive; I was expecting about 5 weeks based on the website. it had a nick in the corner, and i was told I would have to pay freight to return it, then they would credit my account up to $25 (my estimates were $125 shipping, a $100 loss for me.)

I ordered three rugs. four weeks later I was told one was out of stock. the other two arrived, but were the wrong color. The CS rep initially tried to tell me this is what I ordered, then told me maybe I was color blind. ultimately they arranged to pick up the wrong rug and had the new one to me quickly. I appreciated that part, but the mix-up was just a hassle. funny to me was the CS who initially asked me to "pack it up and take it to the nearest UPS." I was like....the rug is bigger than me. I also laughed at the image of me driving my sports car with the top down and a big-arse rug sticking over the top of the passenger seat.

i've ordered other items here and there....often without issue. But too often descriptions are wrong and I've had to return an item. I once ordered a Bombay style chest with a marble top. The chest arrived. No marble. Cute as hell though. Not worth the price. I was told to ship it back and I would be reimbursed. I told the CS rep.....I'd just keep it and save the hassle...and never order there again.

and.....I never will. DONE.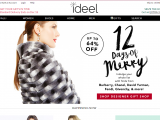 ideeli
UPDATE - I changed my rating to a 1-star. Worst customer service ever. DO NOt WASTE YOUR MONEY HERE.

I've ordered quite a bit from Ideeli in the past 18 months. I've purchased women's clothing, men's/boys' clothing, and home goods. For the most part, I've had good experiences. but at the end of the day, a bad experience or two poorly handled by the Ideeli team has left me just not too interested in returning.

Generally speaking, the clothing items i've ordered have been good to excellent quality, excellent to *amazing* deals, and mostly true to size. i've had a few items tailored after arrival (no returns allowed on those), but I have things tailored often, so I was not dismayed by this.

Most of the home items I've ordered have been good. However, I ordered a pair of soup tureens and one was completely broken. I never heard back from CS on this. Around the same time I orderd about three sets of highballs and an equal number of lowball glassware sets. there were broken glasses in each, and again.., no response from CS. I also ordered two cake plates (that match the style of the soup tureens) and again....one was broken. and....you guessed it....no response from CS.

In truth I've spent over $10k on the ideeli site, and most everything has been good. Do i think they should be responsive to product issues? yes. should I have been provided replacements? of course. But i was not. The loss is overall a small % of what I've spent, so I cannot rate my overall experience too poorly. In fact, I've clearly loved Ideeli for the most part. i've not stopped shopping there entirely, but I'm now more prone to visiting other sites first. The damaged items not replaced really bothered me.

Shipping is pretty quick, or at least within the timeframe provided. I've had one item cancelled, and I received a $25 credit. I've also receivede credits for slow-to-ship items. which i appreciated. I urge caution that items are usually NOT returnable; I've never returned an item so I cannot comment here. I do know they emails to CS about damagaed items were dead in the water.

Will I shop again here? Likely....on the more equitable sales. Do I have low expectations of this site now? Absolutely. Will I refer to friends? nope. I think my bad experiences have trumped the good.

Ideeli needs to realize when you offer high-quality items, your client base expects more than dead-in-the-water emails to CS. I'll NEVER buy anything that can break (so shoes and clothing it will be). And over time i'll stop popping in to look at deals. their loss.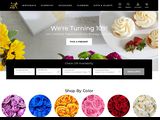 FTD
I ordered - and paid extra for - a Christmas Eve delivery for a gift. 1/3 of my purchase expense ($160 total) was delivery fees, and yet they still did not get it right. The gift showed up almost a week early, completely ruining the surprise that I had set up. I called customer service, and they agreed to resend the gift (the surprise was ruined, but I still wanted the impact of what I had set up). However, they never resent it. In fact, about 10 minutes after hanging up, I received an e-mail stating my request to cancel the order was denied. WTH? I never requested a cancellation. I called a bit later and after getting some run around about delivery windows being several days, the girl again agreed to resend the gift. NEVER WAS RECEIVED. Not only was the surprise ruined but *everything* I had arranged around the gift showing up on Christmas Eve was ruined. What jerks. And again...I was charged extra for a Christmas Eve delivery.

I actually use FTD for my business to send gifts to clients, employees, and other business relations. We spend about $4-10k a year but after this experience I will be setting up with a new vendor. And of course I will be closing my personal account.

My suggestion to anyone who sends gifts via FTD...ask the recipient to send you pictures to see how close the intended item is to reality. You will find there is often a HUGE difference.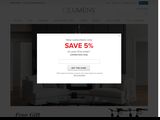 Lumens.com
Lumesn.com is well organized and the search feature is very useful. Every product has an "availability" tab to give you details of delivery. They also have an extensive stock and decent prices and most every light has some configuration options. However....

After considering lighting options for a week across multiple sites, I ordered 4 pendant lights from Lumens.com that, based on the the availability tab for that product, would be ready to ship in about 4 days. Which is great, because we are remodeling our kitchen and had to do a complete change on island lighting after increasing the length by 4 ft. We needed the lighting in a somewhat timely manner. So I was thrilled to settle finally on these 4 pendants.

About a week later...the day I was expecting the lighting to ship....I received an email stating that the lights would not be available FOR ANOTHER 9 WEEKS! Who ever wants to order an supposedly in-stock item on line and WAIT for 9 weeks. Seriously, I could have had lights made by local artisans faster. In fact, that is what I ended up doing. I basically had the glass blowing artisans knocks off the Lumens product (ish) for the same price. And I'll have everything in 4 weeks AND it will be custom.

So yeah, Lumens lost my $$$. Which is a shame because I'm remodeling my entire home.

Interesting point to note...that product is STILL showing as ready to ship on the Lumens.com site.

SUPER BAD INVENTORY MANAGEMENT AND UNREALISTIC PROMISES MADE.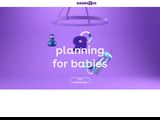 BabiesRUs
Initially I used this site for my baby registry, but found another site that had=s much greater appeal to me. However, I did keep the registry on BabiesRUs.com for the few items not available on the other site. So far, I've received two gift orders from this registry, and made one purchase myself.

One complaint that I have is that despite negative consumer reviews on the site, BabiesRUs continues to sell clearly faulty merchandise. I bought a Whirlpool infant tub at the store, and had to return it after reading the 100% negative reviews on it. Why continue to sell it when almost every review (15+) references leakage into the battery compartment that corrodes the metal? Does BabiesRUs *WANT* kids bathing in battery acid?!!! Many of the products sold by this retailer are low quality and there seems to be a lack of range of high-end items. If someone wants cheap.....can't they just go to Walmart?

Another issue i have is that both gift registry orders I've received have been missing items. The first time it took me about two weeks to notice the missing items; I was reviewing registry items and realized I was short. When the second package arrived, I checked it right away. Duoh. The missing items were replaced quickly and without hassle, so I can only complain a bit. It does bother me that I almost did not check the order contents because they were gifts. fortunately, they do include a packing slip.

I'm not a fan of sites that have "rewards" programs based on points and award levels. It seems silly to me in this day and age; cash reward programs are far more effective. One that note, BabiesRUs *is* a member of UPromise. This is a cash-back to college expenses program. Unfortunately, BabiesRUs only contributes 1-2%. A bit of a sham for the leading Baby-stuff retailer.

What else....?...The shipping for BabiesRUs is slow. It can take upwards of two weeks to receive an order. My family member who bought the first gift registry order sent me an email they day he shipped it. I did not get it for weeks. Plus one of the items ended up being backordered....and I need it and have absolutely no way of canceling it. I checked with the person who ordered it and he had no idea it was backordered. It did not show it on the site or the purchase invoice via e-mail; it only shows now when he looks at the shipping order form. Ultimately I will buy it from the other site and return the one from BabiesRUs when it arrives....a big waste of my friends shipping expenses!

I don't like going into the retail stores; they seem a bit dated and warehouse-like. The website is easy to navigate but every now and then scripting crashes the browser. It is well organized and there is a lot of product information. I appreciate the product reviews...they are helpful. The registry is very easy to use, both to add and modify items. Warning....you get a LOT of spam when you register!

On the up note....when I called CS about the missing items from the order....I ACTUALLY spoke with an American.

********* EDIT 11/15/2011 Changed from 3-stars to 1-star ********************
So I was given a shipping quote of about $11.22 after a $20 discount. I received an invoice and suddenly the shipping charged to me was $45+ Seriously? I called CS and had the worst experience. I tried to speak with a manager and none were available. When I said I would hold....i was told all they could do is take my name and number and have someone call me back. NOT ACCEPTABLE. I will be taking back all of the purchased items to the store for a refund. I may be out $45+ but I will make my purchase elsewhere.

I HAVE CANCELLED MY REGISTRY ON THIS SITE AND WILL NEVER EVER SUPPORT BABIES R US AGAIN. Rip off, frauds, with low quality merchandise and ghetto attitudes.

Also, one item would not ship for over two weeks from now, so I tried to cancel it, and the CS idiot told me I can not cancel it. WTF. Just a joke.
Heather Has Earned
63

Votes
Heather hasn't received any thanks yous.
Heather Has
3

Fans
Heather isn't following anybody yet.
Similar Reviewers on Sitejabber
Ive joined Lumen several times with no success. I have my filters set at 40 miles. They...
Terrible company. Very very incompetent and terrible terrible service. We ordered a desk on July...