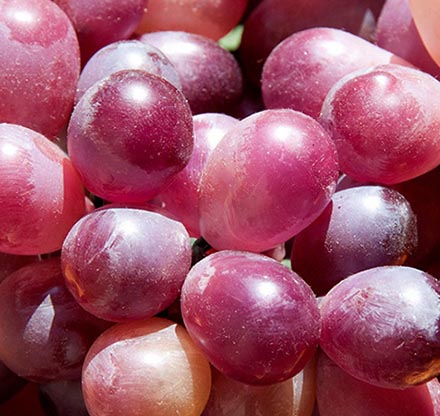 E P.
4

Reviews

0

Helpful Votes

0

Thank Yous
Experience: Computers & Technology, Shopping, Entertainment
Member since August 2016
Reviews

4

First to Review

1

Votes

0

Very Helpful

0

Funny

0

Fraud Buster

0

Great Find

0

Well Said

0

Thank Yous

0

Fans

0

Profile Views

191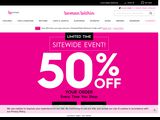 WomanWithin
This review is a few years overdue, but important nonetheless...
I am so sorry I did not look up reviews about Woman Within before ordering from them. I somehow received a Woman Within catalog in the mail. I quickly glanced through it, and found two things that I needed (shorts and capris) which caught my eye. The items were on sale, so I decided to purchase them. I placed 3 orders with them, each between about $30 and $50. A few days later, I found online that Woman Within was offering a short-term special of 20% off one's entire order if purchased within the next couple of days. After seeing their shipping charges, I foolishly decided to go for it, and placed a sizable order to try out more of their clothing items and take advantage of this "offer" so I wouldn't be burned too much by shipping charges, as I'd recently been with another company. In my mind, I figured that I could always return the items that I didn't like, or that didn't fit, and I wouldn't be out much.

I have a number of complaints about this company, as follows:

SIZING: I am not a plus-size woman, but I am no longer a medium in regular sizes. Since I wasn't sure about sizing, I decided to use their sizing chart found online and in their catalog before placing my order. As others have noted on this site before me, their clothes are much bigger than they claim them to be (and I used not only numeric sizing, but I took out a tape measure and measured myself to make sure it was accurate before ordering). I can basically swim in virtually everything I ordered using their sizing information. (And they expect customers to pay shipping both ways for their inaccurately posted sizing!)

QUALITY: Again, as others have noted, their clothing is very poorly made. Virtually every top I ordered has at least one pointed shoulder because the seams are sewn incorrectly.

SHIPPING CHARGES: Once again, like many others, I don't like being charged shipping coming and going. For small orders, you'd better either like it or give it away. Otherwise, you will be paying Woman Within for the item in shipping charges and have nothing to show for it. Also, as many may not know, and I just found out recently, Woman Within charges customer tax on their shipping charges. So that tax amount you see on your statement is not just for the clothing and accessories you may have bought from them. It is also a tax on the shipping charges they are making you pay. Shipping charges with most other companies are a set rate, with tax, if any, included. Not at Woman Within. They will see to it that you are giving them even more money by charging you tax for that as well.

OVERCHARGES, CHARGES TO MULTIPLE CREDIT CARDS and MISINFORMATION: Here's the real kicker... Since I was not familiar with this company, I decided to use PayPal rather than giving them my credit card number directly. My large order totaled $564.42 for the clothing; $623.97 with shipping and tax.

In about a week, half of my large order arrived to my home (about $370 worth). I tried on every item, carefully made notation as to why I would be returning most of it (mostly size and quality), and waited for the remainder of my order so I could send it all back at once.

A few days later, I stopped at my post office to pick up my mail there and found there were two delivery notices in my box. This seemed strange to me because it been at least six months since I ordered anything to be delivered to my P.O. box. In my mind, I thought perhaps there was a letter for me for which I needed to sign, and the two notices were a 1st and 2nd notice for the same item. Boy was I in for a big surprise!!! The postal worker took my delivery notice slips and returned with two huge packages from Woman Within. I couldn't understand why they had shipped to my P.O. box, but I let it go and just assumed this was the balance of my big order. When I opened the two packages it was like "Groundhog Day" all over again. WOMAN WITHIN TRIPLED MY ORDER!!! Nearly identically, the same things that I had already tried on a week earlier, were in these two bags. I then looked at the invoices. There were three different invoice numbers, and three different totals (each between $340 and $387). I then went to check my credit card transactions online and found that Woman Within had taken all of my orders, which totaled $747.13 including tax and shipping, and billed me over $1552.80 for the items they shipped, with more to be billed once the balance of my original order shipped three times over.

It took countless calls and hours with my credit card company on the line with me to Woman Within to finally get this resolved, because they refused to help me when I called on my own

Stay away if you can. If they don't triple bill you, they will get you with their shipping charges and tax on same for their mostly cheap products of various unknown sizes that rarely align with their sizing charts.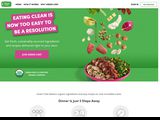 GreenChef
Please note: I wrote this review in October of 2015, but have just more recently found site jabber and though this might be helpful here as well...

I tend to say something nice or say nothing at all. This is only the second bad review (at the time I originally wrote this) I have ever given online. Green Chef is a huge ripoff and their customer service is nonexistent. I now only review if something is really exceptionally good, or truly awful and my input might help others.

I purchased a Living Social voucher with them for 2 times three meals. I found that on their website that new customers could get four meals free on their first order. Thus, I placed and order as a new customer. I then placed another order using my Living Social voucher.

Admittedly, I've been extremely busy lately with losing a job in June, scrambling to find another one asap, and starting another just a couple of weeks ago. - I'm working 12-14 hour days, plus working steadily at home on weekends, so I have no time to prepare meals right now. I arrived home last Friday to find a big warm box at my door from Green Chef. O.K. My bad for not realizing I'd placed the order to arrive that day.

I immediately panicked about where I was going to put all the food given the size of the box (back to that in a moment). I then went online to cancel/postpone my second shipment due in another 7 days, but I was unable to do so (suspicious how they have it set up so that if you forget you've got an order placed, your stuck with the following week's order as well). I called Green Chef and left a message. They never returned my call. IM was down, so I e-mailed them right away and requested a delay, giving my reasons for doing so. They did not respond to my e-mail for two days, and then informed me that it was too late to cancel. The order did not leave their facility for another three days following their message to me. What's worse, instead of billing me for two meals on the first order and honoring my Living Social Voucher on the second order, they used my Living Social voucher on the first order and billed me $78 for the second shipment. I don't recall seeing anything on my Living Social voucher that stated that the deal was only good for new customers. But if there was, they should have notified me of the problem before indiscriminately charging me their top rate on my second order.

1. Requests to hold an order: There are other online food delivery companies that allow people to cancel as late as 5 pm on a Friday for shipments that are scheduled to be delivered the following Monday morning. Why does Green Chef, a company that does no food preparation at all, need more than 7 days advance notice to cancel/hold on a shipment? Oh, and the other companies respond to calls on weekends as well.

2. Freshness Claim: Their claim that their food is all fresh is nonsense. I received one seafood item that was frozen, and the other two dishes were vegetarian. An orange in one of those orders was going bad when it arrived.

3. Package and Order Size: The panic I had about where to place all the food was unnecessary. In the huge box that arrived, at least two thirds to three quarters of the contents were foam and ice packs. The amount of food that arrived easily fit into one Fresh and Easy plastic grocery bag with room to spare.
Note: Sadly Fresh and Easy is no longer in business :(

4. Price: Two of the three dishes I received the first week were Vegetarian. They consisted of a sweet potato, 3 carrots, some cauliflower, some pasta and/or grain,... Not much. Now this week's order - the one they refused to allow me to postpone/cancel - consists again of two vegetarian dishes and a seafood dish. I'm sorry, did they say $26 for mac and cheese that I have to prepare myself?... Even at the more than half-off price of $35 with the Living Social Voucher, this program is a Huge Rip Off!!!

5. Customer Service: The young rip-off artists at Green Chef may think they're slick, but they have no concept of customer service or fair pricing. Knowing that I am a new customer and I admittedly made a mistake, they could have done something to try to help me out this one time. After all, my request was in on the Friday prior to the next Friday's delivery. It's not like I waited until just a day or two in advance.

Sadly, all Green Chef had to do was pick up the phone and speak with a customer who had attempted to contact them by three separate means. Try to help the customer out just a bit, and more often than not customers will return again and again... And even if Green Chef still refused to bend their rigid rules, they would at least not have gotten this review.... That's O.K. I don't need Green Chef. There are other companies that are building loyalty with me...

Let's face it, all Green Chef did was put a few things in our grocery bag/box, and provide us with a recipe (one that according to others lacks measurements and is hard to follow). We, the customers still have to do all the cooking. If they want to gouge customers with $80 grocery bags filled mostly with pasta and a couple of veggies, they will not last long with any vaguely intelligent customer.

P.S.: I didn't inventory my order either. I could easily have been shorted ingredients as well, given what others have written about this company online.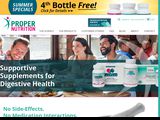 Propernutrition
I was diagnosed with ulcerative colitis 25 years ago, and was treated by a wonderful doctor at Princeton Gastroenterology back east. Still, not wanting to take prescription drugs for any length of time, with all their nasty side effects, and finding that they don't prevent future colitis flares which could put me at risk of losing part of my colon one day, I soon took matters into my own hands. After a few years of taking prednisone, I learned about Proper Nutrition's Intestive product at a Mind Body Spirit Expo in the Philadelphia area. I bought it without hesitation, and began taking it while quickly weaning myself off of the prednisone. Despite the fact that my symptoms always returned when I tried to get off prednisone in the past, once I started taking Intestive, they did not. Good thing I found it when I did, because I also no longer had a health plan with prescription coverage.

Over the next ten years I moved from the Princeton area and had a couple of sigmoid and/or colonoscopies with other doctors. They all asked me if I was sure I had ulcerative colitis because they could see no evidence of it at all (yay to Intestive!)... (Of course, to this day, I jokingly refer to colitis as my disease of marriage because the symptoms showed up on my honeymoon and disappeared shortly following my divorce five years later. Still, I know Intestive played a prominent curing role.) It reportedly also works for Crohn's disease and more, without the nasty Rx drug side effects... I have not needed to take anything for many years, but plan to begin taking Intestive again soon, as I have been under a lot of stress of late

This past summer, my mother had a stroke and was diagnosed with leukemia at the same time. She incurred a bedsore wound at the hospital, which three months later is still not healed enough for her to be transferred from a sub-acute facility to an assisted living facility. Doctors have said she needs a lot of protein for it to heal, but she often refuses to eat much of the pureed foods to which she is limited.

Knowing that Proper Nutrition had made a product to help malnourished individuals in 3rd world countries, I called Proper Nutrition and asked Rebecca, who answered my call, to explain the differences between their products and see if any may help my mother. She especially recommended Seacure. Yet, in our conversation, I noted that there seamed to be something in every one of the products that could help each of the many issues my mother is now facing. Thus, I decided to buy one of each, especially since they were on their summer special (buy 3, get 1 free).

To my surprise, when the products arrive, I found that Rebecca had sent an extra bottle of Seacure "on her" with a personal note from her stating that she hoped my mother's health would be improving soon.

This was such a kind and unexpected gesture that touched my heart, and the hearts of my sisters during a period of time in which we were all very stressed.

If you are on prescription drugs for anything noted below, of course consult with your physician, but consider trying Proper Nutrition's products:

COLOSTRUM: No antibiotics or hormones here - for wound repair, immune system, and building muscles.

INTESTIVE is for: Colitis, Crohn's, I.B.S., and more. It contains: Secure (whitefish and rosemary extract); Colostrum; and, Boswelia (frankincense).

SECURE is recommended for people on chemotherapy, for wound healing, and for malabsorption. It contains white fish and rosemary extract.

SEAVIVE: For the elderly, providing protein + immunity building and increased WBC's at lower, more tolerable dosages. It also contains whitefish + rosemary which provides high levels of vitamin C, plus vitamin A, magnesium, potassium, and calcium to boost the immune system.

I cannot say enough about the Proper Nutrition products, and staff member Rebecca! An amazing company with amazing products!
Amazon
My experience in buying from Amazon goes back to their very early days when they were simply a discount online book store... Yes, we're talking last century here... I've watched them grow over the years and offer more and more products and services. I have enjoyed saving money while avoiding mall shopping, which I've disliked for decades.

Now, however, especially following the Great Recession, I am also sensitive to the impact dollars make on local economies. While I still spend money on Amazon, I would feel better about it if I knew my hard-earned dollars were being spent in the U.S. to support my own nation's economy, though I'm not opposed to supporting others as well, as long as they don't use and abuse workers. I'd also like to be able to choose between states in the U.S. wherein my dollars may be spent, so I can support the economies of states in which my politics are more compatible than in others, and not support the economies of states where women's rights are being abolished even as I write this. Simply stated, I like to feel good about how I am spending my money, and I like to vote, not only in the voting booth, but with my wallet as well. After all, that's really the only thing most people in power today will listen to. (FYI, I also only invest in companies that do good things without exploiting people. While there may be other investments that might provide greater returns, I will not knowingly support people and things that cause harm to others. I believe in the Karma behind The Golden Rule.)

Being the concerned shopper that I am, I recently contacted Amazon and asked how I could find out where their sellers are located (just country and/or state, nothing more). I was also interested in knowing which state's workers might be impacted by my purchases when I buy things fulfilled by Amazon (does the item ship from a warehouse in California, West Virginia, Washington state, or elsewhere). Again simply stated, I wish to feel good about my purchases by monetarily supporting certain local economies, while not inadvertently supporting others.

The response I got from Amazon went something like the ones I got from doctors' offices recently when I made some calls to find out what a procedure I may need might potentially cost. All responded by saying they cannot provide that information. Really? Doctors' office staff treated me as if I was from Mars, because apparently no one ever dares question what they charge. It was only after I explained that they may call me a "patient", but I am also a "paying customer" that they referred me to others who finally got back to me with answers.

With Amazon, the story was not so pleasant. I was treated as if I was the problem, simply for asking where my hard-earned dollars might potentially go. What ever happened to customer service and making information available so customers may make informed choices? (Note: I use the term "customer" because it is MY money being spent here. I am not simply a parasitic "consumer".)

I'm now looking to go back to purchasing things from companies directly, rather than giving Amazon my hard-earned dollars. Sad, because I typically supported new start-ups and smaller businesses on Amazon (those with 100's of reviews or less, rather than those with 100's of thousand of reviews). I liked the idea of supporting the little guy instead of major conglomerates, while also being backed by Amazon's return policy. Sadly, Amazon seems to have become one of those major conglomerates that doesn't care about their customers. And given the amount of money they have, they probably don't pay their workers anywhere near the amount of money they deserve either.

It's too bad because there are many smaller sellers who feel they need Amazon's platform to get their businesses off the ground. Because of today's outrageous real estate costs, they cannot afford brick and mortar storefronts, and they cannot afford the time and money it takes to move their own websites up on the google search platform. And while I like buying locally in my own community, there are some local businesses that think nothing of gauging people at the register as well. (Can you say $300 for a $30 two-inch agate sphere simply because you are calling it "art"?) Let's get real here. There is a balancing midpoint between cut-rate prices that exploit workers and local economies, and flat out highway robbery.

Ironically, I happen to agree with a lot of what Jeff Bezos has recently done to stand up for those without a voice. Still, after my most recent customer inquiry and Amazon's "customer service" department's response, I am having second thoughts about the company.

It is my hope that Amazon will one day soon change their policy about revealing sellers' general locations (country and state only), and the general locations of the warehouses from which they ship products themselves, so customers may consider voting with their wallets when making a purchase. But until they do, I am going to make a concerted effort to spend most of my dollars away from Amazon for now... Too bad MacKenzie no longer has much of an impact on the company...
E hasn't received any votes.
E hasn't received any thanks yous.
E doesn't have any fans yet.
E isn't following anybody yet.
Similar Reviewers on Sitejabber
I ordered from WW for the first time last week, and I was so disappointed, I won't be returning....
I purchased 3 bike shorts (exactly the same) from Woman Within on Amazon. These were each too...