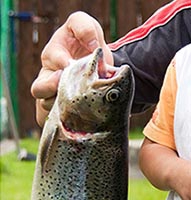 David M.
1

Review

16

Helpful Votes

0

Thank Yous
Experience: Business
Member since December 2014
Reviews

1

First to Review

0

Votes

16

Very Helpful

16

Funny

0

Fraud Buster

0

Great Find

0

Well Said

0

Thank Yous

0

Fans

0

Profile Views

168

image coming soon
Yodle
Four days after my 12/26/14 review, Syvenna Siebert, a Public Relations Manager from Yodle, posted her public response, asking for my name and company name so she could look into the situation in order to ultimately ensure a positive experience for the customers Yodle works with. I provided Ms. Siebert the names she requested and asked to get back to me with what she learned.
I waited over a month and then emailed Ms. Siebert on 2/2/15, asking for an update and why she had not responded yet. She replied the same day, apologizing for the delay, stating that it had "slipped through the cracks" during the holidays, but that she was "on it" now, would keep me updated, let me know as soon as she had a better understanding of what happened and what they can do to improve service, and that she would "be back in touch over the next couple of days" to let me know where things stand.
I waited 11 days for any update, never received one, so I emailed Ms. Siebert again on 2/13, asking why she hadn't kept her word and what she had learned from her investigation. I also told her: "Based on our interactions since 12/30/14, failure to reply in a timely manner and failure to keep ones word arent demonstrating you have the right processes, etc., in place to ensure a positive experience..." Ms. Siebert replied the same day but made no effort to answer my questions or apologize. Instead, she asked if I had heard from her colleague Ron Lancaster, who unbeknownst to me had worked with her on this matter. She further stated that she believed he had been in touch with me with further information.
I replied back the same day (2/13), informing Ms. Siebert that I had not heard from Ron Lancaster, and again asked her to answer the questions I had posed to her, as well as why she had made no effort to answer them. I then stated: "Best customer service etiquette would have been for you to inform me as you said you would in your 2/2 email that your colleague Ron Lancaster was working on the issue with you and would be in touch with me instead of or in addition to you. Then if Ron failed to contact me as you said, at least you would have kept your word to notify me within two days. Rons failure to contact me does not excuse your lack of responsible communication. Providing me with his contact information would have been helpful too. Rons failure to contact me further compounds the poor customer service problem, revealing additional miscommunication/problems on Yodles part. What do you think about what I have said? Please also provide me with the full name, email address and phone number of your supervisor."
Within a few hours, Ron Lancaster called me, identifying himself as a Senior Client Service Manager. He did not correct me when I told him I understood he was Ms. Siebert's supervisor. He asked what, if any unresolved issues I had with Yodle and I told him I was awaiting responses to my unanswered questions and what corrective actions Yodle had taken to avoid a repeat of what had happened to me. He asked if I had been refunded my money. I told him yes and asked why he would ask that since I had already stated I had in my initial review of Yodle. He responded that he was just making sure. He then asked me if I had provided my credit card information to Yodle. I said yes and again asked why he would ask since I had also stated that fact in my review. He told me that I should have expected Yodle to charge my account since I gave them my credit card info, and if I was unsure about the situation, I shouldn't have provided such info. He told me he would have Ms. Siebert answer those questions. We ended the call with the understanding that Ms. Siebert would provide the desired info.
Ms. Siebert responded later the same day (2/13) by email, stating: "I understand that you spoke with Ron, and that he was able to address many of your questions. I also wanted to let you know that we conducted a quality review of the initial sales call, and the results have been shared with upper management. Weve also added your number to our do not call list to prevent any future calls from Yodle. Im sorry about my initial delay in getting back to you and that I wasnt clear that my colleague would be working with you. Thank you for your patience and for bringing this to our attention and sharing your experience with us."
On 2/18 I replied by email stating: "While Ron Lancaster may have had the ability to address many of my questions when we spoke, I only asked him one question that I had asked you involving was he your supervisor. I also asked him, since he lead me to believe he was your supervisor, if he would have you answer the still unanswered questions I had already posed to you in prior emails, and he said he would. I am still awaiting those answers. Did he tell/ask you to answer my questions? The fact that you havent to date is another (continuing) example of continuing poor communication on Yodles end. Would you agree? Ive consolidated and paraphrased most of the unanswered questions below from my prior emails to help you more efficiently respond.
1. Your 2/13 email failed to make any demonstrated effort to personally answer any of the questions I posed in my 2/13 email. Why?
2. Please provide me with the full name, email address and phone number of your supervisor. If different, please provide me with Ron Lancaster's contact information.
3. On 2/2 you told me you would be back in touch within two days (by 2/4) with an update. Why didn't you keep your word, again?
4. What have you learned and what has been changed to avoid the situation I reviewed from happening again?
5. What do you think about what I have said in my 2/13 emails?
Related to your last email, here are three additional questions:
6. What were the results of your review of my initial sales call/experience that you shared with upper management? (This is basically a restatement of question #4.)
7. Did Ron actually tell you he had addressed many of my questions as you claim, when in reality he hadnt? If so, what were those questions, as I dont recall asking him more than 1 or 2?
8. Will you (hopefully) share the content of this exchange with upper management?"

Ms. Siebert gave her last reply (before I posted this review) by email on 2/19, stating: "Ron is one of our senior client services managers, so I asked him to work with you to make sure everything was resolved. Ron wanted to be certain there wasnt an outstanding issue with billing to ensure this could immediately be addressed. As I understand it, your other main concern is regarding what has been done to correct the kind of issues that you encountered. As Ron and I have both explained, we have conducted a review of your experience and have shared the details with upper management. We do have a quality assurance system in place to ensure that all our sales reps follow our protocol related to billing issues and have also taken a number of steps over the last 18 month with the goal of further bettering our client service and responsiveness. Im sorry but I cant share the detailed specifics with you as youve requested due to confidentiality and competitive reasons, but please let me assure you that we do have systems in place to track these complaints and adjust our business practices accordingly. We take this feedback very seriously and Yodle is committed to providing the best possible experience to all our customers. At this point I respectfully believe that it isnt productive to get into a back-and-forth about the questions youve outlined below as we have addressed your key concerns as best as we can. I would also again like to apologize for not responding immediately to your complaint and for not following up with you as I had said that I would. I should have more clearly stated that it would be someone from Yodle (in this case, Ron), and not necessarily me that would be contacting you to address your complaint.
Ive copied my supervisor, Radley Moss, to assure you that this has been shared with management. I wish you the very the best in the future."

Other than posting this updated review, I don't intend on pursuing this any further. An obvious solution to the original problem would have been for Yodle to not charge someone's credit card until they had signed the agreement. Why Yodle couldn't tell me that for "confidentiality" and "competitive" reasons is unclear.
Tip for consumers: If you are recorded, be sure to include any conditions or understandings you are relying on in agreeing to a contract, even if the other party doesn't mention them. If you aren't sure you can site all such conditions, delay the recording until you can, or have the contracting process be in writing only, not voice recording.
David Has Earned
16

Votes
David hasn't received any thanks yous.
David doesn't have any fans yet.
David isn't following anybody yet.
Similar Reviewers on Sitejabber
The saleswoman was extremely rude and unprofessional with my staff. We get hundreds of calls a...