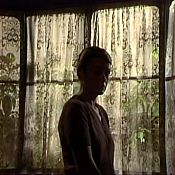 Cynthia K.
12

Reviews

43

Helpful Votes

0

Thank Yous
Experience: Computers & Technology, Shopping, Entertainment
Member since February 2015
Reviews

12

First to Review

0

Votes

43

Very Helpful

41

Funny

0

Fraud Buster

0

Great Find

0

Well Said

2

Thank Yous

0

Fans

0

Profile Views

1,209
About Me
I am an average middle-class consumer.
How I Can Help
I review merchandise professionally.
Interests
Mostly, I like to buy unusual and vintage items
TeeChip
Being a Baker Mayfield fan since his days at OU, I wanted to buy a sweatshirt with his recent quote "When I woke up this morning, I was feeling pretty dangerous" printed on it. TeeChip produced exactly what I wanted, a black hoodie with the quote printed on it word for word. Perfect! The shirt arrived in less than a week after I ordered it and I couldn't be happier. Totally recommend!!!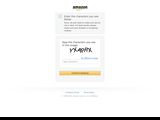 AmazonPrime
I've been a loyal Amazon customer and fan for years, during which they constantly (to my minor annoyance) kept hawking their "Prime" service. You can try it for free, but if you don't cancel it before the trial period is up, you'll be billed $99.00. To be fair, they offer to send you a reminder to cancel if you wish. It was three weeks before Christmas and it seemed like as good a time as any to try Prime, so I signed up.

First of all, they promise you the moon: free two-day shipping, free unlimited streaming movies/music/Kindle, and special prices on certain items. I wanted a deep fryer that, for an ordinary customer, would have cost $20 more without Prime. I don't understand this policy, since I looked around and discovered that Amazon's "special" price was actually the going rate at other online stores, like Walmart and Target. Big red flag there. I ordered the fryer anyway, and it arrived in EXACTLY the same amount of time as it would have if I wasn't a Prime member. Same deal with all my Christmas presents. Shipping and handling were free, but I was beginning to wonder if a $99.00/year membership might actually be more than I would ever pay for S&H at Amazon over a year's time. Also, please keep in mind that UNLESS your merchandise is marked "Prime," you WILL be paying shipping and handling. Some Amazon vendors do NOT honor Prime, and their S&H can be hefty--more than the product is worth in some cases.

Finally, the aspect of Prime that made me fall completely out of love with the service (and tarnished Amazon itself for me) was the free "unlimited" streaming music/movies/TV they offered. It is unlimited--IF you're into crap. I wanted to hear an old record I'd loved as a kid that was available to stream. They even had previews of the songs, as they do on newer music. Was it free? Nooo! The same was true for every piece of music that interested me, as well as all movies and TV shows that I actually wanted to see. Kindle was equally disappointing. All the good stuff cost something. That doesn't sound FREE or UNLIMITED, does it?

I wrote to Amazon and complained. I said that my understanding of free and unlimited was just that. Somebody in Taiwan wrote back to me in broken English saying they were sorry I was dissatisfied. I received a follow-up note asking me if the answer they sent was helpful. I said NO, and wrote to them in more detail why I was not happy. I received a letter from India in broken English that said they were sorry they could not help me because my problem was beyond their scope. So I just gave up. Amazon customer service is usually excellent, but they dropped the ball on this one.

I got my Christmas shopping finished, but with a sense of deep disappointment. My faith in Amazon is dwindling. I cancelled Prime as soon as the reminder arrived (the one promise they actually kept).

Since December, I haven't ordered anything from this company. The Prime experience put a bad taste in my mouth. Unless you want to buy a hundred items in a month that you really don't need just to get a slightly lower price and free S&H on SELECT items, or if you're into media that only came out in the last few years, don't bother signing up. NOT RECOMMENDED.
Tip for consumers: If the item you want is NOT marked "Prime," you won't save any money.
PapaJohns
Two years ago, I was a good customer of Papa John's, and ordered from them online or over the phone regularly. The last time I did so, I got a pizza loaded with stems, the tough root ends of vegetables, almost no cheese, and rancid sauce. I complained, and they offered to send me another pizza. It arrived an hour later...burnt.

Obviously, loyalty doesn't mean a thing to Papa John's. From that day on, when I crave pizza, I buy Freschetta at the supermarket and garnish it myself, or make my own from scratch. It tastes better, and it's much cheaper. Really--who needs to pay $25 PLUS delivery charges PLUS tip for a goddamn pizza? For that price, you could take out a three-course meal at a good restaurant!
Tip for consumers: Complaints = food poisoning or worse.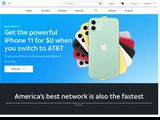 AT&T
We have been Bell subscribers since the days when it was the only telephone company in the USA. It worked well, and the service was reliable. Then, Reagan came along with his trust-busting policy, and broke Ma Bell into regional pieces. These pieces eventually grew right back together into what we now know as AT&T, which meant the advent of wiretapping and spying on customers.

A landline used to mean you had a phone that would work when all the electricity went out, and you could call somebody for help. Now, we are hearing more and more that landlines are being dismantled in favor of fiber-optic systems. AT&T has been trying for a few years to get us to dump our landline for U-Verse. We have refused because U-Verse doesn't stay on during storms and blackouts.

Over the last 25 years, AT&T has double-billed us, charged us for calls we didn't make, and left us on hold for hours any time we called customer service. They have never refunded the money they stole from us. Despite all that, we kept the landline. But this week may be the last, not because we don't want a landline, but because AT&T may have screwed us for the last time.

On May 11, 2015, our telephone was tapped, and we cannot make or receive calls. We know the number and location of the people who did it. We told AT&T this information. They ran our line and assured us this could never happen. But we still do not have service, and it's been more than two days. We have to use precious cell phone minutes to make business calls. (Thank God for Sprint.) Today, AT&T left an automated message saying our line is clear, but it isn't. When I tried to call them to let them know the line was dead, they put me through to an automated service--no live human voice, no "five-star" representatives. LYING A$$HOLES.

AT&T doesn't give a damn that somebody hacked into our phone line. All they want to do is sell us a U-Verse bundle. Are these people crazy? Do they really think that after we've spent thousands of dollars and had our phone hacked, we would spend a single penny on ANY service they have to offer? The answer is NOOOOOO!!!

STAY AWAY from AT&T. Send them the message that talking on tin cans connected to a string would be a better way of communication than paying premium prices for this crappy company. Sprint is offering us a good deal that isn't as reliable as a landline, but costs much less, has better customer service, and works far better than the mess that Reagan created. If we don't get satisfaction from AT&T after this criminal activity, we will dump the old telephone company forever, waving a lawsuit at them as we go.
Tip for consumers: When they finally destroy the landlines, forget AT&T and go for the cheapest value possible in any other company. It couldn't be worse, and you'll save a LOT of money in the long run.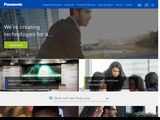 Panasonic
All my life I have owned and used Panasonic electronics, and, with very few exceptions, I've been extremely pleased with their high quality and longevity. That being said, Panasonic.com runs a strange business. They abruptly discontinue excellent products, even those that consistently receive 5-star reviews, and many of their items are extremely overpriced (for instance, I can't see spending $500 for an electric razor). But, once in a while, they have an online sale, and the prices can be very tempting.

During one of these sales, I bought a couple of wireless speakers. One of them was terrific; I couldn't ask for better. The second one was defective. So, I went online to find out how to return it. That was the beginning of a long, long journey.

Apparently they don't like for people to return their products. It is almost impossible to find an e-mail address or phone number for customer service. I eventually found a number and called. I was put on hold for over an hour. When finally somebody answered, she transferred me to another department. I waited at least another half an hour, at which point someone answered and transferred me again...(more waiting)...to the FIRST person I talked to. It took me nearly three hours to make them understand I wanted to return an item. Once this miracle occurred, they said they'd send me a postage-paid return label, and we finally concluded the call.

Two days later, I got an e-mail with a return authorization number, and two days after that I received the return label so I could mail the item back to them. They did not charge me the 15% restocking fee, so props to them for that, but it was several weeks before they removed the charge from my credit card.

This was such an irritating experience that, no matter how good Panasonic is, or how good a price on their website may seem, I will NEVER AGAIN order anything from them online. Only Overstock has worse customer service, and that's saying quite a lot.
Tip for consumers: If you ever need to return something, be ready to get the runaround. You will need the patience of a saint. I was extremely polite to them, and that may have helped me more than anything else.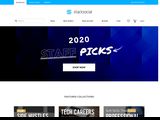 StackSocial
IMPORTANT: Please read the updates below my original review. These scammers never give up!
_______________________________________________________________________

The merchandise on this site looked pretty cool, so I created an account and attempted to purchase something. When I added my CC number, I got an error message saying my CVC was wrong. So I typed it in again, even though it WASN'T wrong, and got the same error message. I erased my CC number and personal info, then logged off to check my credit card account. To my shock, I saw two charges from StackSocial for $1.00 each, posted only seconds after I left their site! Obviously I hadn't purchased anything, since they rejected my card--but they had NO PROBLEM charging me just the same.

I reported them to my CC company and had the charges removed, then I blasted StackSocial in an e-mail to their customer service. "Jimmy" responded by suggesting that since my card didn't work, I should use PayPal instead! Talk about unmitigated gall! As far as I'm concerned, those bastards can screw off.

This experience really put a bad taste in my mouth. I have a feeling StackSocial collects credit card numbers and are saving them for future use after they eventually disappear from sight. BUYER BEWARE!
_______________________________________________________________________

UPDATE, 5/11/15: Ever since I parted company with StackSocial, "Jimmy" has been spamming my inbox with e-mails asking me, "How'd we do?" even though I told him to get lost. Very annoying.

StackSocial has more negative reviews than positive ones. That in itself is a red flag to avoid them. I have also noticed that the 5-star reviews here are from people who have the same writing style and include similar comments. You can draw your own conclusions, but I think they all work for StackSocial.
_______________________________________________________________________

UPDATE, 8/3/15: Today SiteJabber forwarded me a note from "Jimmy W." I am including it here along with my reply. Remember, my only dealings with them were in April, so I don't understand why I'm hearing from "Jimmy" again four months later.

Jimmy W. wrote: -------------------------
Your charges are more than likely pending charges but if they did go through, we are more than happy to refund those purchases. Can you please provide your order number or email address for us so we can refund those charges? We will also be more than happy to apply a 10.00 credit for the inconvenience.

Thanks,
Jimmy

MY ANSWER:
No, I have no pending charges! Are you people crazy??? You declined my credit card for an order I wanted to place, and then you put two charges on it on your own. My credit card company already refunded me after I complained, since I received no response from you at the time. I even replaced my card so you couldn't access it again.

You tried to cheat me, plain and simple. Why in the world do you think I would give you ANY of my personal details again? I'm through with you and your company, and my review explains to the world why I will never deal with you again. Nobody else should, either.
________________________________________________________________________

UPDATE #2, 8/3/15: Here is the response they just sent me and my second answer.

Jimmy W. wrote: -------------------------
Once again, we do not see every charge that is placed on our system and any declines are due to information not matching for security purposes. If you were charged, we are more than happy to refund those charges.

Thanks,
StackCommerce Team

MY ANSWER:
A good business SHOULD see every charge placed in its system. Clearly, you are NOT a good business. No wonder you have so many disgruntled customers. And I seriously doubt you want to refund my charges...you just want my new CC# so you can scam me again. Noooo thanks.
________________________________________________________________________
Tip for consumers: This business is not BBB Accredited

StackSocial
Phone: (310) 488-6314

http://www.bbb.org/losangelessiliconvalley/business-reviews/computer-software-publishers-and-developers/stacksocial-in-venice-ca-1013267/complaints#breakdown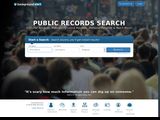 BackgroundAlert
"BackgroundAlert" should set off alarm bells just by the sheer stupidity of its name. Always assume that "background info" pay sites are scams. I can find out almost anything about anyone on FamilySearch for free. It's not even connected to stupid Ancestry.com, amazingly, which seems to have practically cornered the market on everybody's personal details. BlackBook is another good source of free information. Try those options before you haul out a credit card and throw your money away on rip-off sites like BackgroundAlert.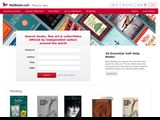 AbeBooks
There are several places to choose from to buy used books. AbeBooks is the easiest, best-organized and most trustworthy of the companies I have dealt with. Type in the name of your book and/or author in the search box and you'll get a list of holdings from least to most expensive. Except for payment (they can keep your credit card on file for one-click checkout, which I love), that's where AbeBook's responsibility ends. Your mission is to decide which book is priced correctly and in the condition or format that pleases you most, and whether or not the vendor offering it is reliable.

If you have a problem with your purchase, you can complain to AbeBooks or directly to the vendor. I have received refunds or replacements on the few occasions I was unhappy. Most of the time, however, booksellers are true believers in the printed word, and will be honorable. Each vendor is rated from one to five stars, and you can restrict your search to the highest-rated sellers.

Once in awhile, you may find better deals elsewhere; otherwise, you will discover that the the same sellers also advertise the same merchandise on various other book sites. AbeBooks wins my vote because I've bought about a thousand books from them over the years, and I still have most of them.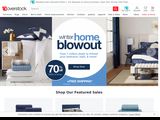 Overstock.com
Before Amazon, there was Overstock. We've received a couple of nice things from them, but these people don't know the meaning of the phrase "customer service." Was your package ripped open in transit? They don't care. Wrong item? Broken or defective product? No refund. No acknowledgement of any problem. Write a bad review on their website, and your words get deleted. Finally, Overstock = Overpriced. Their "deals" involve "refurbished" items and cheaply-made things one can buy anywhere for less. Bottom line: Avoid at all costs.
Tip for consumers: Use Amazon instead.
Apple
UPDATE, 2/27/16:

Reduced rating to three stars for Apple spamming my inbox with offers that sound great until you read the small print. Prices are getting ridiculously high.

_____________________________

Since Apple's inception, we have always used Macintosh computers, which are second to none in ease of use and quality. The company's mail order is lightning-fast (if your order doesn't get re-routed by FedEx or UPS to the wrong address). That said, Apple's constant updating and subsequent outdating of products you pay a fortune to own is extremely irritating. This is why I will NEVER buy an iPhone. Ever. I shall continue to use Apple, though--I doubt anyone will build better computers in my lifetime.
Tip for consumers: If you plan to return anything, you can't open it. It has to be exactly as it was when you received it. You have to use your X-ray vision to know if it works or not; otherwise, you pay a hefty restocking fee. So, be sure you REALLY want that iPad before you purchase it.
Amazon
UPDATE, 2/27/16:

Recently Amazon raised their minimum free shipping price from $35 to $49. Apparently it's a move to promote their $99/year Prime service, which I used on a free month's trial basis and did not like. They are going to lose a lot of business from me. $35 is reasonable if you want to buy one or two items, but I don't spend $49 every time I go shopping.

Adios, Amazon.

_______________________________________________

MY ORIGINAL REVIEW, EDITED:

Amazon's merchandise is packaged well and shipped quickly, with very few exceptions. If you have a problem, they work with you. Their customer service and return policy are superior.

Use caution when purchasing food products. Consider the time of year, the vendor's reviews, and customer reviews. You may not always be able to return edible items, but in one case I did get a refund because the product was completely disgusting. Be polite and thorough in your reasons for returning anything, and there's often a chance Amazon will refund your money.
Tip for consumers: Try to buy products marked "Fulfilled by Amazon" to secure your purchase in the event you need to return it.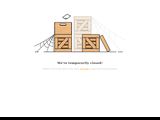 ConciousBox
Saw this on Amazon Local. Conscious Box sounded like a nice company sending healthy products, so I ordered a $10.00 voucher. When I got to their website, it said "CREDIT CARD NUMBER REQUIRED." Well, no--I assumed I had already paid for my merchandise. This deal has "SCAM" written all over it. I contacted Amazon and they refunded my $10.00. Amazon is awesome. End of transaction. As a company, Conscious Box has no CONSCIENCE. They're stupid, too. They lost my goodwill and that of many other potential customers. I see this outfit folding their tent in a year or so.
Cynthia Has Earned
43

Votes
Cynthia hasn't received any thanks yous.
Cynthia doesn't have any fans yet.
Cynthia isn't following anybody yet.
Similar Reviewers on Sitejabber
A poster of Anthony Bourdain. It came in good printed quality and the right size I wanted. Thank...