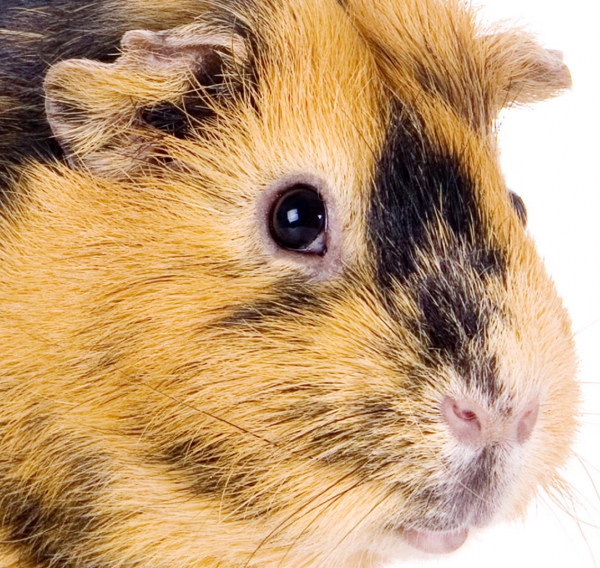 Colin A.
3

Reviews

8

Helpful Votes

0

Thank Yous
Experience: Clothing & Fashion
Member since January 2016
Reviews

3

First to Review

1

Votes

8

Very Helpful

7

Funny

1

Fraud Buster

0

Great Find

0

Well Said

0

Thank Yous

0

Fans

0

Profile Views

233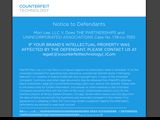 Stacees Dresses & Fashion
It was with a certain amount of trepidation, due to the high number of less than complimentary negative reviews that Stacees had received on various websites, that I ordered a custom made dress and jacket for my wifes Christmas. Even though my wife loved the look of the dress from the photo on their website I initially shied away from ordering it, but as I considered that the cost of having this custom made dress and jacket wasnt too excessive I thought that I would take a chance anyway. Im glad that I did. I was quite impressed when soon after creating the order I received a very professional email from customer services asking for more measurements, and for me to confirm one last time that all of the details were correct. I paid extra for the dress to be delivered before Christmas, but due to the short period of time between ordering and Christmas Eve when it was promised to be delivered for, I thought this to be a tall order for Stacees to achieve. I still hadnt received the dress the week before Christmas, so emailed customer services to find out where it was. They again came back within a few hours to confirm the DHL Tracking Number. When I went on the DHL website it gave information that the package was in France on Tuesday 21st December. Then started quite a few days of emails between myself, DHL and Stacees (Stacees always answered in a timely manner with the requested information). The dress did not arrive in time for Christmas, but was delivered on Thursday 28th December. Now although I was disappointed with this I dont believe that it was Stacees fault (it appears that DHL were holding the parcel for some reason), and in any eventuality in my heart of hearts I had left the ordering of the dress very late for Christmas, and didnt really believe that Stacees could get the dress to me in the timespan they said (I do believe that without the problems with the carrier they may well have achieved delivery for Christmas). When alls said and done I still think that it is a fine service, to have a custom made dress finished and with me in under three weeks, especially in the run up to Christmas. We were also pleasantly surprised when we opened the package, as the dress looks exactly the same as depicted in the photo on the website, is made of good quality material and fits perfectly, so my wife is over the moon with the extra Christmas present she received a few days after Christmas. To finish this review I would like to say that Stacees customer services were nothing but helpful and professional throughout, and to make it even better we agreed a goodwill gesture for the dress not arriving on time. The item agreed as the goodwill gestured duly arrived, was again of superb quality, and more than made up for the late delivery of the dress. I would definitely recommend this company and would certainly use them again.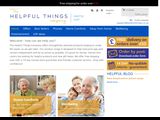 Helpfulthings.co.uk
Dont be fooled by this companys name they are anything but helpful, even though their website states Friendly customer service - we care about your shopping experience. Let me explain; I ordered a Heated Body Warmer from the companys website at one forty-two in the afternoon of Monday 11th December, fully expecting to receive it within a couple of days due to the fact that the website also clearly states; Fast and reliable packing service - orders placed before 3pm Monday to Friday and in stock dispatched the same day. I immediately received an email confirming the order, but with no despatch information. On Tuesday afternoon, due to the fact that I had still not received any despatch notification, I called their Customer Services. I was told that Philip, who I now know is a Director of the company, would call me back. The company did not keep this promise! On Wednesday morning I called Customer Services again to request despatch information and a likely date for delivery, and was told that they would get this information and call me straight back. This time I did receive the call (not from Philip, but from the same Customer Service Advisor I had just been speaking to), but did not receive any of the requested information, only being told that Philip had said that the item would be with me before Christmas. By now I am obviously getting rather suspicious about whether or not the company can supply the item with good reason, as it happens. On Monday 18th December I received an email from Philip informing me that they were unable to supply the Heated Body Warmer as the supplier had gone out of business, and that I would be receiving a full refund. So here I am, with days to go before Christmas and no present for my wife due to the total unprofessionalism of this company, who quite obviously did not have the advertised item in stock when I ordered it, and then took a full seven days to inform me of this fact. On the day after receiving the email to inform me that they could not supply the Heated Body Warmer they still had the item for sale on their website in the size that I ordered, even though they know that they have nil stock and cannot supply it. It is now eight days since I placed the order, and I am still to be refunded the monies paid to this company for a non-existent item, so I have begun a dispute with my credit card company to recover the sum paid.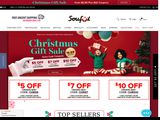 Soufeel
Soufeel are undoubtedly one of the worst companies I have ever ordered goods from. At this present time there is an ongoing issue with my merchandise, in that the photo charms look dull, instead of the bright ones represented on their website (all of the photos uploaded by me were clear and were of good quality), and one does not sit properly in the charm. After many emails, tickets raised and online chats no-one is taking ownership of the problem.

In the Christmas email I received from Soufeel they report on having a successful business, but I fail to see why, when they treat their customers with dissent, and are also satisfied with shoddy workmanship and poor quality control?

I also received another email which was entitled Please read the negative comments about us, which had the following text; As you may know, during the recent Christmas season, all the couriers including DHL were overloaded, as there were too many parcels to send every day, therefore, we received some negative comments on our Facebook about the delivery time, even though they loved our products very much. This statement I can only say in my experience is totally incorrect. DHL were fantastic at getting the item to me in the fastest possible time, once Soufeels shambolic and unprofessional operation had gotten the bracelet and charms ready for despatch, many days after they should have been. I am one customer that does not love their products, which is explained in more detail below.

Their customer services rank as the least diligent of any company I have had a problem with. I have had no reply to any emails I have sent (eleven total) and not one answer to any tickets I have raised (nine total). The Live Help is rarely online. When it is it times out after a few minutes requiring me to start the whole process again, calls often go unanswered and on one occasion I tried for an hour, with it regularly timing out and then the Live Help went offline how excellent is that. Even when I manage to have an online chat, the person at the other end does not do what they tell me they are going to do.

Let me now tell you in more detail of my experiences with Soufeel, so that hopefully anyone reading this can make an informed decision on whether to buy from this company or not; I ordered a bracelet and charms from Soufeel to the value of £208.53 on 3rd December 2015. Prior to this I had an online chat session with Jacky from Soufeels Customer Services, in which she assured me that it would be 3-5 days to manufacture the charms, and that it would take between 7-9 days for the order to arrive with me via DHL.

On 10th December 2015 I received an email from Soufeel advising me that my charms had still not been manufactured and that it will still take between 1 and 4 days before they are ready to be shipped. I replied immediately to this email expressing my dissatisfaction and asking for the order to be cancelled I never received a reply to this email, so on 11th December I raised a ticket, this of course went unanswered, but fortunately I managed to get an online chat session with Jacky, who advised me that the charms were ready and would be shipped that day this could not have been further from the truth, and I wish that I had insisted at this time that the order should be cancelled.

On the 15th December 2015 I received an email letting me know that my order was about to be shipped. This was four days after the assurance from Jacky that my order was being shipped on the 11th. Luckily the bracelet and charms arrived in time for Christmas, but only just. They arrived on 21st December, which by Jackys admission should have been around 12th, so some nine days after they should have arrived. By the time they did arrive I was wholly displeased at the service that Soufeel had provided thus far, as I had spent much of my valued time chasing up after an amateurish company.

To make matters worse one of the photo charms was poorly manufactured in that the photo was mounted incorrectly within the charm, and to be truthful the seven other photo charms were not as good as the representation of these charms on the Soufeel website. The photos on the charms that were manufactured for me are quite dull and washed out, when the original photos uploaded to their website were fairly bright and clear.

I knew that this was going to cause me more consternation trying to get Soufeel interested in this problem. I initially raised a ticket, but due to my experiences, did not live in hope that anyone would take any notice of it I was absolutely correct in this assessment of Soufeel. Next day I tried to get onto the Live Help. Europe was online, but it kept timing out. I kept reconnecting immediately, and eventually the persons responsible for their Live Help went offline, about an hour into me trying, without answering my attempts to connect. Next day I was more successful and it only took me somewhere in the region of six attempts, with me putting more and more cutting comments in the subject field. In the script of the conversation Allen quite clearly states that Soufeel are having problems with quality (thats beside the fact that they did not manufacture them within the time scales given to me by Jacky). The online chat appears to be going nowhere, and to be truthful left me feeling more and more let down and disappointed that I had ever heard of Soufeel in the first place. As I had a job to be getting on with I asked that Soufeel email me with what they propose to do. Needless to say no one has contacted me in the last three weeks since this online chat. This did not surprise me in the slightest and I knew at some stage I would have to put together an email and raise tickets to try and get the problem resolved. This Ive done, and over the past week Ive sent an email every day to customer support and also raised a ticket every day. Guess what; no-one has contacted me, so I have started a PayPal dispute and posted this review on various sites.

Update; PayPal will have nothing to do with the dispute, due to the fact that the items are personalised. They say that it is in their terms and conditions that this is the case. They have also taken Soufeel's word that the items were of good quality, without asking me for any proof that they were not. Apparently PayPal's Customer Services trained at the same establishment as Soufeel!
Colin hasn't received any thanks yous.
Colin doesn't have any fans yet.
Colin isn't following anybody yet.
Similar Reviewers on Sitejabber
I bought the burgundy dress for my daughter's 18th birthday. She loved it and fits perfectly I...
This is a dress for my daughters prom and she only likes black and this dress was perfect as it...