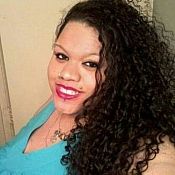 Carla M.
10

Reviews

29

Helpful Votes

0

Thank Yous
Experience: Clothing & Fashion, Shopping, Computers & Technology
Member since October 2016
Reviews

10

First to Review

0

Votes

29

Very Helpful

28

Funny

0

Fraud Buster

0

Great Find

1

Well Said

0

Thank Yous

0

Fans

0

Profile Views

642
About Me
Sweet , Stubborn , Opinionated , Honest. What you see is what you get 24/7.
Interests
Reading (especially Romance books) , Watching Horror & Action Movies , Thunderstorms ...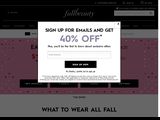 FullBeauty
So , I decided to give FullBeauty.com another try. I ordered one item (March 15, 2018) as a gift to be sent to my Sister. As of today (March 26, 2018) the item has still never arrived. I call customer service , a decent wait time (5 minutes) , finally a woman comes on the line. She keeps claiming that she can not hear me even though I'm almost screaming into the phone (I'm sure my next door neighbors could hear me fine). I proceed to ask about the item I ordered & why hasn't it been delivered. She starts running off various items she thinks it may be , even though I tell her what the item is & give her the order number. I stand behind my previous observation that customer service workers are incompetent , do not listen to what you're saying & seem to be uninterested in doing their job well.
"An Okay Place For Plus Size Clothes But . . ."
11/22/16
• Previous review
I tried the site around Columbus day 2016 . They had a special promotion , a certain percentage off most items including clearance (which is rare , most promotions exclude clearance).I ordered around $200.00 worth of items , typed in my promo code and got a nice discount ($41.70) or so I thought . They emailed my receipt confirmation , it showed the discount applied . My items start to arrive and on the receipt I am charged full price , no discount to be seen . I called 3 different times to work out this situation and the customer service representatives are incompetent . I just had to keep repeating the same things over and over again . In the end , I finally got my discount but it's to much of a hassle to shop there and I haven't since .
Wish
I ordered 10 items September 24 , 2016 and as of right now (October 30 , 2016) I have only received 5 of them . The quality is good on some items and really bad on others . Order at your own risk , it's hit or miss as to whether you will get what you ordered .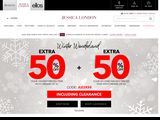 Jessica London
I just recently placed an order for a pair of shoes then found the shoes cheaper somewhere else. I tried to cancel my order but the customer service representative said I couldn't. Ridiculous. As soon as you place an order & try to cancel it they claim it is "processing". So they never have to cancel your order. I will never order anything from them again. Rip off & the customer service representative was very unpleasant.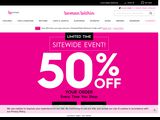 WomanWithin
I've been shopping at Woman Within for years . They have mostly casual clothes . Jeans , sweatshirts , knit stretch pants , basic t-shirts , etcetera . The quality of the item really depends on what you order . I've found that even though the underwear come in larger sizes , the quality is sorely lacking . They just aren't made well . The elastic comes unsewn from the fabric after the first washing . So be prepared to mend them yourself or send them back . Very disappointing ! The blue jeans I use to love and wear are no longer available . Boo ! They were the best item sold on Woman Within , in my opinion . They fit me perfectly , were 100% cotton , with 5 pockets . The quality was outstanding , a pair of those jeans lasted years and the price was unbeatable . Only $24.99 !!! Shipping time is fairly fast (for in stock items) , usually just a few days . So , don't waste money on express delivery . It's really not worth it . I also always look up current "Promo Codes" to save me even more money . It's really worth the effort .
Kroger
**This review is for the new shipping service option Kroger has recently started**

I decided to try out the new shipping service offered by Kroger. I don't have a local Kroger store in my area. I usually have to drive to the next city over to shop there. I do shop at Kroger's regularly.

- The Pros -
* Free Shipping Over $35.00
* On Your First Order You Receive Free Shipping (regardless of your total) plus 15 percent off
* Fast Delivery (I ordered on October 15th and received my items October 17th)
* Convenient
* You don't have to wait in long check out lines
* On arrival, my items were packed very nicely. The best I've seen. There was a cardboard divider separating my canned items from my Popcorn & Chex Mix. Plus the items were wrapped in paper & the heavy cans also had a spongy type netting wrapped around them. I assumed to keep them from being dented.

- The Cons -
* Not a huge amount of products to choose from
* You have to purchase 2 of most items
* Many of the selections had a label on them claiming they were not available. It could just be because this is a new service or it could be something else.

Overall, I will be using the Kroger shipping option again & I would recommend it.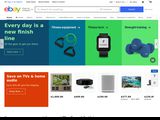 eBay
I love the variety of products available on eBay. I find myself on the site quiet often just looking at items. Comparing prices , reading item descriptions. I've found that if you check back often you may find some really great deals. You have the option to buy the items now or some you have the option to bid on. Which is one of my favorite features of this site. I won a pair of new plus size jeans for $5.89 plus $10.00 shipping & a new pair of black & white striped Old Navy flip flops for just $4.00 (shipping included). Since sellers are able to set their own prices , you will find some truly ridiculous prices throughout the site. Don't let that throw you , they are plenty of great deals & truly fair price listings there as well.
Target
I started shopping at Target.com before Christmas last year . It was nice since they offered free shipping if you spent a certain amount of money . Shipping time was really fast , about 2 days later . Which is really surprising but very nice . The cons of shopping at Target online is that not all items are available for delivery , they were in store only . Which is not a viable option for me since the closest store (that I know of) is over 3 hours away . I would love it if more items were made available for delivery . The prices are good on some items and then there are some that seem way overpriced to me .
Amazon Kindle
I decided to take advantage of the 30 day free trial for the Kindle Unlimited program. Durning those 30 days I read at least 40 books. I have always been a avid reader , it's my favorite past time. I was in love with this program! You can have 10 books checked out at a time & constantly exchange one for another after you're finished reading it. Obviously , I took advantage of all this. I was like a kid in a candy store. I decided that to help keep track of all the books I was reading that I would write a review for that book afterwards. That's what I did , after I completed the book I would immediately review it on Amazon. It was working out great because all my reviews showed up on my Amazon profile. The free trial ended & I paid $10.59 (that's including tax for the next month). I went to check my profile & all the reviews I had ever written along with my helpful votes were gone. I emailed Amazon about this situation & received no reply as of now ( today is July 3, 2018). I'm so disappointed. All that hard work I put into honestly reviewing the books ... gone. I probably won't continue the Kindle Unlimited program after my paid month runs out. I definitely know that I will NOT be ordering any products from Amazon.com again in the future. They have no respect for their customers reviews & just delete them all.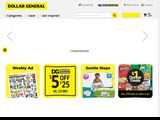 DollarGeneral
I've purchased items from the Dollar General website before with no problems. I placed a recent order of 38 items on October 3rd, 2018. Today (October 11, 2018) I received that order. Well some of that order. I'm missing 17 items out of the 38 items that I had ordered. I call customer service & the woman claims she only knows about 15 items that weren't put in my box. I inform her about the other 2 items. She puts me on hold. Finally she comes back on the line & says that they'll refund me for the 17 items. I asked her what happened, were they just out of stock or what? She claims that the 17 items just weren't put in the box. I told her that's ridiculous. 17 items were missing. What kind of online business does that? Oh, Dollar General does! I won't be ordering anything online from them ever again. I've never seen such incompetence from a business.
CarolWrightGifts
I recently ordered from them and was really surprised by the quality of the items . I love the purse , it's the best one I have ever bought . Very well made . In the past I have paid four and five times that amount on a purse , that would last only two or three weeks . The handles would rip and fray . None of that has occurred with my Carol Wright Gifts purse . It still looks great after two months of use . I wish the items were shipped a little faster though .
Carla Has Earned
29

Votes
Carla hasn't received any thanks yous.
Carla doesn't have any fans yet.
Carla isn't following anybody yet.
Similar Reviewers on Sitejabber
Shoddy clothing and the customer service is non existent. In spite of my numerous follow up with...
Placed an order tried to cancel the next day due to duplication...Sergio the cs rep kept over...