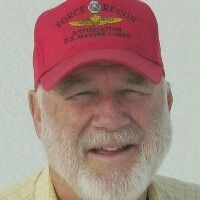 Brad"NMCajun" L.
1

Review

0

Helpful Votes

0

Thank Yous
Experience: Home & Garden
Member since January 2017
Reviews

1

First to Review

0

Votes

0

Very Helpful

0

Funny

0

Fraud Buster

0

Great Find

0

Well Said

0

Thank Yous

0

Fans

0

Profile Views

58
About Me
Retired combat Marine with 1st Force Recon Company
How I Can Help
Special Ops and survival skills
Interests
My family, hunting and woodworking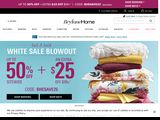 BrylaneHome
Several years ago our son bought one of Brylane's large office chairs. He was very satisfied and even when parts broke their replacement service was good. So we decided to use Brylane again to replace his worn chair. Bad decision.

The quality of the chair was not the same as the first chair: the lumbar support tends to throw you out of the chair and is not adjustable, only one cheaply made lever to lock the tilt and/or raise and lower the seat and the ability to tighten or loosen the spring tension for the seat tilt was not existent. So we elected to return the chair.

Now the fun begins. The first thing we find out is that Brylane will not cover the cost of return shipping which was roughly $70 thru FedEx (we were supposed to use them because Brylane supplied the return shipping label). So, with this in mind, we disassembled the chair and repacked it in the original box only to find out that FedEx will not accept it because there are a few indentations in the box (which THEY made in shipping the chair to us). When we mentioned this to FedEx they said that they (FedEx) tend to give a little more latitude to the shipper than they do for return shipping. So we went to UPS who had no problem with the 50 pound box, but their cost was $86 for shipping.

So, do the math. Original cost for the chair including shipping (plus added fees for large parcel) was $192.00. At this time (prior to my writing them a letter) they are going to refund $150.00. So now I have paid $42.00 for a chair that I do not have - but wait - I need to add the cost of return shipping which means I paid $128.00 for a chair I do not own. I have nothing to show for spending $128.00 but THEY have the chair and will resell it again tongue in cheek. I paid for shipping BOTH WAYS and Brylane comes out smelling like a rose. That's quite a scam.

Final advice: never buy anything online that you cannot try out or try on until you check out the return policy. It can come back to bite you where it hurts. A quality company with integrity will have a return policy that takes the fear out of buying from them. We will not use Brylane again and do not encourage anyone else to buy from them. If I get a favorable response to my letter, I will note that in a future review.

January 18, 2017 Update:
Well. there is no need to write a letter to Brylane as Brylane responded to my earlier review which I am posting to this followup:

"Corinne D. [BrylaneHome Rep] Hello Brad, I am a Customer Service Specialist with Brylane Home. I was disappointed to learn of the poor experience you encountered. Please note, we do provide pre-paid return labels for most orders. If a return label was included on your invoice, there would not have been a separate charge through FedEx. Rather, we deduct the return fee from the refund issued for the returned merchandise. We apologize for any confusion."

Please forgive me if I am a little slow, but to not charge me for the FedEx shipping with a prepaid label and then to deduct the shipping out of my refund for the returned merchandise - is that not the same result as my paying for the shipping up front?

So, I rest my case. Everything I said in my previous review of Brylane's horrible return policy still stands and is further exacerbated by the entire lack of Brylane's "Customer Service" department to actually understand the problem. Their lack of a "customer oriented" return policy is deplorable.

January 26th:

My last comments in response to Corinne's (Brylane) one-liner saying, "The return fee for using our provided return label is $7.50."

Well, I think its more than time to nip this entire joke in the bud. So I will wrap things up by commenting on the most recent response to this pathetic situation by Brylanes Customer Service (Corinne).

This is the chronology (I could provide dates, but the sequence serves the purpose). Please refer to my original review to fill in the details:

1. I ordered an office chair as a gift for my son.
2. Received the chair and assembled it. Chair was not as advertised and some parts did not work at all.
3. I called Customer Service at Brylane to find out about returning the chair. I spoke to a man who told me that I would need to disassemble the chair and repack it in the box it was shipped in and take it to a FedEx location for return. I asked if the return label covered the cost of the shipping. He said no, that the cost was my responsibility. (Please note that no other information was provided or offered.) So I checked with FedEx online to get the cost of shipping a box of this size and weight and they gave me a price of $70.00.
4. I disassembled the chair and repacked it in the same box it came in and took it to a FedEx location for shipment. However, I was told they could not accept the box because it had some indentations in it (wish I had pictures) and they were getting lawsuits for damaged merchandise. I told them that this was the condition of the box when received that the indentations were done by FedEx in shipment and that none of the indentations even penetrated to the inside of the box. The supervisor told us that they tend to give the shipper more leeway than to those of us who need to return items. We offered to put more tape over them or reinforce the few indentations with more corrugated material, but were told that would not be acceptable. However, they would provide a box for us to the tune of $90.00. We declined.
5. We took the box straight over to UPS. They accepted the parcel without any question and could not understand why FedEx had a problem (a point to remember when shipping), but the cost to ship was $86.00. Done deal.
6. In the meantime, I receive a response from Corinne in Brylanes Customer Service (I use quotes because it has been anything but customer service) informing me that after I paid for the shipping up front, Brylane would simply DEDUCT the cost of the shipping from the money being returned to me for the original purchase. Please note, DEDUCT not reimburse. Again, no other information was given or offered or provided. I submit that Brylanes Customer Service must be required to use as few words as possible and give as little information as possible when responding to customers. Or they are giving bonuses for whoever can have the shortest one-line answers.
7. I edited my original review with all of the information I had been given by Brylanes Customer Service only to receive another response from Corinne that, according to her (and this is somewhat of a guess because of the lack of a clear explanation once again, short comments) the cost for the return shipping of the chair would have been $7.50 if I had used the return label with FedEx. AMAZING!! It took THREE (3) separate communications to say what should have been said the first time I called Brylane to ask about the return shipping. And, like I said, this is only a guess.

Additionally, and this might seem petty, but why am I having to pay ANYTHING for returning a product that did not work?

In summary, Brylanes Customer Service leaves a lot to be desired. If the man I spoke to originally had simply said that the return label will cover the cost of the return shipping which is $7.50, but that it will be deducted from my refund, then the only issue I would have had was the rejection by FedEx of their own box.

However, since Brylane forced the issue of having to ship with FedEx, it was THEIR problem, not mine, to provide or pay for an acceptable shipping container. As a result, we were forced to go to UPS which cost us $86.00. I believe Brylane should reimburse us for this shipping expense. They have the chair, I do not. Its an issue of integrity and righteous business policies.

I will take this up with Corporate. In the meantime, I would suggest that Brylane take some time to work with how their Customer Service personnel communicates with their customers not only on the phone, but in emails or other forms of media. Do not assume that the customer knows anything, but take the time to make sure they understand whatever process they are asking about.

Therefore, I stand by my original review and contend that you should be careful if dealing with this company. If I get a favorable response from Corporate, I will provide an update.

March 11, 2017
I promised that I would write after submitting a letter to Corporate and this is the result of that letter. Brylane Corporate did not even give me the professional courtesy of a reply - much less the good manners to acknowledge that a customer had even written. So when all is said and done, they have their chair and I am still out $128.00 with nothing to show for it. Sorry folks, THAT is a SCAM. I know some of you will think I am just a disgruntled type of guy and dismiss this altogether, but just wait until this happens to you. You have a right to your own opinion, but you do not have a right to your own facts. Like John Adams said, "Facts are a troublesome thing."
Brad hasn't received any votes.
Brad hasn't received any thanks yous.
Brad doesn't have any fans yet.
Brad isn't following anybody yet.
Similar Reviewers on Sitejabber
I bought 2 sets of Jersey sheets after 1 washing they Shrank so bad they dont fit and had...
Ive ordered several items and have been satisfied with each. My wife is going to have stem cell...