ann m.
7

Reviews

22

Helpful Votes

0

Thank Yous
Experience: Clothing & Fashion, Home & Garden, Health
Member since October 2017
Reviews

7

First to Review

1

Votes

22

Very Helpful

22

Funny

0

Fraud Buster

0

Great Find

0

Well Said

0

Thank Yous

0

Fans

0

Profile Views

406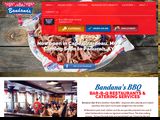 Bandana's Bar
Love Bandanas BBQ restaurants and sadly live far from the closest location. Try to buy my favorite sauce to take home when I do get there, but their on line order service is FANTASTIC. NICE PEOPLE, and really fast delivery ! One sauce they make, Memphis style, is still loaded with sodium but, compared to ANY you find on grocery shelves with up to 400 mg per T. this delicious sauce, at about 95 mg is absolutely delicious, you can actually taste the wonderful flavor instead of having the strong salt taste of almost all store bought sauces !
Costco
, Needed new laptop quickly. Since I pay to shop at Costco, but live 47 miles away, I went on line. Ordered, paid, started tracking my laptop since buyer must be at home to take delivery. Three days later, JUST as the laptop was shown on tracking to be about 40 miles from my home, I saw an alert message on the UPS website: Package RECALLED by SELLER (Costco). I watched with a sickening feeling, as my new laptop "traveled" back to each shipping point from which it had just come!

Called Costco, rep was VERY nasty, said "well the 3-5 day shipping is ONLY an approximation. I tried patiently to explain AGAIN that Costco had recalled my package just as it was almost at my home. Long hold AGAIN, rep comes on and says (big sigh) well they could not deliver it because "YOU cancelled your order". NO WAY I replied politely. Kept me on hold 17 minutes, then came back and said, "I found the problem, you never TOLD us you changed your address". (Have had same address for 18 years with no changes).

Finally called UPS knowing they had no responsibility to me. But an EXCELLENT UPS employee offered to "get to the bottom of this for you". WOW, Costco is their customer, not me, but much more willing to help me than my "member reps" at Costco.

Seems a COSTCO employee made out the label incorrectly: Put my name and address on the label and then put Costco's zip code on package instead of mine!

Never called me, never emailed me, nothing, just pulled my PAID FOR laptop and had it returned to them while I stayed home the ENTIRE day waiting to sign for delivery.

Called them when it never came. They continued to blame ME. When I asked HOW I was going to get the laptop I ordered and PAID FOR ? Yet another "NO customer service rep" replied, "well, if you want it you could go to the website and order ANOTHER ONE. Really ? How many do I really want on my credit card ? She went on to say, THIS TIME mark express delivery ($39) and you'll get it only one day after you SHOULD have received the first one you ordered. I asked if they thought that was "being fair" to a "member" of long standing. Another LONG HOLD. You could tell the next to come on was startled, never thought any member would stay on phone that long. Explained all AGAIN. He said I could "call them and ask for the $39 to be credited back to you card after delivery". I calmly and politely said I had a better plan, one that would give them an opportunity to demonstrate "we CARE for our members"; their motto, is not empty words. Suggested they send me the laptop I ordered and paid for, and they, not me, send it express over night.

LONG hold again, and then "ok" but I'll need some additional information". Why I asked, all my information is in my member file. "Not, all, we need your cvv code and expiration date of your card, we do not keep that on file.

Ok. Gave them that information, and NEVER HEARD FROM THEM AGAIN, it's over a week later, no laptop, and certainly no help from Costco. My BANK is wonderful, helping me protest the charges and monitor for credits from Costco. So much for the NO laptop, NO apologies, NO responsibility, and NO customer service company that charges YOU to shop with them ! I quit my executive membership for this same dysfunctional kind operation, tried being a "regular member" this year. Never again will I renew either membership. Once can be a mistake, but here you PAY to be insulted and accused because the people in customer service simply can not bring themselves to say:

"So sorry, WE put wrong address on the label of your shipment, and WE recalled the order just as it said on UPS website.
We ARE sorry for accusing YOU of cancelling order, and then when that was disproved, accuse you of MOVING after placing the order ! Unbelieveable. One "so very sorry" to save a good customer, too many great places to take my business.

we will send your order overnight delivery today, you will get it tomorrow !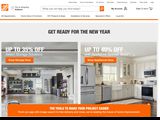 HomeDepot
My first attempt to "save time" with on line ordering was a total disaster. Took 37 minutes while several employees called asked others for directions on how to find an on line order. Also, LONG line for "fast pickup" as it is the same line as the returns line ! I decided, "things happen", and tried an on line order again recently, 4 or so months since the first negative experience, and noticed they seem to now have a
separate line for pick up. Second time MUCH WORSE. Almost 45 min. wait after I had printed off my email that the order was "ready for pickup" and still no one had any idea where the orders for pick up are kept. Some thought in the return area, others thought they were on an enclosed "porch" like area at the entrance. Finally I had to leave due to an appointment. To shorten this, went back TWICE AFTER the first and still, no one could find my order. To their credit, after my calls and email to them, the manager DID call me personally. Told me they were cancelling my order and suggested I go on line and ORDER AGAIN. I really needed this trimmer/edger so I went to Loews and just bought the item (did not do on line order in an attempt to "save" time at Loews). About three weeks AFTER all this, I received an email from HD, reminding me that I had never come to pick up my order ? Guess three times with my "order ready for pick up" email in hand didn't count ? I was thinking "who's on first at HD" ? Overall, my experiences at a range of HD stores in my general area have been constant employee turn over I base that so many employees who seem to be confused about where things are in general, or not knowing various policies, etc.), and not happy in general.
Some are very friendly and helpful, others seem VERY defensive and hostile at the most simple question ? Guess that's just the "luck" or "not" of hiring and training ? I do wonder how Ace does such a perfect job of hiring (do they just "fire" someone on the spot if they are rude to customers ? What I hate most is I am a stockholder, a small one of course, but hate what I am seeing lately at HD.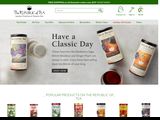 Republic of Tea
Since my very first (and I was hesitant) order from ROT arrived promptly, I have continued to place orders 2 to 3 times a year. No matter how many brands of tea I try, I just can't find any the comes up to the taste and quality of the teas ROT offers. I am especially fond of all their varieties of hibiscus tea (strawberry and coconut hibiscus are fantastic), but I also have quite a large "collection" of their green, black, white, chi's, etc. I do wish their free postage minimum was not so high (approx. $50), but, I order enough at a time to meet their requirements for free shipping. I love the sample boxes they offer as a way to try new teas before ordering entire tins or bulk amounts. The sampler boxes that allow YOU to CHOOSE a custom variety box is an absolutely wonderful gift idea. No matter how often I order, I am still amazed at how quickly my order comes and how delicious their teas are.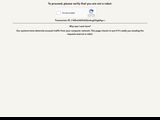 Wayfair
My first order from WF was a number of years ago now. I was really hesitant, but I went through with it and was very pleased except for a problem with one damaged item. I called immediately and expected to make arrangements for the return. When they learned it was a small chest, they ordered another to be sent yet that day, and then told me to just donate the damaged item to a charity of my choice ! Right then I knew I would be a repeat customer. I took the damaged piece to a near by adult workshop where impaired adults learned various woodworking skills. Needless to say, I have ordered a number of times since this experience. I have had to call customer service, but not for damage or other serious problems, but each time I talk to someone I can not believe the difference in talking with a phone rep at WF and other businesses. No robotic "scripts" where no matter what you ask, they seem to just pick a numbered response and "read" the script to you regardless if it applies to what you ASKED or not !

I once mentioned to a WF rep that I specifically order from them because I always reach someone quickly (who seems to be in the USA ?), actually seems to listen before reading off some unrelated "non-answer". The rep told me the company actually encourages personalized replies and individual thinking and problem solving. I will remain a customer for that reason alone !

If WF ever becomes like my bank, cell phone, and cable companies, with "robotic" replies after hours of just trying to reach them; and then I'll no longer do business with them. For now, the way they take care of any concern or problem has my loyalty.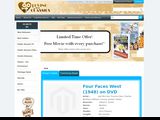 Loving The Classics
11/19/17
• Updated review
This is a follow up. I contacted Bank of America and gave them the time line on my order, the lack of a tracking number, the lack of communication, and supplied them with additional information I had found about this business concerning changing phone numbers, answering machines, inability to get a physical address, products ordered never arriving even six months later (and the phone number again changed), and also sent them the thousands of BBB complaints about this company. Thankfully BOA did an investigation into this company and promptly credited my account. I can only hope BOA was able to recoup the charge they paid out. I do agree that when a website is a complete scam, it is very misleading to force people to award even one star.
"$50 PLUS-GONE 1"
10/29/17
• Previous review
Complete scam ! Credit card charged a month ago, never received an order confirmation, a shipping date, nothing resembling an actual on line business. Inquired and got one NON-answer as if my email inquiry had not even been read.

Have contacted by CC company. Tried to access my "account" on their website only to find out my password no longer works ! "company" email is not answered, and appears to just be the email of an individual at a home address ? Wish I had found THIS website before I lost over $50 !
L.L.Bean
Ordered some travel items, very professional transaction, immediately confirmation, items came quickly, shipping notice sent and tracking was available.
ann hasn't received any thanks yous.
ann doesn't have any fans yet.
ann isn't following anybody yet.
Similar Reviewers on Sitejabber
I have been a Costco member for the past 20 years and spend around 5000-7000 $$ per year in...