Is DressHead Legit or is it a Scam?
Many people want to know if DressHead is legit or if it is a scam. Sitejabber has collected a total of 438 reviews on DressHead. On Sitejabber, as of Jul 27, 2021, 225 members have written reviews where they rate DressHead 1 star and said they had a problem with the site. 101 (23%) reviewers described DressHead as a scam. The problems that reviewers often refer to as a "scam" include poor-quality products, items that never ship, and refusal to provide a refund. 77 reviewers (18%) complained about shipping problems. These types of problems can include never receiving the item, delayed shipping, and lost items. 121 (28%) reviewers complained about refund problems on DressHead. Refund problems can take the form of not receiving a refund, only receiving a partial refund, or delay in receiving a refund.
101 Sitejabber members describe DressHead as "scam"
Sitejabber member Alexandra C writes the following about DressHead having poor quality products:
"Dress came pretty quick- only positive point. The quality is very far from what you can see on the picture! I ordered a pretty Tulle dress for attending a wedding and I received something who looks like a Witch costume for Halloween. The size is so wrong too. Messaged the customer service to let them know of my disapointement and they replied "sorry to hear that, kind regards". Very poor method to keep a customer happy. Do not recommend this website at all! It's not cheap for nothing :/"
Sitejabber member Ruth M writes the following about DressHead lack of a refund:
"I order 6 dress n they looked nothing like the website. I just want my money back... This company is a scam no contact number to talkto anyone. The blue dont match the blue n its crazy where the black dont match the black the peach suppose to be pink i can't believe they took my money n sent me this crap if i was anyone looking to buy from dress head i wud not ciz wat you order is not wat you go get this is a repoff"
Sitejabber member suzan b posts some photos about their experience on DressHead:
"Do NOT, do NOT BELIEVE ANY positive reviews, they must be putting them on there. SAVE YOUR MONEY SAVE YOURSELF A LOT OF GRIEF THEY EXPECT YOU... YOU... YOU TO return their mistake to china, at your expense! Horrible customer service. Not even close on size of my dress. I ordered size 2x, plus size, I got approx size 12. She said, label is right, I don't care, WHAT LABELS YOU PUT ON. They are not American sizes"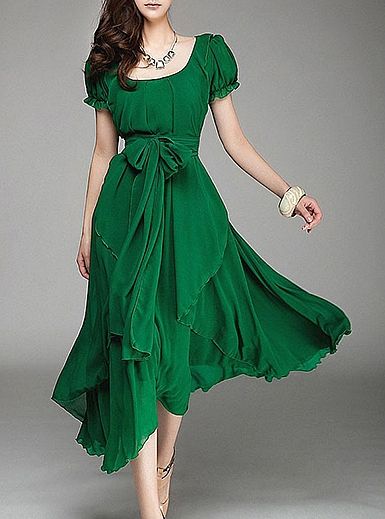 Sitejabber member Imani A posts some photos about their experience on DressHead:
"I was given the 8-12 day delivery time-frame at the time of my order and a tracking number. As I tracked to on Fedx, it was supposed to be delivered November 9th, 2018 (the 10th day). Why when I checked on November 9th, the tracker had a NEW delivery time frame which is more than 12 days... They lied. I needed two of the outfits for an upcoming event and had to settle for a Walmart outfit instead. So frustrating! This is my 2nd time ordering from them. The first time I ordered also was delayed. Unbelievable!"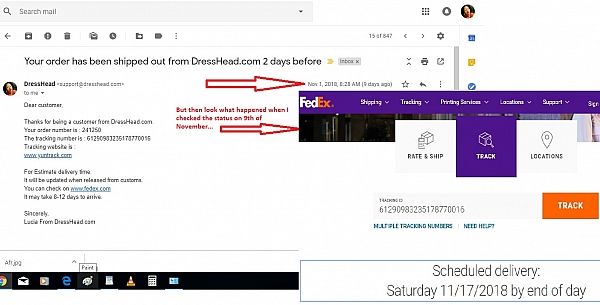 Sitejabber member Judy F posts some photos about their experience on DressHead:
"I order 11 garments and a pair of shoes. I did receive the garments, the quality is poor to fair. The shoes I did not receive at all. The package came with a note that two items were out of stock and that the money was being refunded to my PayPal account, however, I didn't pay with PayPal, I paid with credit card, and the money was NOT refunded. You only get one chance to keep me as a customer and you sure don't do it by ripping me off! I am angry! This is exactly why I hate buying from Chinese companies. They steal and have no respect for the consumer. Never again DressHead. I'm not going to fight to get $20.00 back, but lesson learned. In the end you lose by being greedy!"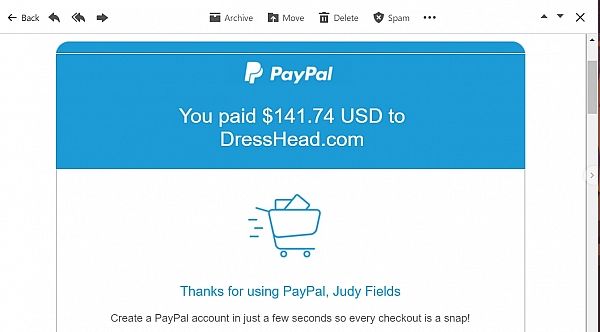 Some reviewers reported positive experiences on DressHead, claiming it to be a legit business. 150 reviewers (34%) gave it 5 stars. 43 (10%) reviewers described DressHead as "amazing or very good". 56 (13%) reviewers had a positive experience with shipping. This could mean fast shipping times and items that were not damaged upon arrival. 19 (4%) had good experiences with customer service and refunds or exchanges.
43 Sitejabber members describe DressHead as "amazing or very good"
Sitejabber member Savanna N writes the following about outstanding prices:
"Hi ordered 3 dresses and 1 hoodie (the hoodie was a size too small but oh well everything else fits great) and got 2 free nice watches. 2 free bracelets, and 2 free eye brown draw on pencils! For great price I thought the dresses would of been cotton that I ordered but where silk and soft, but thick. Which I like because I havent seen anyone around here with one like that and I like different! It took 15 days to come in but it was wpre the wait! I just placed my 2nd order today! Thanks"
Sitejabber member Laura G writes the following about good quality products:
"I was scared after reading all the horrible reviews AFTER I had already ordered my bathing suits. Figured it was $80 down the drain but crossed my fingers. After ordering I didn't hear anything for about 5 days - I was waiting for a purchase confirmation. I received an email with confirmation and a tracking number. I ordered on June 4th and received the suits on June 17. The suits are AMAZING! They aren't cheaply sewn and are the same material and quality I get from Victoria's Secret. I am 5'3" and weigh 105 and I ordered some small and some medium. Use the measurement chart below each suit to decide! I am soooo happy with this purchase! I can't vouch for their clothes or shoes but if you need some swimsuits this is the place! Yay!"
Sitejabber member Chili B writes the following about DressHead fast shipping:
"I placed an order 8 days ago for a sweater. Item arrived today. Superior quality item! Fast shipping. Great price! Item was delivered exactly as their listing detailed & as their picture posted showed. I WILL definately continue to order from them - i reccomend them to anyone, friends family, co workers and people i dont know. Also - excellent & quick communication with the company as well!"
Sitejabber member Haute C writes about their great experience on DressHead:
"I will admit we were nervous because I read previous reviews but I received everything in the expected time frame I was given. I communicated via email and they responded within a few hours and they follow up. I wanted to make sure I received my shipment before Christmas I did my client love their item. Delivery updates via FedEx will definitely make you nervous because it just shows received & in transit but it came at expected time and my boutique and client is happy"
Sitejabber member Bruce V writes about their great experience on DressHead:
"The clothes I have bought from Dresshead in general it's pretty good, I live in UK and it arrives in 5 days and the parcel service is great.The only real downside is the fact sometimes the product looks better on the website than when you actually receive it. You can't really tell what the material is like from the online pictures, sometimes it's quite thin, or the top is quite short when it's supposed to be an oversized top.."
Sitejabber member Dale B writes about their great experience on DressHead:
"I love this company. The quality and fabrics are outstanding. The only problem is the sizing. They run very small. European sizes are much smaller than American sizes. I wear an. External large here. There size that fits me is a 4X. Now no one sees the tag that says 4X but you. It's beautiful. I just love the whole company. If I have a question I just email them and they get right back to me. The shipping cost is high but the cloths are so affordable I just include that as part of each item and your still getting a bargained. Don't for get these are coming overseas and have to go threw customs. I will continue ordering for myself and daughter. The give aways you just can't beat. Love this company Dresshead. Give them a chance."